Aguirre Spring Campground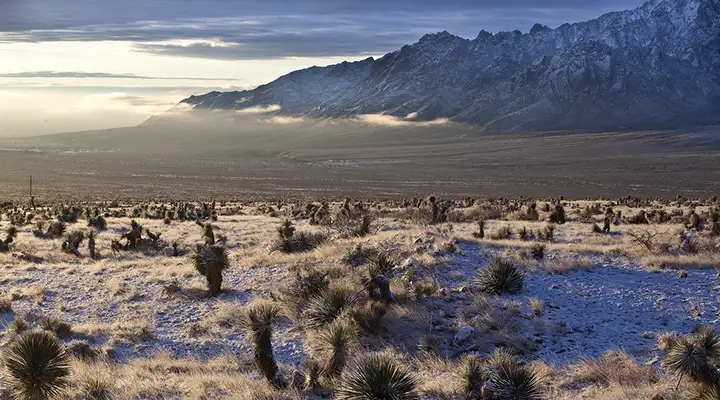 A view from the Aguirre Spring Campground area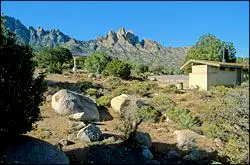 A view at Aguirre Spring Campground
Aguirre Spring Campground is nestled at the base of a spectacular ridge of tall, needle-like spires on the eastern slopes of the Organ Mountains. The needles are composed of vertically-jointed Tertiary granite and contain the highest points in the Organ Mountains. This is a piece of Chihuahuan Desert overlooking White Sands National Park and the Tularosa Basin. This is an area where most springs and streams are seasonal, but several active riparian habitats indicate the presence of perennial water sources.
South of the Needles in the Organ Mountains is an area of extrusive igneous rhyolite, the real bulk of the mountain range that reaches almost as high as the Needles. This area is almost bisected by Soledad Canyon. Further south is the Bishop's Cap Hills and Rattlesnake Ridge, both lower and smaller areas of fault-block limestone.
At the west end of the campground is the Baylor Pass Trail, a 6-mile (one way) foot and horseback trail that crosses the Organ Mountains Wilderness Study Area and leads to the Baylor Canyon Road on the west side of the Organ Mountains. On the southern side of the Aguirre Spring Campground is the Pine Tree Trail, a 4-mile foot-access-only loop that climbs into Ponderosa pines at the base of the Organ Needles in the Organ Needles Wilderness Study Area. Both trails offer great views of the Tularosa Basin and Organ Mountains.
Aguirre Spring Campground has 2 group sites and 57 family sites. On weekends and holidays this is a hugely popular get-away. Aguirre Spring is the only up-country campground in the Las Cruces/El Paso/Juarez area. Each campsite and picnic site has either shade trees or shelters, a picnic table and fire grill. Restrooms, including handicapped accessible, are nearby.
To get there: From the I-25 and US 70 interchange in Las Cruces, go eat on US 70 for 14 miles. About 1.1 miles past the summit of San Augustine Pass turn south on Aguirre Spring Road. Go 6 miles. At mile 4 the road turns into a one-way loop and gets steep.
Aguirre Spring Campground is open year round but day users must be off the property by 10 PM. From April to October the entrance gate is open from 8:00 AM to 7:00 PM. From October to April it is open from 8:00 AM to 5:00 PM.
Firearms are not allowed.
Update 2014: Aguirre Spring Campground is now part of the newly designated Organ Mountains-Desert Peaks National Monument.
Maps: BLM - Las Cruces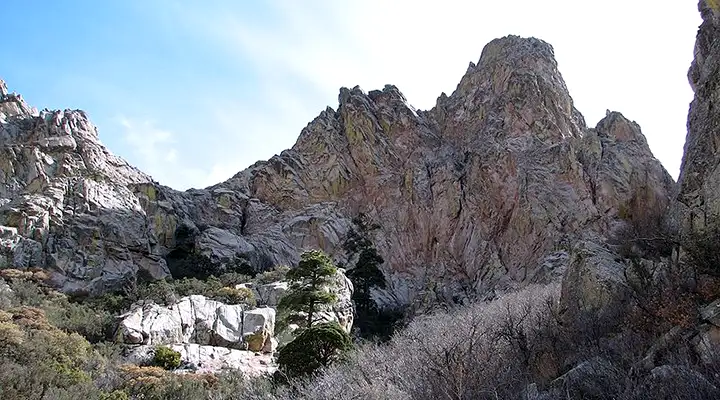 Organ Needle (8,890'), highest point in the Organ Mountains
One of the campsites at Aguirre Spring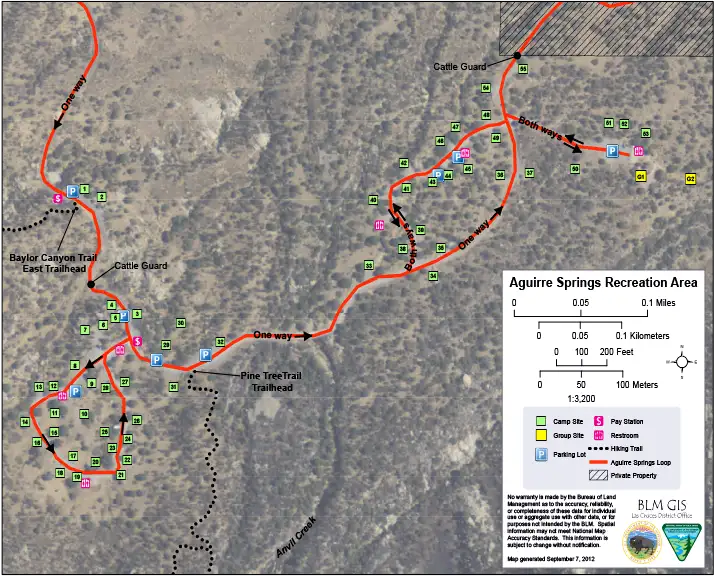 Aguirre Spring Campground recreation map
Aguirre Spring Campground
Bureau of Land Management

- Las Cruces District Office
Lower photo of Organ Needle courtesy of Terry Umbenhaur,
CCA-by-SA 3.0 License
Other photos courtesy of the Bureau of Land Management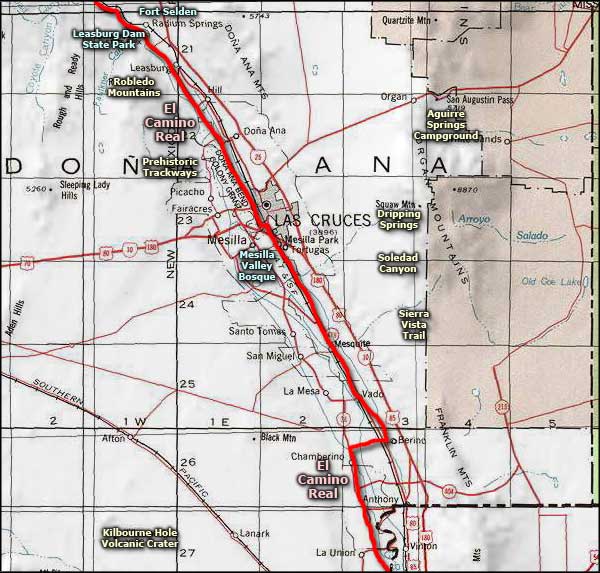 Related Pages
Map courtesy of National Geographic Topo!