Bureau of Land Management Sites in Nevada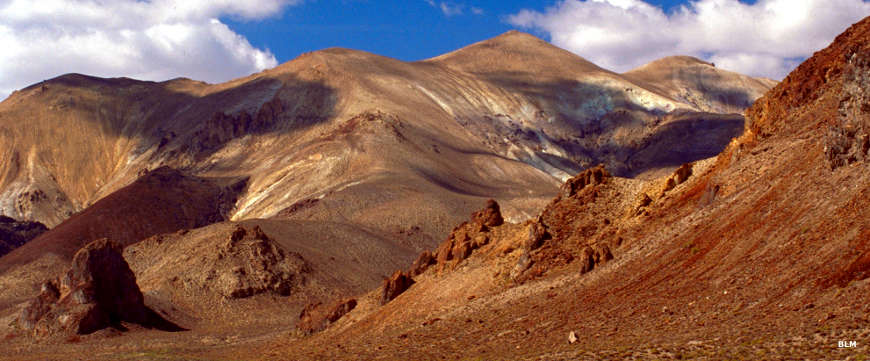 Calico Mountains Wilderness
The Federal Government owns about 95% of Nevada. A large proportion of that land is held by the Bureau of Land Management. The Trump administration is pushing the BLM to open more land to be raped, plundered and then abandoned by modern extractive industries. BLM staff in Nevada can't even properly keep up with the abandoned plunder sites from 50 (and more) years ago...
National Conservation Areas
Bureau of Land Management Wilderness Areas
Campgrounds & Recreation Areas
Chimney Reservoir
Cleve Creek Campground
Goshute Creek
High Rock Canyon
Illipah Reservoir Recreation Site
Knob Hill Primitive Camping
Logandale Trails System Primitive Camping
Massacre Ranch
Meadow Valley Recreation Site
North Wild Horse Campground
Prison Hill Recreation Area
Sacramento Pass
Sand Mountain Recreation Area
Soldier Meadows
Steven's Camp
Tabor Creek
Virgin Mountains Primitive Camping
Ward Mountain Recreation Area
Water Canyon
Wilson Canyon
Wilson Reservoir
Zunino/Jiggs Reservoir
Backcountry Byways
Wilderness Study Areas
Badlands WSA
Bluebell WSA
Cedar Ridge WSA
Goshute Peak WSA
Lahontan Cutthroat Trout WSA
Little Humboldt River WSA
Owyhee Canyon WSA
Red Springs WSA
Rough Hills WSA
South Pequop WSA
Other BLM Sites
Baker Archaeological Site
Comstock National Historic District
The Desert Trail
East Fork of the Carson River
Egan Crest Trail System
Faye-Luther Trail System
Garnet Fields Rock-Hounding Area
Grimes Point Archaeological Area
Hardin City
Marietta Wild Burro Range
The Nobles Trail
Oak Springs Summit Trilobite Area
Panaca Summit Charcoal Kilns
Rainbow Canyon
Sand Springs Desert Study Area
Silver Saddle Ranch
Urban Crag - Rock Climbing
Ward Townsite
White River Narrows Archaeological District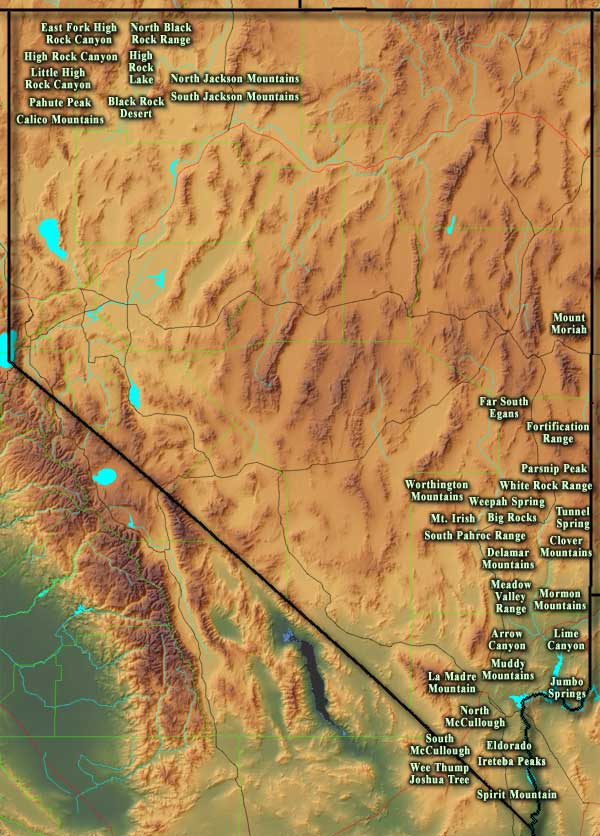 Photos courtesy of the Bureau of Land Management
Map courtesy of Cartesia MapArt US Terrain
 
Geologic Time Scale

The K-T Boundary
is that white band beneath the upper layer of sandstone
| Subdivisions based on Strata/Age | Radiometric Dates (millions of years ago) |
| --- | --- |
| Neogene | 0-2 |
| Paleogene | 2-65 |
| Laramide Orogeny | 63-65 |
| Cretaceous-Tertiary Extinction Event | 65 |
| Cretaceous | 65-145 |
| Jurassic | 145-210 |
| Triassic | 210-255 |
| Permian-Triassic extinction event | 251-260 |
| Permian | 255-280 |
| Alleghenian Orogeny | 260-325 |
| Carboniferous: | 280-360 |
| Pennsylvanian | 280-320 |
| Mississippian | 320-360 |
| Devonian | 360-415 |
| Silurian | 415-465 |
| Ordovician | 465-520 |
| Cambrian | 520-540 |
| Precambrian Eons | 541-4600 |
| Proterozoic | 541-2,500 |
| Archean | 2,500-4,000 |
| Hadean | 4,000-4,600 |
The table to the right gives a rough breakdown of the geological ages of Earth as used in modern Geology texts.
Much of the oil and gas we use comes from vegetative deposits made during the Permian and Pennsylvanian (late Carboniferous) ages. A lot of the coal we use (with its accompanying methane gas) comes from the great jungles and forests of the Mississippian and Pennsylvanian (early and late Carboniferous) ages in the Paleozoic era. Big reptiles and dinosaurs lived out their lives during the Triassic, Jurassic and Cretaceous Periods of the Mesozoic Era.
It was at the end of the Cretaceous Age that the Laramide Orogeny was set in motion, the Colorado Plateau uplifted and the Ancestral Rocky Mountains built. That was also during the time when an asteroid impacted near the Yucatan Peninsula and tipped the environmental scale in a direction that wiped virtually all the dinosaurs from the face of the planet. The K-T Boundary is a thin layer of iridium that filled the atmosphere during that explosion, then fell back to Earth during the global fires and the atmospheric upheaval afterward. While there have been plenty of marine, insect, reptile, amphibian, plant and mammal fossils found from times since, there has never been a dinosaur fossil found from the years after that impact. The K-T boundary is accepted as the definitive marker between the Cretaceous and Tertiary Ages, the marker of the Jurassic extinction event.
The Permian-Triassic extinction event seems to have happened in two major pulses about 9 million years apart. During the Permian age many insect orders had grown huge. A rise in CO2 in the atmosphere led to a rise in temperature and to acidification of the oceans. Marine invertebrates with carbon-based skeletons suffered worst but this was also the only mass extinction that affected insects: eight or nine insect orders became extinct and ten more suffered greatly reduced diversity. Insects, however, had generally recovered by the late Triassic, everything but that giant size anyway. The second pulse seems to have occurred around the time of the Araguainha impact, an asteroidal impact in Brazil that was not large enough to set off catastrophic extinction by itself but it occurred in an area filled with oil shale and the resulting sudden rise in global warming from the fires that ignited may have begun the atmospheric cascade that led to ocean surface temperatures around 104°F (40°C). That high an ocean temperature meant it was too hot for many marine species to survive. When it was over, more than 70% of terrestrial species and almost 90% of marine species had died out. Some land ecosystems took 30 million years to recover.