Lake Tahoe-Nevada State Park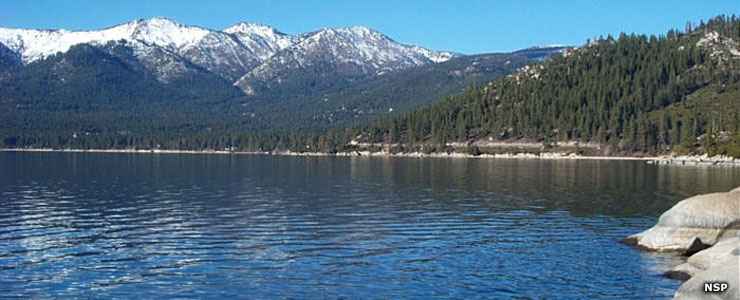 A typical view to the north at Lake Tahoe-Nevada State Park
Facilities & Amenities
Sand Harbor

Picnicking
Group Picnicking
Visitor Center
Trail
Boating
Swimming
Rental Gear
Food Concessions
Shakespeare Festival
Spooner Lake

Camping
Fishing
Winter Sports
Picnicking
Group Picnicking
Trails
Nature Study
Cross-Country Ski Area
Historic Sites
Pets Allowed
Cave Rock

Picnicking
Boating
Fishing
Lake Tahoe-Nevada State Park extends along the eastern shore of Lake Tahoe south of Incline Village. The lakeside areas of the park offer crystal clear water, rocky coves, gently sloping sandy beaches and panoramic views of the lake.
The most popular area of Lake Tahoe-Nevada State Park is Sand Harbor (about 3 miles south of Incline Village on State Route 28) with a boat launch, long sandy beaches and picnicking and group facilities. The Sand Point Nature Trail is handicap accessible, about 1/3 mile long and offers interpretive signs and great views of the lake and surrounding area. And in July and August, the Lake Tahoe Shakespeare Festival puts on shows at Sand Harbor.
We can thank lumber baron Walter Scott Hobart for the property that is now the park at Sand Harbor. Hobart had cut timber towed to the landing at Sand Harbor to be placed on rail cars for the journey to the sawmill in Incline Village. Hobart died about the same time his loggers exhausted the timber supply around the east side of the lake. Logging operations were moved to Truckee and the estate passed to Walter Scott Hobart Jr., who basically squandered his inheritance building a huge resort around Sand Harbor and entertaining Hollywood elite. George Whittell Jr. bought most of the land on the east side of Lake Tahoe in the 1930's. He also built a huge estate just to the south of Sand Harbor. Whittell had a thing for a big yacht and for exotic big game animals. His yacht, the Thunderbird, still cruises on Lake Tahoe.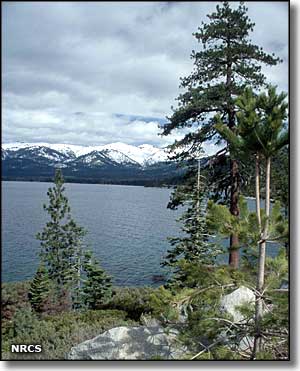 Whittell dreamed of developing the east shore of the lake but as time passed, he got more and more reclusive and protective of his hideaway. In 1958 he leased land around Sand Harbor to the State of Nevada and the state dedicated it to public use. Then in the late 1960's, Whittell was forced to sell 5,000 acres around Sand Harbor. Nevada bought it and that became the starting point for the real development of Lake Tahoe State Park.
Between Incline and Sand Harbor you'll find Hidden Beach and Memorial Point, both of which offer more secluded access to the lake and incredible views of the area. The rocky shoreline at Memorial Point is one mile north of Sand Harbor and is popular with the fishermen, sunbathers and photographers. 2 miles north of Sand Harbor but with no parking lot, the large granite boulders and narrow sands of Hidden Beach are most popular with local sunbathers and swimmers.
Spooner Lake is located 9 miles south of Sand Harbor, just north of the intersection of US 50 and State Route 28. In addition to picnicking, mountain biking, fishing and cross country skiing, Spooner Lake also gives hikers access to miles of trails in the back country between Lake Tahoe and Carson City.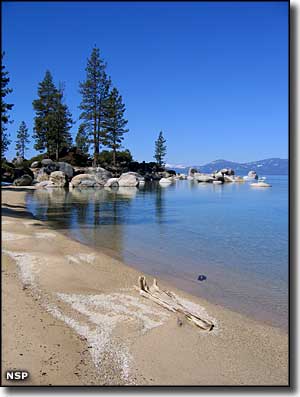 The Marlette/Hobart Back Country spans some 13,000 acres within the Carson Range designated by the state as a Primitive Area, so motorized vehicles are not allowed (but hiking, horseback riding and mountain biking are). Cool pine forests, spectacular granite outcroppings, huge panoramic views, miles and miles of trails, sounds like paradise to me...
The Spooner Lake Outdoor Company is the park concessionaire that operates the cross-country ski area in winter, rents back country cabins year-round and offers mountain bike rentals in the summer. 13 miles of the 165-mile-long "Tahoe Rim Trail" wind in and out of the park. The section between Hobart Road and Spooner Summit is always closed to bikes but the section between Tunnel Creek Road and Mount Rose Highway (north of the park) is open to bikes on even-numbered days. The most popular trail in the area is the 5-mile trail that parallels North Canyon Road for 4 miles from Spooner Lake to Marlette Lake. Another popular trail is a flat 2-mile trail that wraps around Spooner Lake itself. The northeast side of the back country, accessible via the 4WD Ash Canyon Road, offers many more miles of dirt road to hikers, bikers and horseback riders.
Camping in the Spooner Lake area is only allowed at 3 primitive, walk-in campgrounds: Hobart, North Canyon and Marlette Peak. Each campground offers 4 or 5 sites with picnic tables, fire rings, bear-resistant food and trash storage and primitive toilets. There is no trash pickup so when you leave, take your food and trash with you. Dispersed camping is not allowed anywhere else on the property and the stay limit is 14 days in any 30-day period.
Fishing is allowed at Spooner Lake: bait is allowed, catch limit is five. Fishing at Marlette Lake is catch-and-release only: single barbless hooks, artificial lures. Hobart Reservoir has a catch limit of five but use only only artificial lures and single barbless hooks. For any fishing you'll need a valid Nevada fishing license.
Another popular day-use area for fishing and boat launching is Cave Rock, along US 50 near Zephyr Cove, 3 miles south of Glenbrook and just below the Cave Rock Tunnels. The boat launch site offers a double ramp separated by a dock. The nearby parking area offers 40 trailer parking spaces. Fishing is allowed everywhere except in the beach area and near the boat ramp. There is a picnic area near the beach, another near the restroom and a third at the north end of the boat launch area. The picnic areas offer tables and barbecue pits.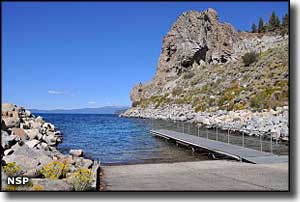 Cave Rock itself is a historic site with travelways through, around and over it. Rock climbers have also been interested for years but all activity requiring rock climbing equipment was permanently banned in 2003.
No camping or overnight parking is allowed around the lake beaches. And practice "leave no trace" discipline: pack it in, pack it out. Traffic on the highway has gotten to where Nevada State Parks has set up its own transit system and drop-offs and pick-ups along the highway are no longer allowed. The parking areas fill early on summer weekends so extra parking has been developed near the Visitor Center.
Boaters also now have to contend with boat inspections as the state tries to keep invasive species like Quagga and Zebra mussels out of Lake Tahoe.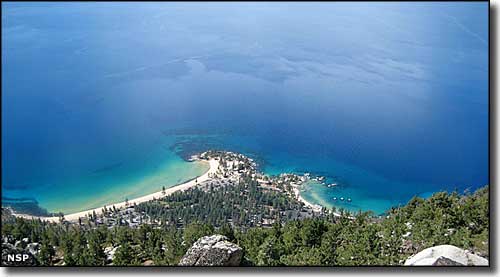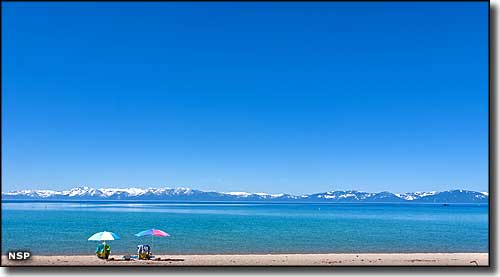 Lake Tahoe-Nevada State Park
Nevada State Parks
Upper right photo courtesy of USDA NRCS
Other photos courtesy of Nevada State Parks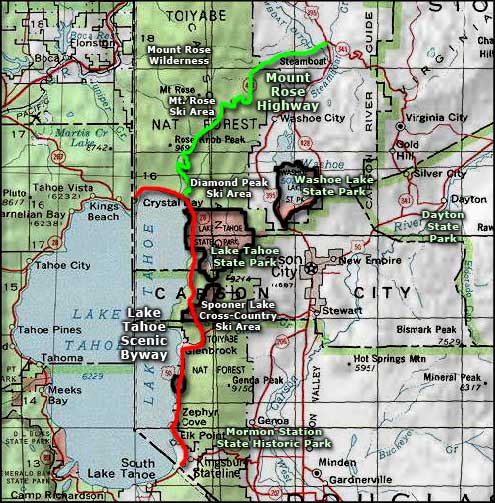 Related Pages
Map courtesy of National Geographic Topo!