Great Basin Scenic Byway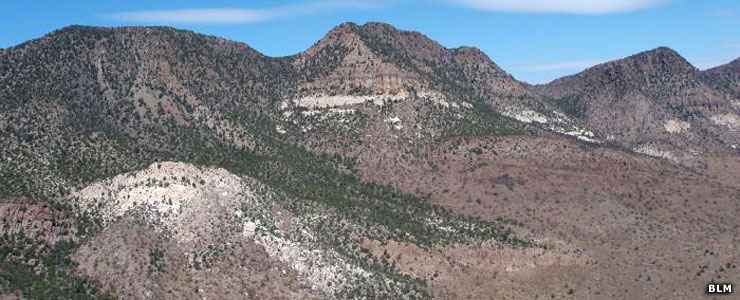 Looking north from Pahroc Summit at Big Rocks Wilderness
The Great Basin Scenic Byway is a 148-mile crossing of high desert by US 93 between Crystal Springs and Ely. This stretch of countryside is just west of Great Basin National Park and passes by Beaver Dam, Cathedral Gorge, Cave Lake, Echo Canyon, Kershaw-Ryan, Spring Valley and Ward Charcoal Ovens State Parks. You'll also pass by the Mount Grafton Wilderness to the west and the Fortification Range Wilderness to the east. Between Caliente and Crystal Springs, the Big Rocks Wilderness is to the north of Pahroc Summit while the South Pahroc Range Wilderness is to the south.
There's ghost towns, lots of tumbleweed and sites to visit like the "Million Dollar Courthouse" in Pioche. During the big gold and silver mining days, some of these towns were among the West's most deadly and notorious. Some of them were among the earliest settlements in Nevada.
Lots of history out here, some of it going back 10,000 years and more... and when you get to Crystal Springs, make the turn west onto SR 375 (the Extraterrestrial Highway)... or at Ely follow US 50 west (the Loneliest Road in America). And just because this isn't the Loneliest Road in America doesn't mean you don't have to keep an eye on your gas gauge... it's a long way between gas stations in this country.
The Great Basin Scenic Byway was the first scenic byway designated by Nevada Department of Transportation. However, by the looks of the recently rebuilt Travel Nevada website, the Nevada Department of Tourism appears to be neglecting this great touristic resource: a page exists but it is disconnected from the main part of the website and doesn't render properly.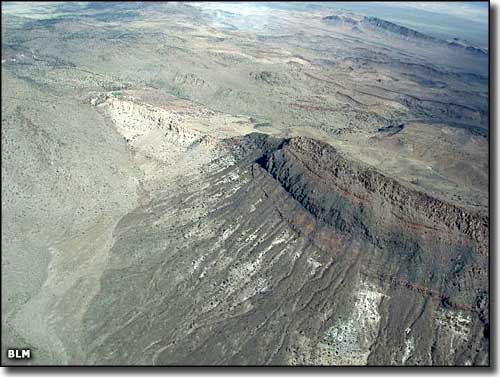 In the South Pahroc Range Wilderness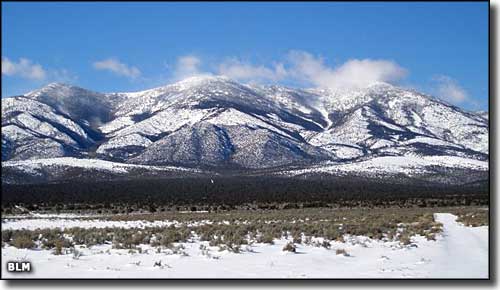 Mount Grafton from the highway
Photos courtesy of the Bureau of Land Management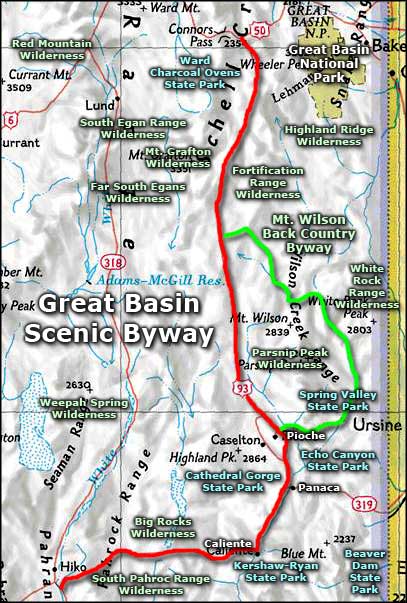 Related Pages
Map courtesy of National Geographic Topo!