Extraterrestrial Highway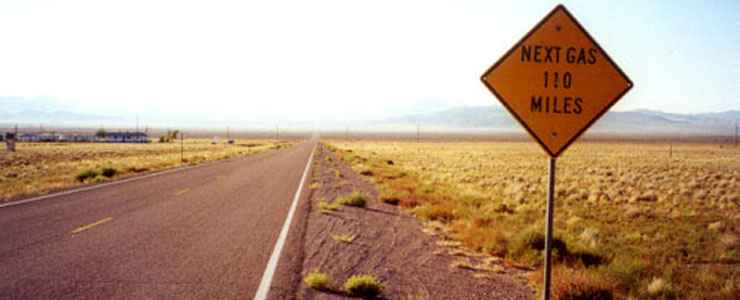 Typical vista along the Extraterrestrial Highway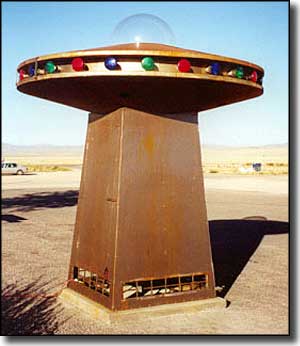 You've heard about it. You may have dreamed about it. Now you can drive it: 98 miles of "out-of-this-world" roadway through some of the emptiest countryside in Nevada. Rachel is the only town along the way, and with the long, slow, straight descent to the valley bottom from both directions, you'll be seeing it long before you get there (if you have really good eyes, of course). But you can check out the Little A'Le'Inn (with its exterior wall screaming "Earthlings Welcome!") in Rachel and pick up your intergalactic souvenirs... maybe even have an Alien burger...
Rachel was founded as a mining camp in the 1970's but, as usual with mining ventures, the mine closed in the 1980's and the population has dropped off to what we see today. The stories of UFO sightings in the area began to circulate shortly after the mine closed but the locals pay attention to them only when asked by tourists and UFO hunters... Still, there are stories of more sightings in this area than anywhere else on Earth.
Part of what makes the Extraterrestrial Highway exciting is the proximity of Groom Lake, the fabled/famed "Area 51" of UFO renown. There's a sign warning of alien encounters over the next 51 miles, and another claiming the speed limit is "Warp 7" (although I'm told these venerable signs have been removed and not replaced).
You can drive this paved road in a couple hours or take a couple days. There's a number of old mines and ghost towns spread out along the route and you'll pass close to the Mt. Irish Wilderness and Archaeological Area (wild and woolly countryside with many pictographs and petroglyphs). Just north of Rachel is the Worthington Mountains, Grant Range and Quinn Canyon Wilderness Areas.
The Extraterrestrial Highway begins at the junction of SR 375 and US 93 in Crystal Springs and ends at the junction of SR 375 and US 6 in Warm Springs.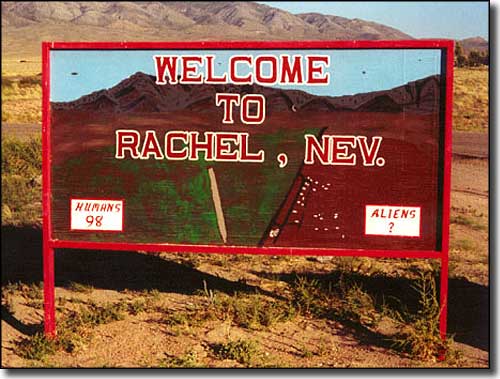 Welcome to Rachel, with population demographics
Photos courtesy of Mark D. Wasson, © 2003, via Byways.org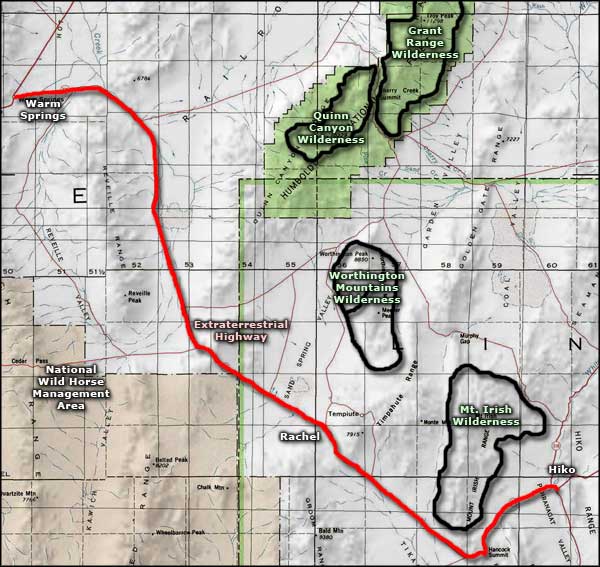 Related Pages
Map courtesy of National Geographic Topo!