Great Basin National Park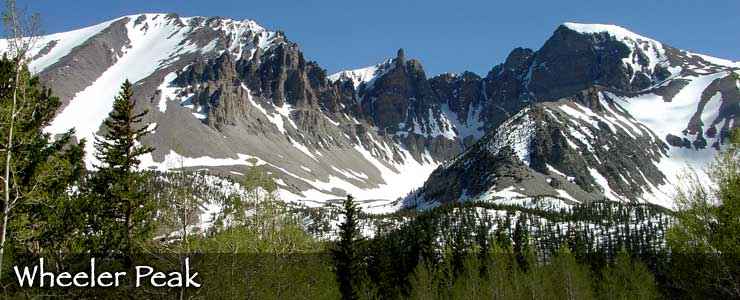 Wheeler Peak in Great Basin National Park
Great Basin National Park encompasses about 120 square miles of land and is home to 13,063-foot glacier-carved Wheeler Peak, 5,000-year-old bristlecone pines, the beautiful Lehman Caves (formerly a National Monument, now part of the National Park), and the six-story-high Lexington Arch: a rare, above-ground limestone arch.
When I was growing up, I was taught that the Great Basin was a vast, barren desert. All the precipitation that occurs in the Great Basin either evaporates, sinks into the ground or flows into local (mostly saline) lakes. No water leaves this region and flows to the ocean. Pyramid Lake, the Humboldt Sink and Great Salt Lake are some of the larger "drains" in this 200,000 square mile area that covers most of Nevada, half of Utah and sections of California, Oregon, Idaho, and Wyoming. Great Basin National Park preserves a small concentration of some of the "best" representative features of the larger "Great Basin Region."
White Pine County (the home of Great Basin National Park) has some of the most famous ghost towns in Nevada. At one time, this area was filled with gold and silver mining camps. About the same time as the first miners came sheepherders, cattle ranchers, farmers, and Mormon pioneers. Before them were thousands of years of Native Americans using the area seasonally for hunting and gathering. The Fremont people left the remains of a small "town" near Baker (in the early 1990's, it was excavated, cataloged and then back-filled to protect the site). The Fremont inhabited the Snake Valley from about 1000 to about 1300 CE. They also left a number of "pictographs" (painted rock art) in which the colors are still bright and vibrant.
The Johnson Lake Historic Mining District surrounds the remains of the Johnson Lake Mine, a tungsten discovery that played a large part in World War I (tungsten from here was used to harden the steel that tanks, cannons and other military ordnance was made of).
The rock glacier in the cirque beneath Wheeler Peak is the only glacier in Nevada, the last remnant of the great continental ice sheets that covered a large part of the world during the last Ice Age (some 10,000 years ago). If the current predicted warming trends continue, this glacier will disappear in less than 20 years.
Great Basin National Park has 12 maintained trails that vary from 0.3 miles to 13.1 miles in length. The Mountain View Nature Trail is probably the shortest and easiest while the Wheeler Summit Trail is the most strenuous (but not the longest). The Wheeler Summit Trail begins at 10,160' and climbs to the top of Wheeler Peak at 13,063'. There are a number of back country routes in the southern portion of Great Basin National Park that see very few people and only occasional maintenance. Several of these southern trail heads are accessed from the dirt road that leads to the primitive Shoshone Campground.
I was last at Great Basin National Park in 1990 and I stayed for one night. Next time I need to stay longer. And I understand the trail to the top of Wheeler Peak is in much better shape now than it was back then...
The Lehman Caves Visitor Center is open year round, from 8 am to 4:40 pm daily (with extended hours in the summer). The Great Basin Visitor Center closes for most of the winter. In the spring, the visitor center is open from 10 am to 2 pm weekdays, 8 am to 4:30 pm on weekends. In the summer they are open from 8 am to 5:30 pm daily. Both visitor centers are closed for Thanksgiving, Christmas and New Year's Day.
Lehman Caves Tours come in two different flavors, the difference being the length of the tour. The 60 minute Lodge Room Tour costs $8 per adult, $4 for youths age 5-15, younger are free. The 90 minute Grand Palace Tour costs $10 per adult, $5 for youths age 5-15, younger are free. There are discounts for Golden Age and Golden Access passes but you will pay something as the tours are not entrance fees. Tour groups are limited to 20 people at a time and for most of the year, there are only two "departures" of each tour per day. In the summer months, that schedule picks up to 5 Lodge Room Tours and 4 Grand Palace Tours per day. Prices quoted are subject to change without notice.
Camping in the developed campgrounds costs $12 per site per night, and spaces are available first-come, first-served. There are four developed campgrounds on the property, three with universally accessible sites. The campgrounds offer picnic tables, tent pads, vault toilets and campfire grills. There are no hookups and no leveled parking sites. Campsites hold a maximum of eight people, three tents and two vehicles per site. The Grey Cliffs Group Campground runs $25 per night and requires a $10 deposit at the time of reservation (and you must reserve). The Lower Lehman Creek Campground is the only campground open year round, the others generally are open from May until October, depending on the weather. There are also two primitive campgrounds located along Strawberry Creek and Snake Creek Roads. These sites have fire rings, picnic tables and no fees attached.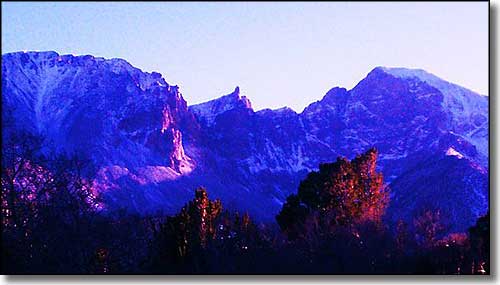 Sunset on Wheeler Peak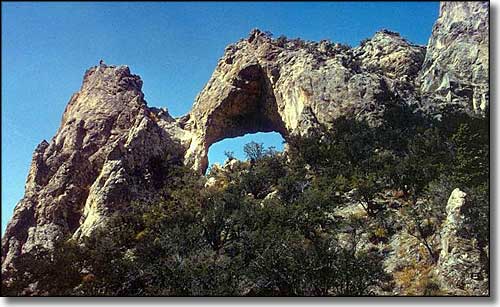 Lexington Arch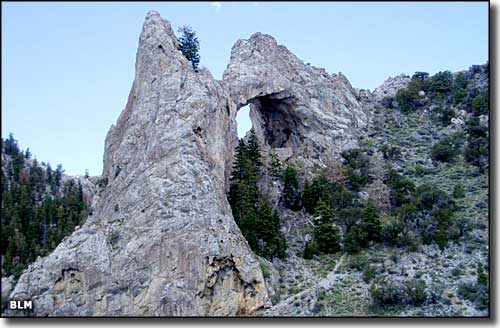 Lexington Arch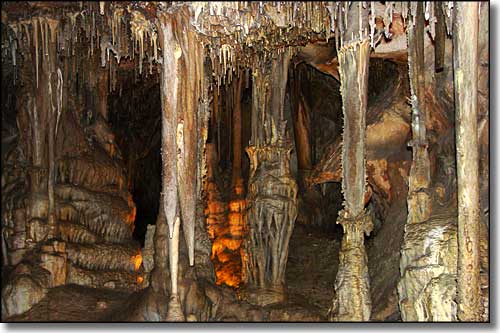 Columns in Lehman Cave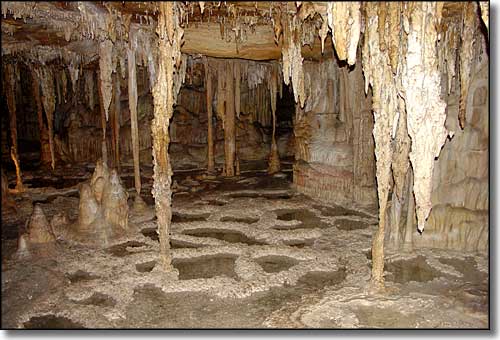 Pools of water in Lehman Cave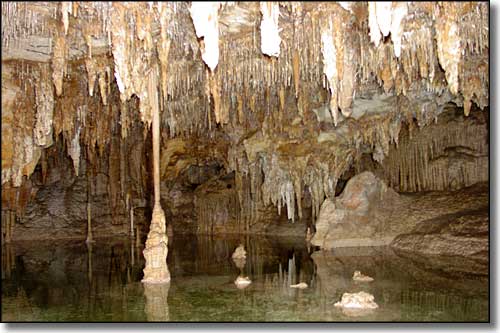 A large pool of water in Lehman Cave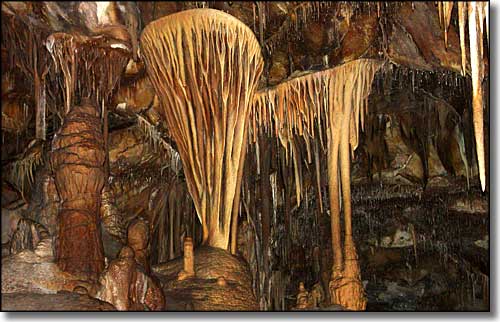 "Shields" in Lehman Cave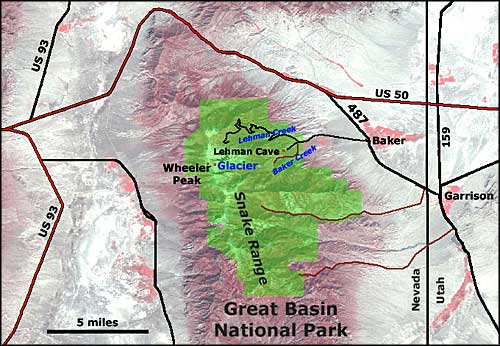 Click here
for a larger map of Great Basin National Park
Great Basin National Park
National Park Service
Most photos and map of Great Basin National Park courtesy of the National Park Service
Photo of Wheeler Peak at Sunset courtesy of David Jolley,
CCA-by-SA 3.0 License
2 photos of Lexington Arch are courtesy of the Bureau of Land Management
Larger map courtesy of National Geographic Topo!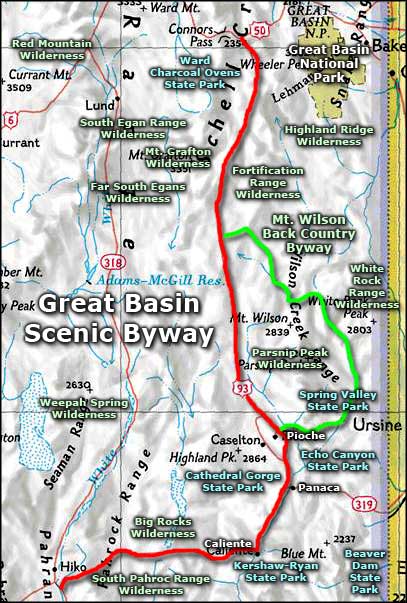 Related Pages
Map courtesy of National Geographic Topo!