Fort Robinson State Park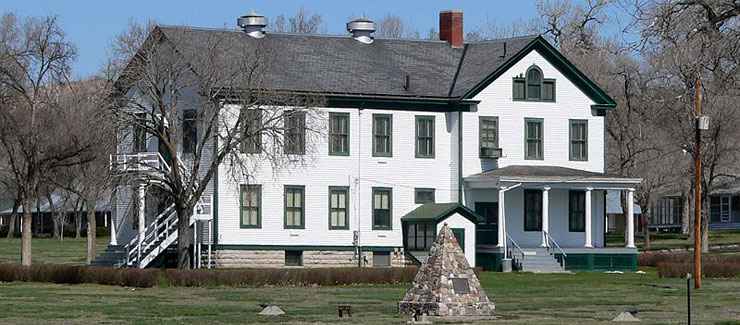 Headquarters building at Fort Robinson State Park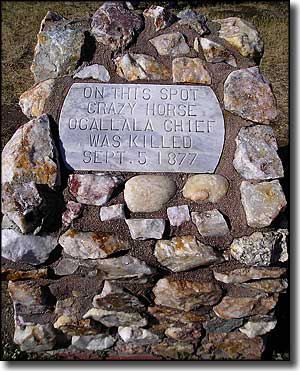 The Red Cloud Agency was established near Crawford, Nebraska in 1873. The Agency was established to serve the Lakota Sioux, many of whom were hostile to the invading pioneers and military. A few months later, the Federal Government authorized the establishment of what became Fort Robinson (named in 1878 in honor of Lieutenant Levi Robinson who had been killed by the Sioux while he was outside the camp on a firewood detail in 1874). The troops stationed at Fort Robinson were major players in the Sioux Wars from 1876 to 1890. The skirmish fought at Warbonnet Battlefield was fought by troops stationed at Fort Robinson in July 1876. Crazy Horse and his band surrendered to the Army here in May 1877 and he was killed later that year while resisting imprisonment. There is now a historic plaque at the spot marking the event.
Fort Robinson became a major center for the Buffalo Soldiers after the 9th Cavalry Regiment was posted here in 1885. The fort was enlarged shortly after that and became a primary training facility. After World War I, the fort became a primary Quartermaster Corps depot. In World War II, it was used for K-9 training before being turned into a German POW camp. Then in 1948, the fort was decommissioned and transferred to the USDA for use as a beef cattle research station. That facility was closed in 1971.
A large part of the property was transferred to the Nebraska Game and Parks Commission in 1955, to be used to develop Fort Robinson State Park. Just to the west of Fort Robinson State Park is a section of Nebraska National Forest containing Soldier Creek Wilderness.
Today, the Nebraska State Historical Society operates most of the larger old post buildings as museum and/or exhibit pieces. The park also maintains its own herds of longhorn cattle and bison. Also on the property is the Trailside Museum of Natural History, operated by the University of Nebraska. Exhibits housed at the Trailside Museum interpret the geology and natural history of the area but the real piéce de resistance is the Clash of the Mammoths exhibit, detailing a new and exciting fossil find.
The Park Office at Fort Robinson Lodge is open 24 hours a day between Memorial Day and Labor Day for lodging and camping registration. The Nature Center and Activities Center are open daily from 9 am to 5 pm, Memorial Day to Labor Day. Fort Robinson Museum is open from 8 am to 5 pm, Monday through Saturday, and 9 am to 5 pm Sunday, on that same Memorial Day to Labor Day schedule.
The park offers horseback tours and horse-drawn carriage tours of the park property. The Fort Robinson Restaurant (in the main lodge) serves breakfast, lunch and dinner during the busy summer season (Memorial Day to Labor Day). That's when the park's indoor swimming pool is open, too. Catering is available for group functions from mid-April to mid-November. There are 60 miles of hiking trails available, with 20 miles of trail available for mountain bikes and horseback riding. The park welcomes horses: you can board them at the post barn for a few dollars a day but you'll need to bring your own hay and feed.
There are 154 picnic tables scattered throughout the property, with 127 cooking grills. There is only one picnic shelter and it does have electrical outlets.
The campground offers 100 sites with pads and electrical hookups, another 25 sites have no pads (meaning: tent only) and no electric. The campground offers modern restrooms, running water, showers, laundry facilities, picnic tables, shelters and an RV dump station. If camping isn't your thing, there are 35 cabins for rent and the lodge offers 22 guest rooms. The cabins vary from former enlisted men's quarters to former officer's quarters and sleep anywhere from 2 to 20 people per "cabin." All cabins have kitchens, baths, living rooms and bedrooms and come furnished with towels, blankets, fridges, stoves, cooking utensils and silverware. The cabins are available from mid-April to mid-November. The Lodge Rooms offer double and twin-bed rooms.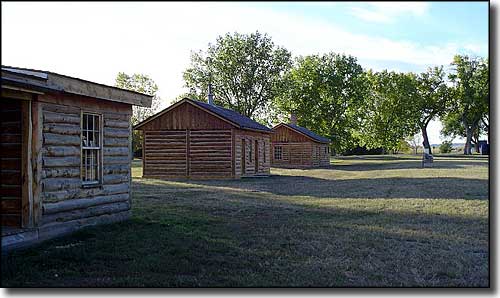 Barracks for soldiers stationed at the fort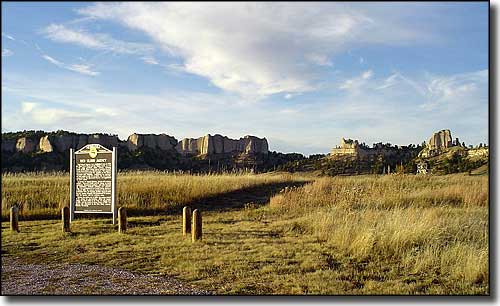 Site of the Red Cloud Agency near Fort Robinson State Park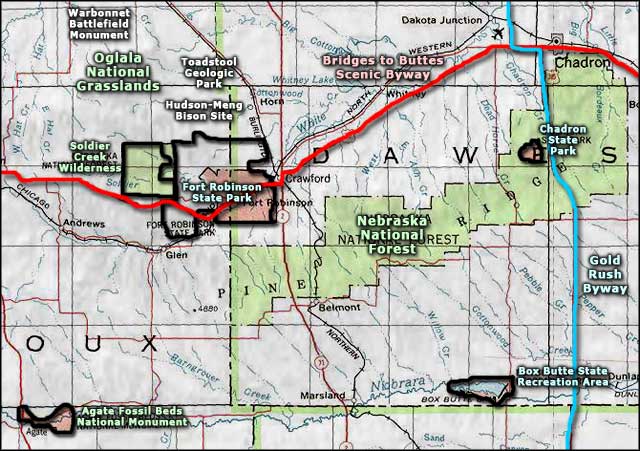 Related Pages
Area map courtesy of National Geographic Topo!