Payette River Scenic Byway
Rainbow Bridge on the Payette River Scenic Byway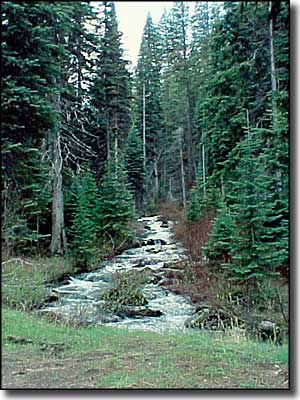 The Payette River Scenic Byway is a 112-mile route through the heart of Idaho: through the forests and mountains between Eagle and New Meadows on Idaho Highway 55. Most of the route allows easy access to fishing, boating, kayaking, swimming and a multitude of winter sports. The Payette River is also a world-class destination for whitewater enthusiasts.
The Payette River Scenic Byway begins where Idaho Highway 55 begins: at the junction with Idaho Highway 44 west of Boise. From that point the route goes north through the mountains, past Bogus Basin Ski Area to Horseshoe Bend where it meets the Payette River. Then the road continues north alongside the river through the towns of Cascade and McCall to end in New Meadows at the junction with US Highway 95. At Banks (just north of Horseshoe Bend) is the junction with the Wildlife Canyon Scenic Byway, a route that heads east into the mountains through the valley of the South Fork of the Payette River. If you're a whitewater enthusiast or a fisherman, either of these routes beside those mesmerizing rivers can be very distracting.
Near Cascade is Cascade Reservoir and the popular Lake Cascade State Park. The state park and the national forest that abuts the state park are filled with hundreds of miles of summer hiking and biking trails that become groomed snowmobile, snowshoeing and cross-country skiing trails in winter. The area around McCall is similar, except the McCall area is also home to Ponderosa State Park, Brundage Mountain Ski Resort and Little Ski Hill.
The valleys and mountains around the Payette River are a veritable wonderland of recreational activities with campgrounds, national forest access, pull-outs to access the river and some beautiful spots to just stop, smell the trees and watch the wildlife. Just south of Banks is where you'll find the terminus of the Thunder Mountain Historic Train Ride, a scenic railroad that ventures into the mountains and along the river in the summer time, running under the Rainbow Bridge to Smith's Ferry and back again.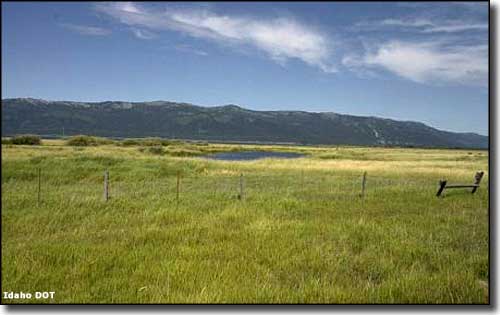 Hembrey Creek Wetlands along the Payette River Scenic Byway
Upper photos courtesy of Marianne Piquet, © 2000 by Sage Community Resources
Photo of the Hembrey Creek Wetlands courtesy of Idaho DOT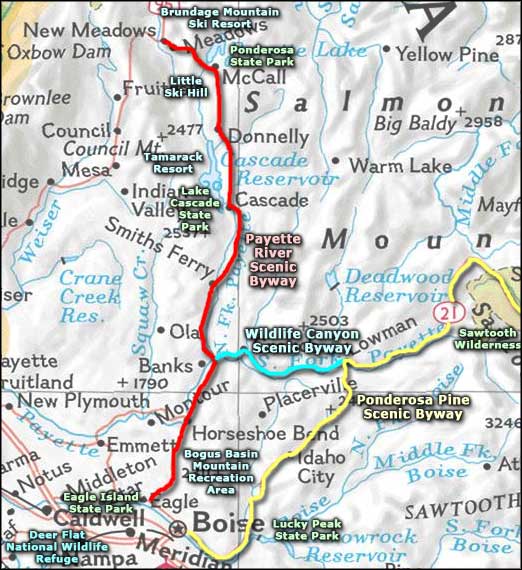 Related Pages
Map courtesy of National Geographic Topo!