Florida State Forests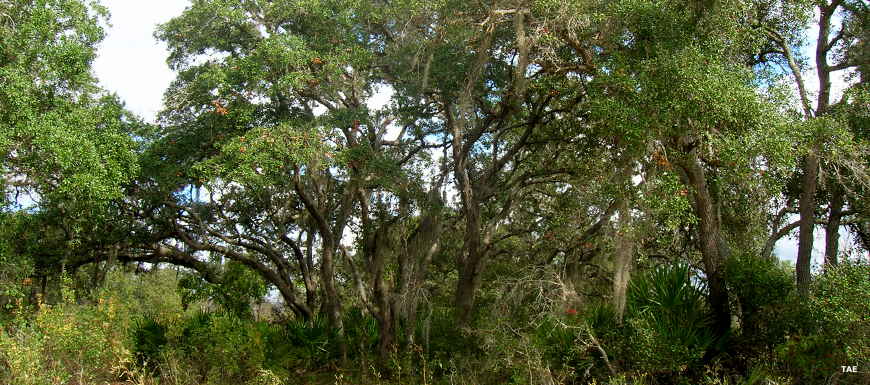 In Lake Wales Ridge State Forest
Back in the mid-1930's, Florida's State Forest system began with the establishment of the Pine Log and Cary State Forests. These two state forests were created through the efforts of the Civilian Conservation Corps, a federal work program that put many people back to work during the Great Depression. The Blackwater River and Withlacoochee State Forests were added in the late 1950's, early 1960's. These four forests were the entire Florida State Forest system until Florida started aggressively buying land and creating more state forests in the late 1970's, in order to preserve some of the properties that make Florida unique, so that our children and their children would have some of that old-time Florida left to enjoy.
In the beginning, the state managed the forests primarily for timber and wildlife but that shifted in the late 1970's to wildlife management, conservation of natural and cultural resources, outdoor recreation, wetlands restoration and protection of other precious water resources. Since 1936, the Florida State Forest system has expanded from one forest of about 6,000 acres to 35 forests today, comprising more than one million acres.
Florida's State Forests are managed by the Division of Forestry, a division of the Florida Department of Agriculture & Consumer Services. Here are some general rules that apply everywhere in Florida's State Forests:
Possession of alcoholic beverages is allowed only where posted.
OHVs and ATVs are banned everywhere except where explicitly allowed. And there are fees attached to their use.
Except for the removal of legal game during scheduled hunts, removing or destroying plants, animals or cultural artifacts is prohibited.
If you don't see a trash receptacle present, the protocol is "Pack it in, Pack it out."
Leashed and controlled pets are welcome in most state forests but it's best to check with each forest in advance.
Proof of a current negative Coggins Test is required for all horses on state lands.
Hunting and Fishing are regulated by the Florida Fish & Wildlife Conservation Commission. License requirements and seasons are published regularly. Hunting requires a license and a permit, and is allowed only during designated seasons in designated areas.
Keep your vehicles on the designated roads.
Do not block fire lines, gates or roads.
Unless posted otherwise, the speed limit on all state forest roads is 30 miles per hour.
Swim only within designated areas where posted and all swimming is done at your own risk.
No diving from stream banks or trees and no rope swings allowed.
Glass containers are not allowed on any state waterways.
Most Florida State Forests charge a $2 per person entry fee for day use (all fees can change). The fee is usually payable into an honor box (so you'll want exact change) and you'll need to display the tear-away tab in your vehicle windshield or on your rear-view mirror. There is an annual day-use entrance pass (for up to eight occupants per vehicle) for $30 per year that allows for an unlimited number of visits.
Florida's State Forests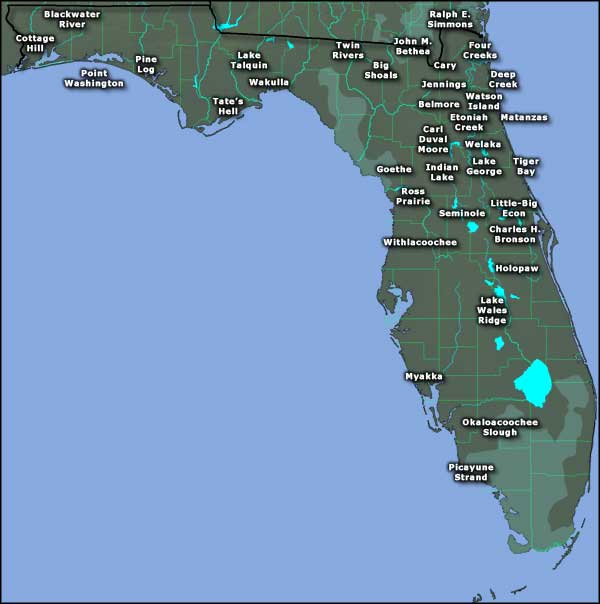 Map showing locations of Florida's State Forests

Typical view in a Florida State Forest