Sierra Ancha Wilderness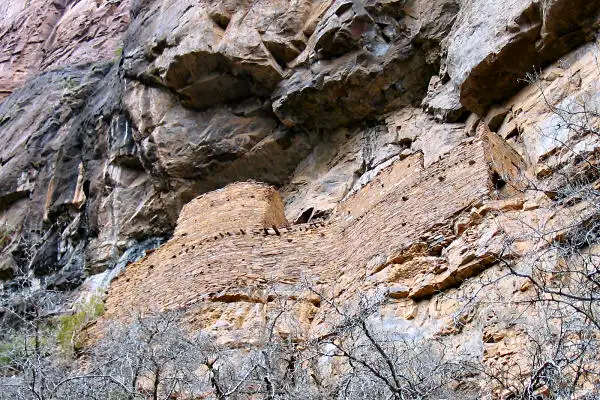 An ancient Salado cliff dwelling in Sierra Ancha Wilderness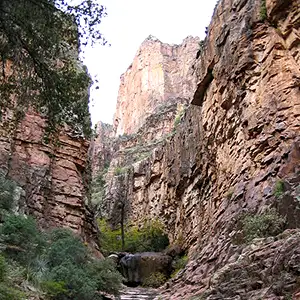 Sierra Ancha Wilderness is a 20,850-acre property that started out as one of America's first "primitive areas." It's an area filled with precipitous box canyons that shelter many ancient Salado ruins under and on the sides of the cliffs. The topography on this wilderness is so sharply vertical that travel cross-country between the deep-cut drainages is impossible. But if you are up, there are trails, and if you are down, there are trails. The trails, though... well... maintenance varies from good to non-existent.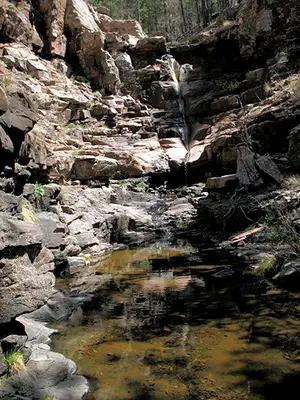 This is a heavily vegetated area with extensive pine forests in the upper reaches. This area also has probably the highest densities of mule deer, wild turkeys and black bears in Arizona.
Group sizes are limited to 15 people, with no more than 15 pack animals or livestock at a time. Camping is allowed virtually everywhere, the stay limit is 14 days.
A large part of Sierra Ancha Wilderness is that east-facing escarpment dropping down from the heights of Aztec Peak. On the summit of Aztec Peak is a Forest Service fire watchtower, accessible by dirt road from the From the Desert to Tall Pines Scenic Road. Most of that access road is no big deal but there comes a point where you're climbing through sharp turns and hugging the face of the cliff as you go. If heights and sheer drop-offs make you nervous, you might want to do something different. The view at the top, though: 360° and up to 100 miles. There's a lot of flowing water in this area, too, and with all those cliff faces there are a lot of waterfalls. This is another area on the edge of the Mogollon Rim where you might find hundreds of millions of years of geology exposed to the naked eye.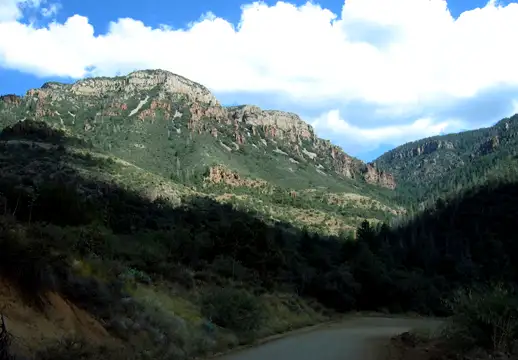 Another side of the Sierra Ancha Mountains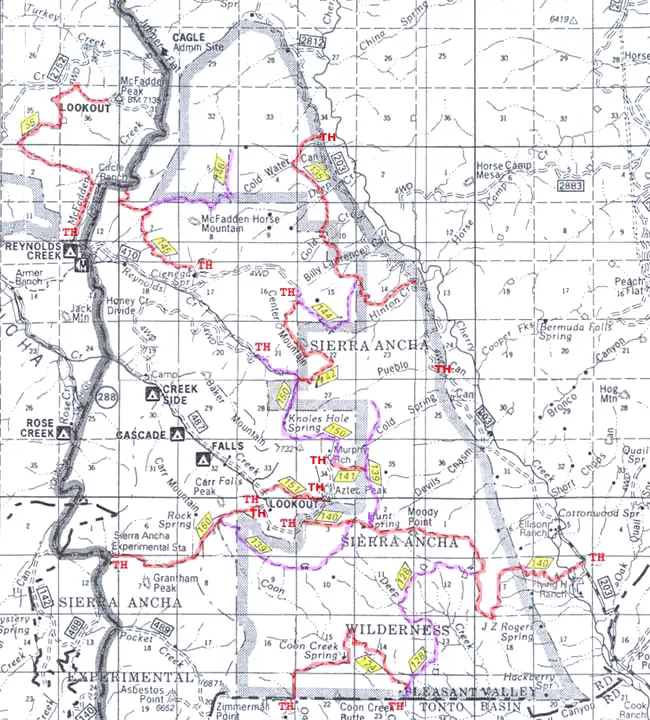 Sierra Ancha Wilderness
Tonto National Forest -

US Forest Service

Upper photos and map courtesy of the US Forest Service
Lower photo of the Sierra Ancha Wilderness courtesy of Joe Schallan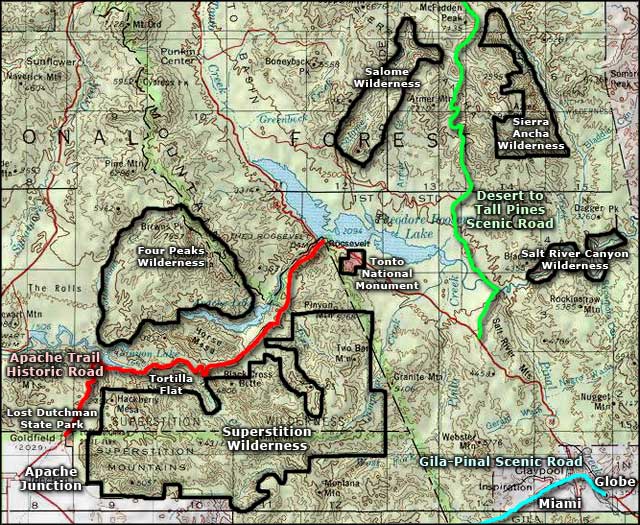 Related Pages
Map courtesy of National Geographic Topo!