Arizona State Parks, Museums and Recreation Areas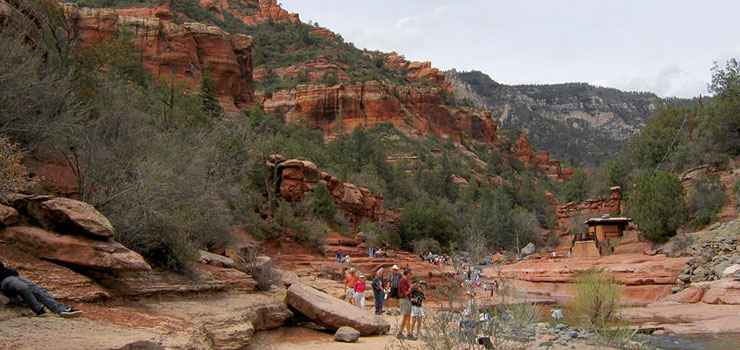 Slide Rock State Park
Arizona has some excellent state parks, museums, historic sites and recreation areas. Below is a list of them with links to pages that offer more info on each (you can also click on the names on the map).
Certain rules and regulations seem to hold true for most of Arizona's State Parks. Here they are:
Do not litter.
Keep pets on a leash.
For campers there is a 15-day stay limit.
Most campgrounds have a check-out/check-in time of 2:00 PM
If there's a barbecue grill, fire pit or fire ring provided, keep your fires in that.
Keep your noise down.
Quiet hours are from 10:00 PM to 7:00 AM.
Drive only on designated roads.
As part of the fallout from the general economic crash, Arizona decided to save a few bucks by closing several state parks. So as of late 2010, Homolovi, Lyman Lake, McFarland and Oracle State Parks were locked up. They have all reopened since on very limited schedules. Some parks are operating on a five-day schedule that has them open Thursday through Monday, 8 am to 5 pm: Fort Verde State Historic Park, Jerome State Historic Park, Riordan Mansion State Historic Park and Tonto Natural Bridge State Park. The remaining state parks are all open, but some of them are now being operated by local municipalities or by "Friends of... State Park" groups.
Arizona State Parks, Museums and Recreation Areas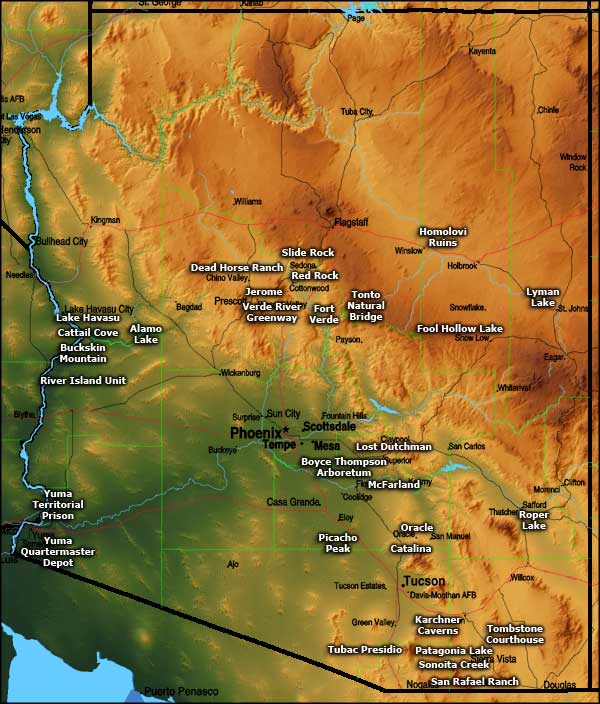 Photo of Slide Rock State Park courtesy of Wikipedia userid Postdlf,
CCA-by-SA 3.0 License
Map courtesy Cartesia MapArt US Terrain