Eufaula National Wildlife Refuge

Morning at Eufaula National Wildlife Refuge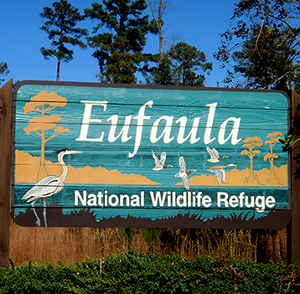 Eufaula National Wildlife Refuge is an overlay on Lake Eufaula consisting of 11,184 acres: 7,953 acres in Alabama and 3,231 acres in Georgia. Lake Eufaula (also known as Walter F. George Reservoir) is a US Army Corps of Engineers impoundment of the Chattahoochee River on the boundary of Georgia and Alabama. The landscape at Eufaula NWR is a mix of wetlands, woodlands, croplands and grasslands.
While you'll find bobcat, beaver, otter, fox, squirrel, coyote, white-tailed deer, wild turkey and rabbit on the property, the primary mission here is to provide habitat for migratory waterfowl and migratory neo-tropical birds. Wintering duck populations reached a peak of more than 40,000 birds back in the 1970's. Recent years have seen those numbers drop to between 12,000 and 20,000. The resident Canada goose population hovers around 2,000 birds but Eufaula hardly ever sees migrant geese. There are hundreds of great egrets, great blue herons, little blue herons, snowy egrets, cattle egrets and anhingas filling several large rookeries around the lake.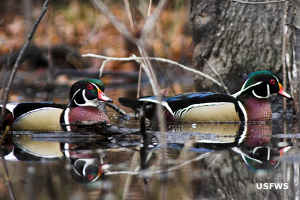 About 100 wood storks come to hang out in the spring and summer while several hundred sandhill cranes use the property in the winter. Apparently there's a healthy population of American alligators on the wetlands, too.
Eufaula National Wildlife Refuge is located about 80 miles east of Montgomery, Alabama, and about 40 miles south of Columbus, Georgia. A lot of the property is within the city limits of Eufaula, Alabama, although the refuge headquarters is located about seven miles north of Eufaula on Alabama Highway 285 (off US Highway 431). The refuge office is open from 8 am to 4:40 pm, Monday through Friday (except for Federal holidays). The refuge itself is open to the public from dawn to dusk, seven days a week. The refuge offers one walking trail, two observation towers and a 7-mile auto tour route.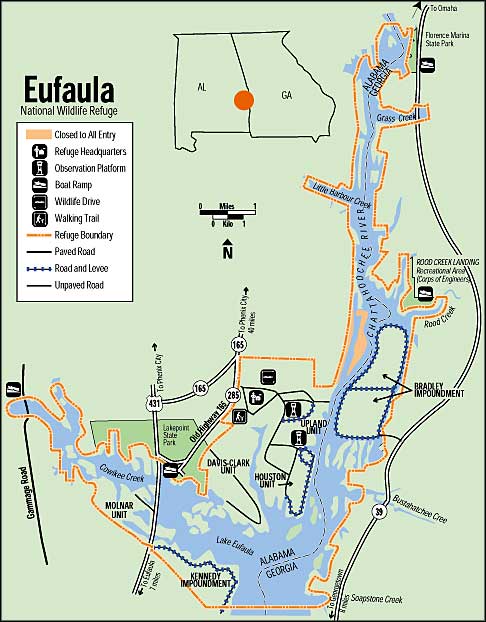 Eufaula National Wildlife Refuge
US Fish & Wildlife Service
Photos and map courtesy of the US Fish & Wildlife Service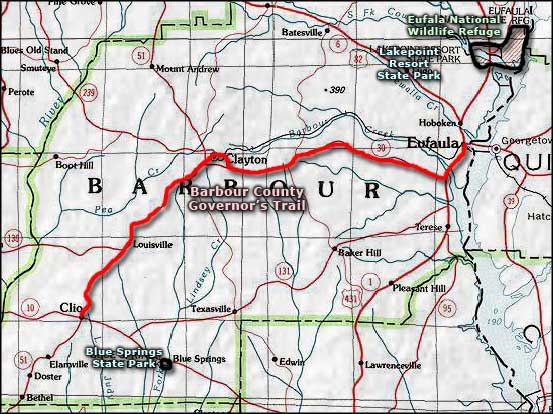 Related Pages
Area map courtesy of National Geographic Topo!