Wind River Canyon Scenic Byway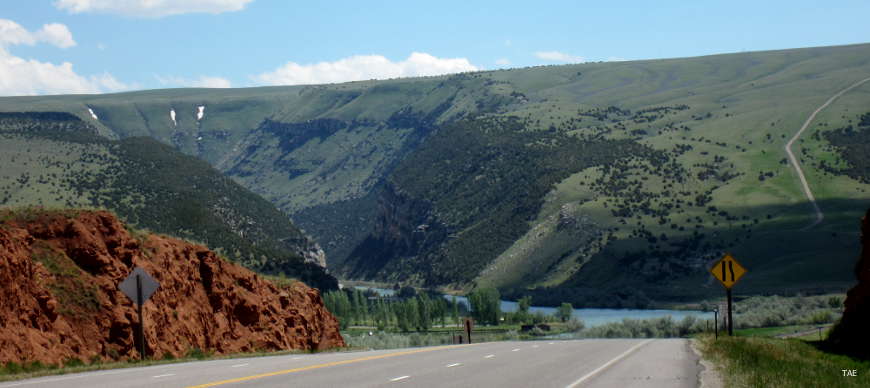 Wind River Canyon Scenic Byway heading south from Thermopolis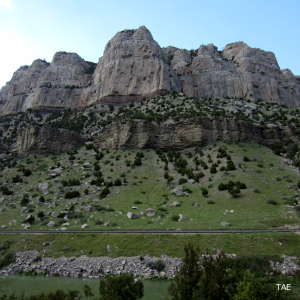 The Wind River Canyon Scenic Byway is a 34-mile route along US Highway 20 between Shoshoni and Thermopolis in central Wyoming. This is a drive through history and some of Wyoming's incredible geology.
Near Shoshoni is Boysen State Park, a recreational area centered around Boysen Reservoir at the eastern edge of the Wind River Indian Reservation. The landscape around Boysen Reservoir is reminiscent of the landscape of Petrified Forest National Park in Arizona with the eroded remains of ancient sea bottom and sand dunes.
Heading north from Boysen is where you'll enter Wind River Canyon itself. The Wind River carved this canyon deep into the ancient rock over millenia, eventually emerging from the canyon just south of Thermopolis.
In places, the canyon walls rise some 2,500' on either side of the road. There is interpretive signage along the way, pointing out rock dating back to the Precambrian period (more than 2.9 billion years ago). There is signage for each layer of the pink and black cliffs, making this drive through Planet Earth's earliest days a geology lesson, too. Near the emerging point from the canyon (in a place named "Wedding of the Waters"), the river changes its name to Bighorn River, which then flows through Thermopolis and north along the western side of the Bighorn Mountains to Bighorn Canyon.

In Thermopolis is Hot Springs State Park, site of the world's largest natural mineral hot springs. The hot springs were a favorite hangout of the Shoshoni and Arapaho for many years but when they finally gave it up to the Anglo-European invaders, they signed a treaty that makes public access to the springs free for all people, for all time. The state park also offers a swinging foot bridge that spans the Bighorn to give you a chance to see their resident bison herd.
The Wind River is a spectacular fly fishing and whitewater rafting river in season. There are many fallen rocks and boulders in the river that make it a Class IV and Class V in spots. The primary outfitter on this section of the river is Wind River Canyon Whitewater & Flyfishing Outfitters, a Native American-owned business.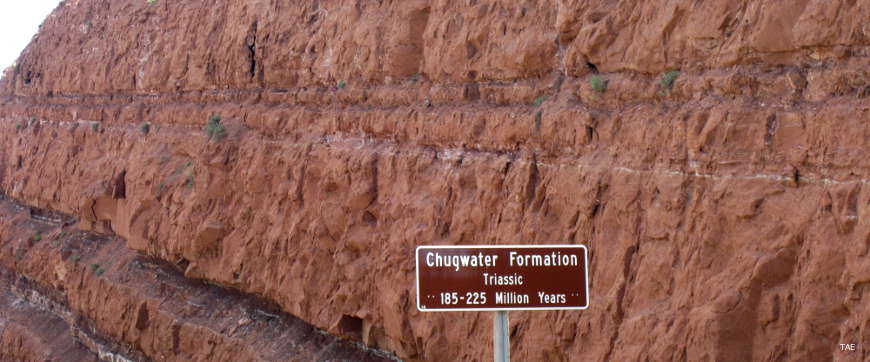 The Chugwater Formation outside of Thermopolis

Boysen Reservoir from the north end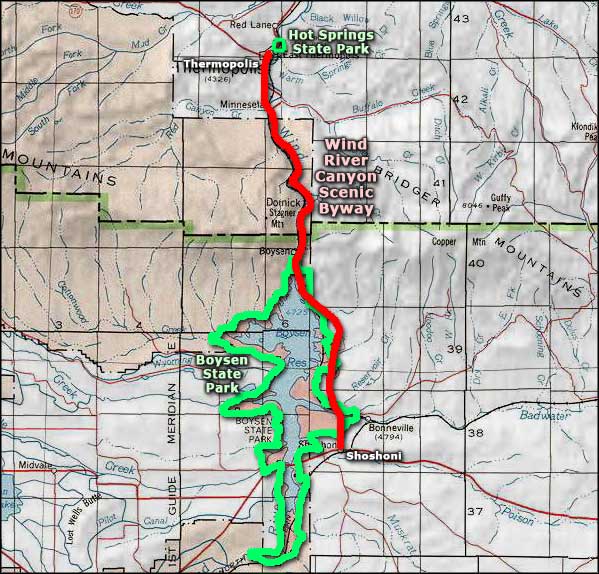 Related Pages
Map courtesy of National Geographic Topo!