Snowy Range Scenic Byway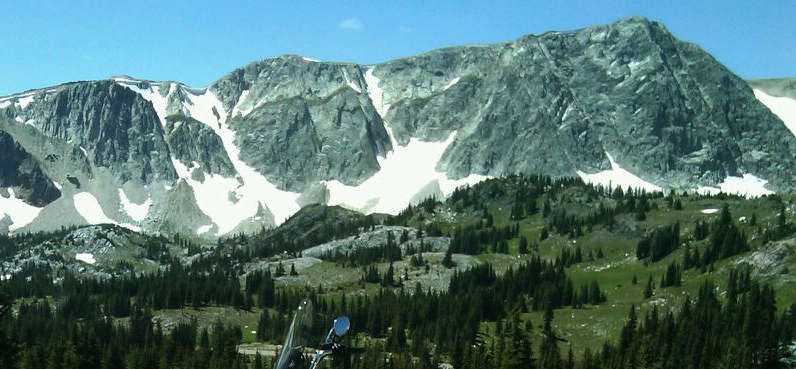 Medicine Bow Peak, along the Snowy Range Scenic Byway
The Snowy Range Scenic Byway is a 29-mile route across the Medicine Bow Mountains in Medicine Bow National Forest. There are picnic, camping, interpretive and observational facilities along its whole length. There are also trail heads for many of the trails in the Medicine Bow Mountains. The highest point in the Medicine Bow Mountains, Medicine Bow Peak (12,013') is immediately adjacent to the road and the primary hiking trail leading to its summit is beside the road. Lake Marie and Mirror Lake, two glacier-fed lakes at the foot of Medicine Bow Peak, are among the most famous lakes on Earth among photographers and painters.
West of Medicine Bow Peak is Ryan Park Campground, a facility built during the days of the Civilian Conservation Corps and used as a prisoner-of-war camp during World War II. The campground has been refurbished since those days and there is plenty of interpretive signage along the self-guided tour pointing out the locations of the various facilities that were used by the prisoners. Near the high point on the road (10,847') is the Libby Flats Observation Point where you can get out and take a look to the south and see many of the mountain ranges in northern Colorado.
The Medicine Bow Mountains got their name from all the mountain mahogany that grows there. The ancestors of the Plains Indians have been coming to these mountains for at least 8,000 years to collect the wood, their favorite for making their bows of.
As the Snowy Range Scenic Byway is high in the mountains, there are large expanses of krummholz vegetation and alpine tundra to be explored along the way. The Medicine Bow Mountains are also known for large herds of deer and elk and many alpine lakes and streams filled with trout and Rocky Mountain whitefish. Just do your research before you take a long hike in to a fishing lake: some of them are too shallow for fish to survive in during the long, cold winters. Forest Service roads run off in all directions, beckoning you deeper into the forest... and they don't call this the "Snowy Range" for no reason: the route is usually closed by snow from mid-November to late May every year.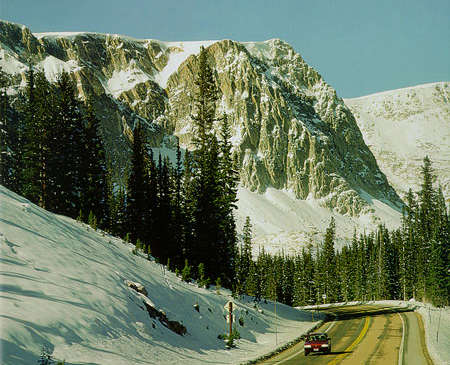 Winter along the Snowy Range Scenic Byway
Lower photo courtesy of Randy Wagner, via Byways.org
Upper photo courtesy of Talbot Hauffe, Wyoming DOT via Byways.org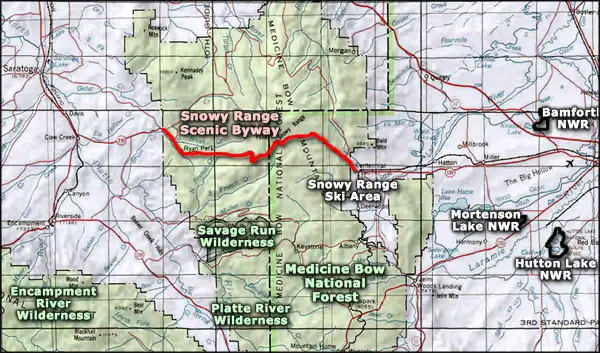 Related Pages
Map courtesy of National Geographic Topo!