Cloud Peak Wilderness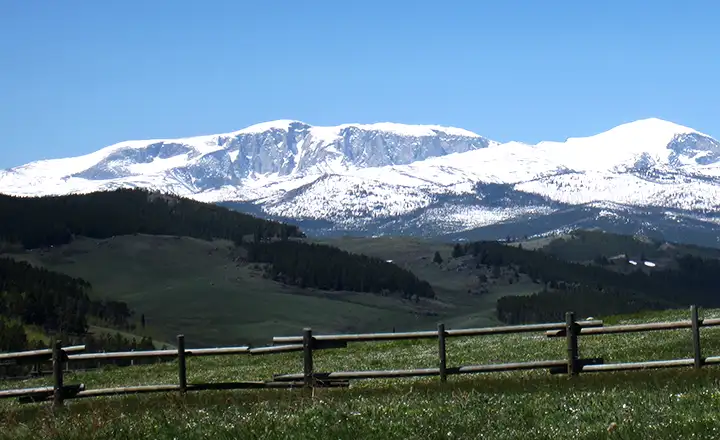 Cloud Peak, in the heart of the Cloud Peak Wilderness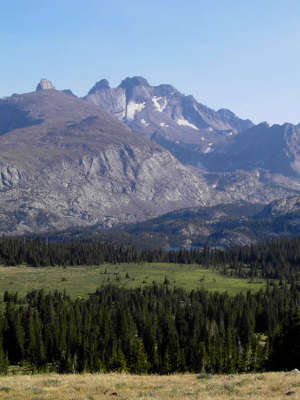 Cloud Peak Wilderness is a 189,039-acre property established to protect and preserve the wildest and highest areas of the Bighorn Mountains. The Cloud Peak Primitive Area was established in 1932 but that designation was upgraded in 1984 to full wilderness status. The wilderness extends for about 27 miles along the upper spine of the Bighorn Mountains and includes the highest peaks in the range. With most elevations above 10,000', snow stays on the ground well into July. The last great Ice Age lasted here until somewhere between 6,000 and 9,000 years ago. At its height, there were 19 glaciers scouring the land and cutting deep, U-shaped valleys everywhere. Gravel, boulders and bedrock were pushed away from the spine of the mountains and when the great melting began, huge moraines surrounded the heart of the Bighorns. The last remaining glacier in the Bighorn Mountains lies in a cirque on the northeast side of Cloud Peak (13,167'), although that glacier is retreating so fast that it's predicted to be gone forever sometime between 2020 and 2034. It's presently less than 1/3 the size it was just 100 years ago.
The forest is a mix of spruces, pines and firs sprinkled with open meadows and wetlands. Several hundred lakes dot the countryside, feeding miles of bubbling streams and making for excellent fishing. More than 100 miles of trails criss-cross the wilderness, making access reasonably easy. However, once above treeline, the glacier-carved countryside gets more rugged and harder to move around in. The peaks at the center of the Cloud Peak Wilderness offer some great sheer granite walls for folks who want to hone their big-wall rock climbing skills. Primary climbing season: July and August, although the high Bighorns often see their first accumulation of snow in the last week of August.
For folks looking to climb Cloud Peak: the easiest route is up the southwest ridge and it's a long hike/scramble. There are big wall routes on the east and north sides. For most folks, the summit is about 2 days hike from the primary trailheads. Campfires are not allowed. If you need to cook, bring a campstove. Backcountry permits are free but required because the Cloud Peak Wilderness sees a lot of human traffic.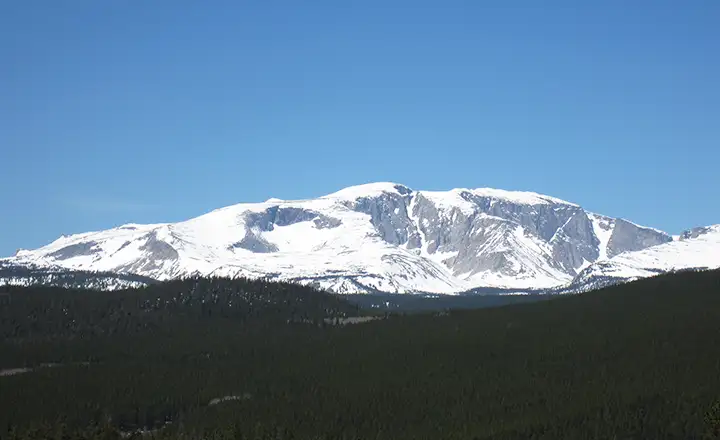 Cloud Peak from Cold Springs Road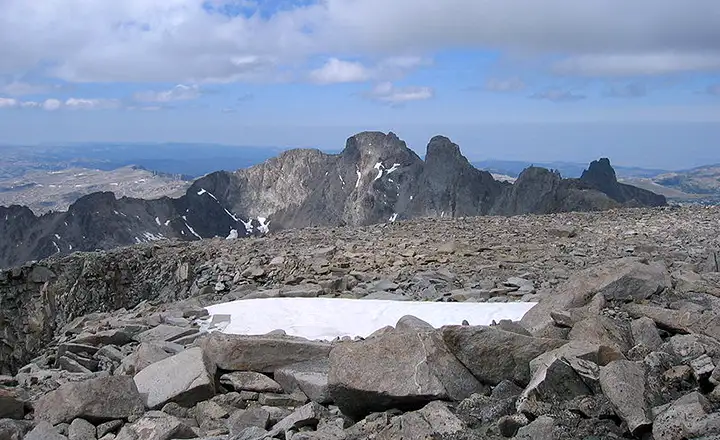 Black Tooth Mountain
(13,005'), from the summit of Cloud Peak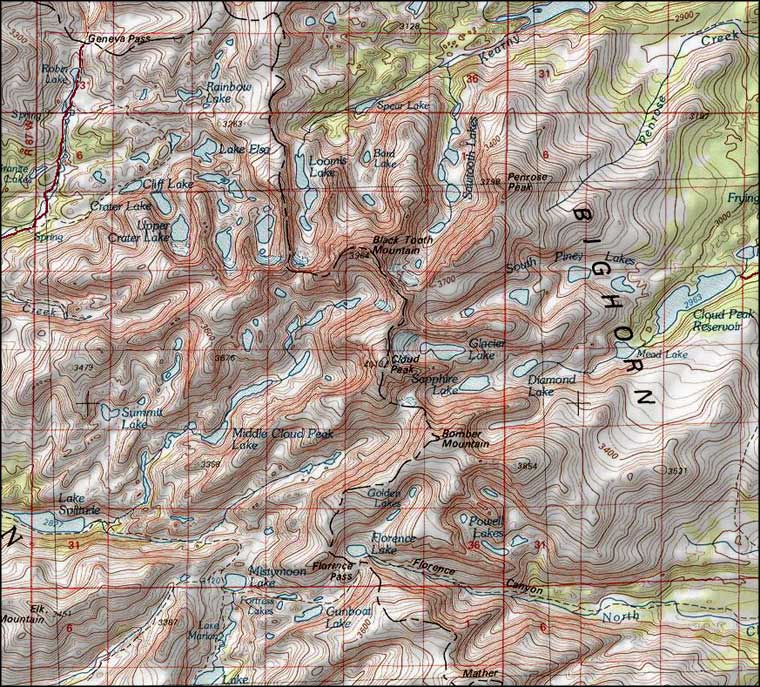 Cloud Peak Wilderness
Bighorn National Forest
Upper left photo courtesy of Andrea Davidson, via Wilderness.net
Bottom photo courtesy of Wikipedia userid Ttharp
Other photos courtesy of TheArmchairExploer,
CCA-by-SA 4.0 License
Map courtesy of National Geographic Topo!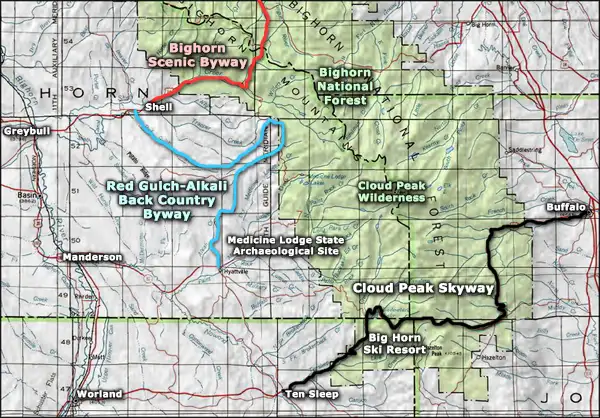 Related Pages
Map courtesy of National Geographic Topo!