Black Ridge Canyons Wilderness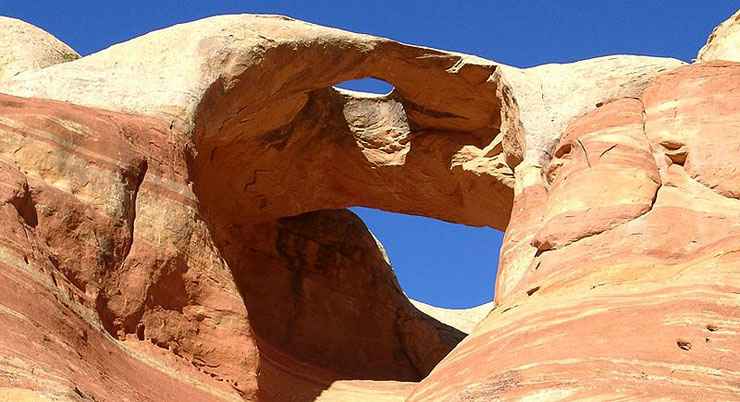 Bridge Arch, as seen from the Arches Loop Trail, Black Ridge Canyons Wilderness
Black Ridge Canyons Wilderness is 70,319 acres in Colorado with about 5,120 acres in Utah. This is an area on the northwestern flank of the Uncompahgre Plateau where the high east-west trending Black Ridge is dissected by a series of 7 major red-rock canyons that drain into the Colorado River to the north. These canyons vary in length from 4 to 12 miles and contain many side canyons, some of which reach a depth of 1,000' below the spectacular red rock cliffs. The area includes many eroded sandstone spires, windows, desert patina and giant alcoves.
In Rattlesnake Canyon you'll find the second largest concentration of natural arches on Earth, along with glistening waterfalls and plunge pools created by spring runoff and summer thunderstorms.
On the upland mesas you'll find dense stands of pinon pines and junipers interspersed among the sagebrush parks. For wildlife you might come across mountain lion, mule deer, desert bighorn sheep, golden eagles and bald eagles.
Access to Black Ridge Canyons Wilderness is either via hiking trails like the one that starts at Pollock Bench or via dirt roads through Colorado National Monument. The dirt roads are open seasonally and should be used only by high-clearance, 4WD vehicles in the dry seasons. A little bit of rain makes these roads all but impassable.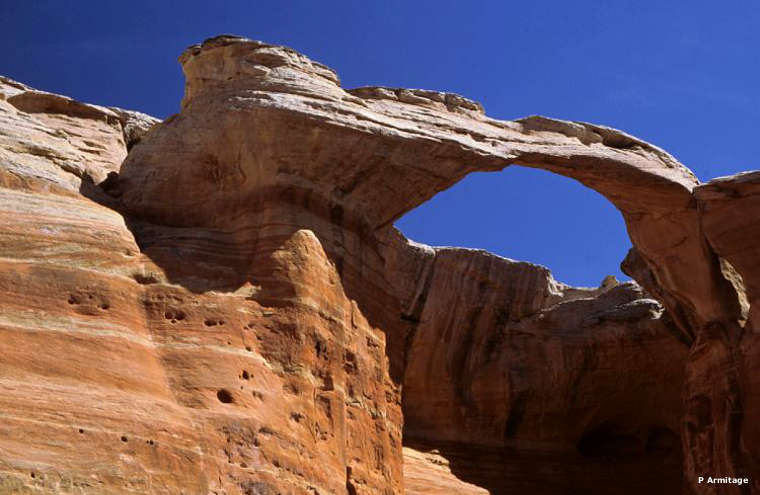 East Rim Arch in Rattlesnake Canyon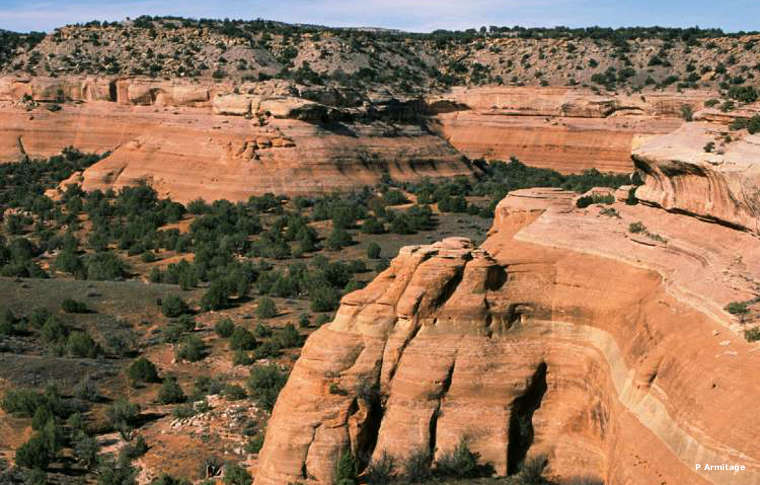 View of the Black Ridge Canyons Wilderness from the Pollock Bench Trailhead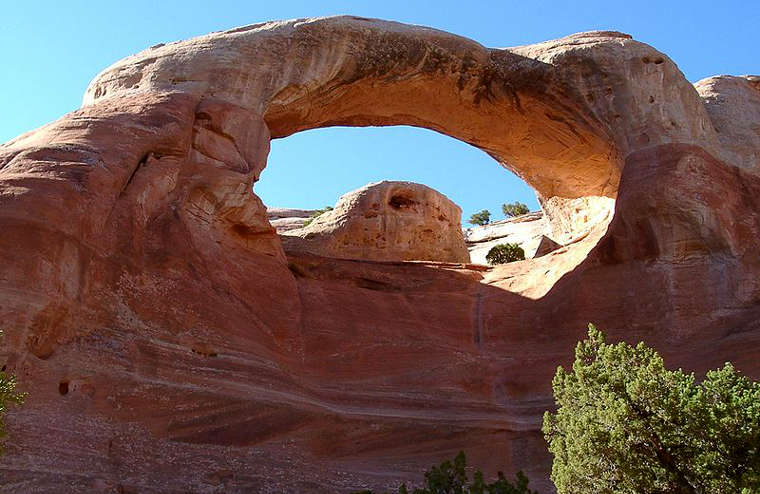 The Arches Loop Trail starts out with a somewhat tricky descent through Cedar Tree Arch
Black Ridge Canyons Wilderness
Bureau of Land Management

- Moab Field Office
Photo of East Rim Arch and from Pollock Bench Trailhead courtesy of Phil Armitage
Photos of Cedar Tree Arch and Bridge Arch courtesy of Wikipedia userid Pretzelpaws,
CCA-by-SA 3.0 License