Colorado National Monument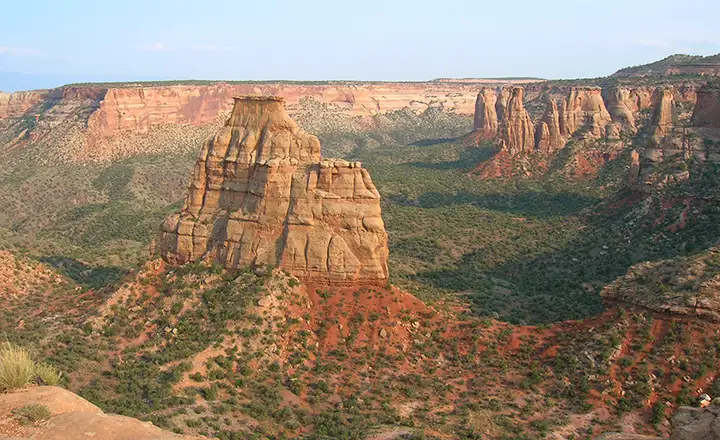 Independence Monument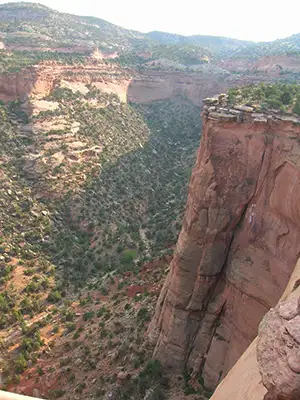 Colorado National Monument is a place that I hadn't been to in at least 40 years. I have memories from my childhood but they really didn't measure up to the spectacular place I drove into in September, 2007. What I found far exceeded my memories (and my expectations).
Colorado National Monument and McInnis Canyons National Conservation Area share a 225 square mile, red-rock plateau that, in most places, rises more than 2,000 feet above the Grand Valley. The area is full of rugged canyons that drain into the Colorado River. The plateau, mesas and ridges are covered with pinon and juniper woodlands interspersed with sagebrush flats. My visit was too short to allow me to go into McInnis Canyons NCA the way I'd like to but sooner or later...
I drove in through the West Entrance, near Fruita, Colorado. I spent most of my time driving Rim Rock Drive but I did get out and hike some of the short trails and saw some incredible countryside. There were quite a few overlooks along the way, most of them with wayside exhibits and interpretive signage. Rim Rock Drive is paved all the way but it really hugs the winding canyon rim: you'll need at least an hour to drive the 23 miles to the East Entrance. You'll also want more time so you can stop, hike a bit, get some photos, and just plain enjoy the incredible views. If you have a height problem, most of the overlooks have fences or guard rails to help you maintain your equilibrium while enjoying the scenery. And while you're at it, stop at the Visitor Center and explore what's inside: they've done a great job of explaining what you are looking at and why it's here.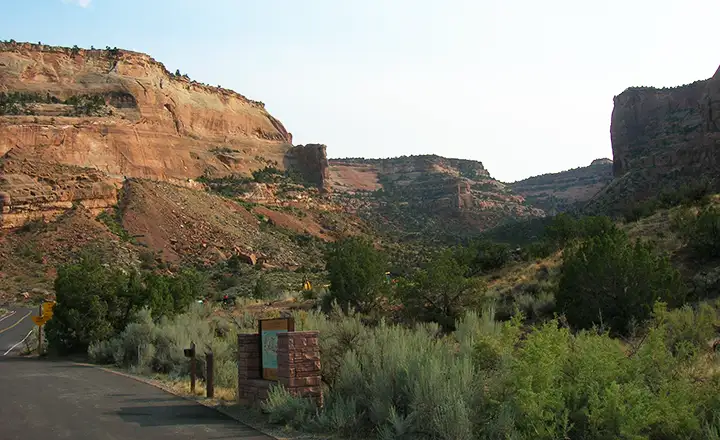 Looking in from the west entrance to Colorado National Monument near Fruita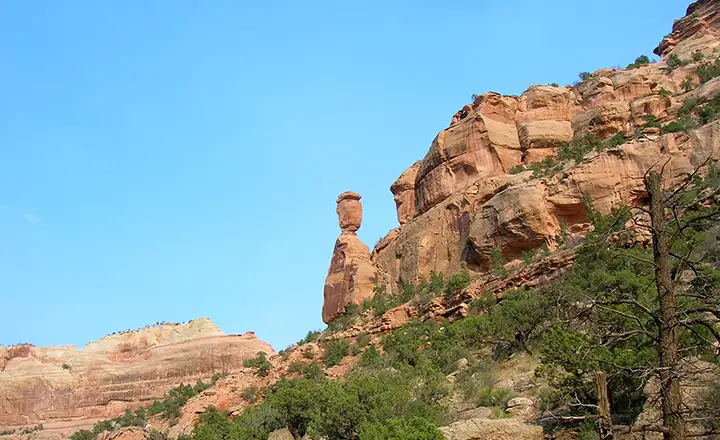 Balanced Rock in Fruita Canyon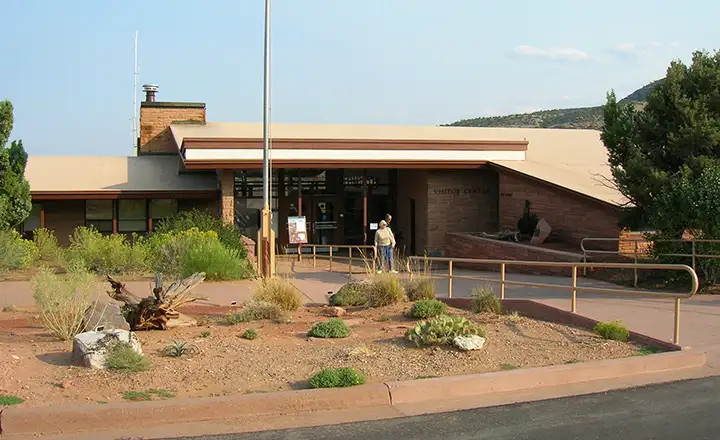 Colorado National Monument Visitor Center
There are three picnic areas in the park: next to the Visitor Center, near the Saddlehorn Campground and near the East Entrance at the Devils Kitchen picnic area. The Devils Kitchen and Visitor Center picnic areas are both universally accessible and offer shade shelters. The Saddlehorn and Devils Kitchen picnic areas both have charcoal grills, tables, water, and restrooms. There are accessible restrooms at the Visitor Center, Saddlehorn Campground and Devils Kitchen picnic areas.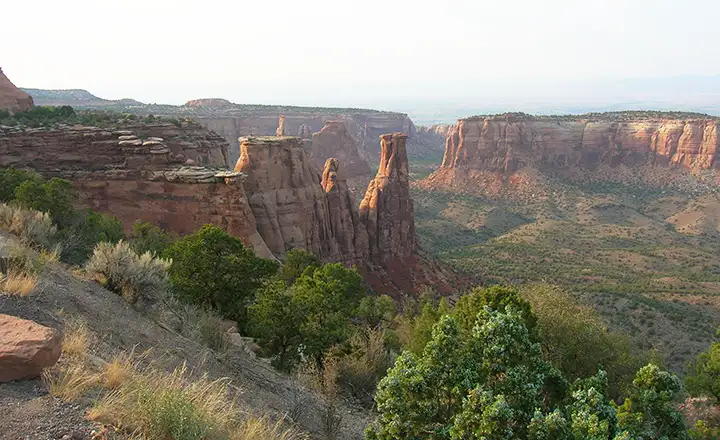 More formations in the sandstone
Saddlehorn Campground has 80-sites open year round, some are even pull-through and two are universally accessible. There is a self-registration kiosk at the campground entrance and sites are available first-come, first-served. The campground offers flush toilets and water, and picnic table, charcoal-only grill and parking area for each site. There are no electric hookups or showers and wood fires are not permitted anywhere in the park. Camping fees are $10 per night and are in addition to the entrance fees. Each site is allowed 2 cars, 3 tents and 7 persons per site. To camp in the back country, get a required, free permit at either entrance station or at the visitor center and be prepared to carry lots of water for your stay (water you find in the back country may carry Giardia or even be polluted with selenium, a naturally occurring heavy metal that water leaches out of the soil).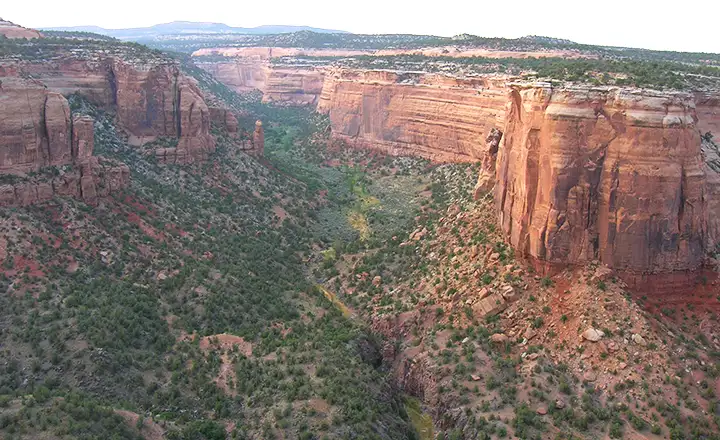 The canyons get narrower as you ascend the hill
Leashed pets are allowed in the campground and along the roadway but not in the back country or on any trail. If you wish to use recreational horses or other pack animals in the Monument, contact the Visitor Center for details. As most of this area is designated wilderness, off-road vehicles are not allowed and mountain biking is strictly limited to Rim Rock Drive and a couple of other connecting roads.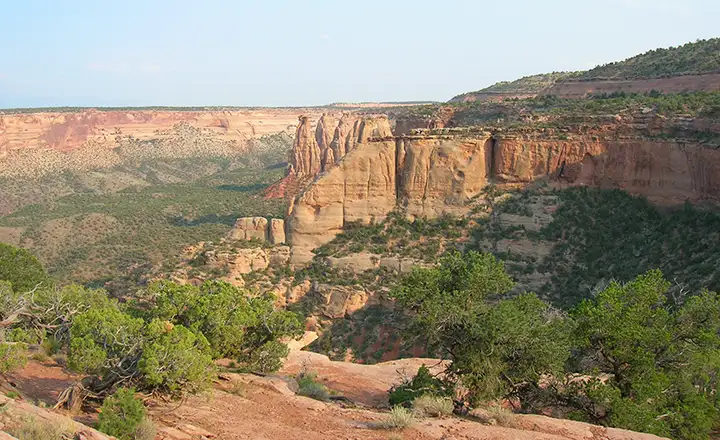 Looking east into Monument Canyon
In Colorado National Monument, the rock layers you are driving among and looking at are up to 2 billion years old - nearly half the age of planet Earth. The layers of rock were deposited over millenia and then carved by the extraordinary forces of erosion carried out over even more time.
When John Otto first came across this countryside in 1906, he resolved to lobby Congress to do something to preserve this incredible place. In 1911, after innumerable letters, petitions and requests from the citizens of Grand Junction and other surrounding areas, President William H. Taft used the 1906 Antiquities Act to create Colorado National Monument. John Otto volunteered his services at $1.00 per month and became the park's caretaker until 1927. Many of the trails in use today were created by him and many of the monuments still bear the names he gave them back then. Otto was so entranced by this landscape that he even got married in Wedding Canyon, although his bride later said that she just couldn't live with a man for whom even the simplest of log cabins was too much of a barrier to place between himself and the world-at-large.
In the 1930s, the men of the Civilian Conservation Corps worked with other agencies and many skilled local workers to carve Rim Rock Drive out of the plateau's sandstone, using mostly hand tools and wheelbarrows in their labors.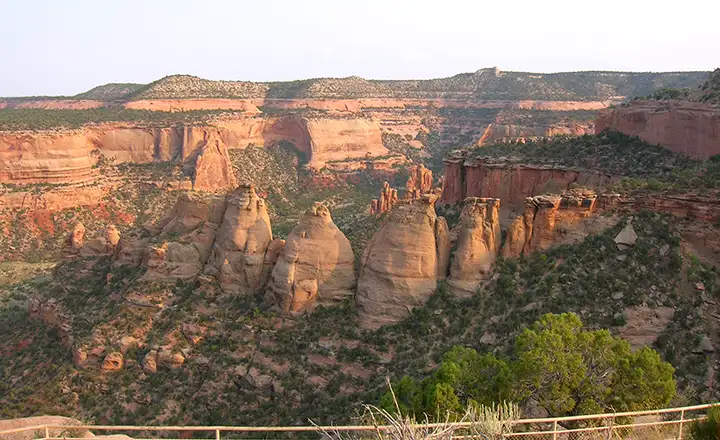 The Coke Ovens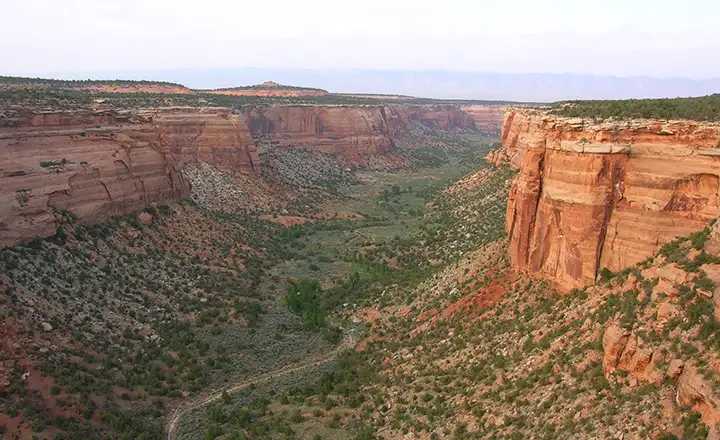 Most canyons have hiking trails along their bottoms
Because of the wide variation in terrain and elevation, the weather and climate here are quite varied. Desert, semi-desert and upland climates are represented with the elevations ranging from 4,000 feet to over 7,000 feet above sea level.
Spring temperatures are usually mild with daytime highs in the mid 60s. In the summer months, the daytime highs run in the 80s and 90s, although down in the canyons the temperatures can easily reach and exceed 100 degrees. Winters tend to be mild with highs between 20 and 45 degrees while the nighttime lows can drop to zero.
Annual precipitation averages 11 inches, the wettest period being August through October with other wet spikes in March and May.
In any season, the hiking trails of Colorado National Monument are a great way to explore the property. Before you start off from the trail head, because of the nature of the countryside you will be going into, you want to take into account your experience in canyon country, your physical fitness, and your ability to carry lots of water. You'll want good hiking boots or other good footwear for climbing over rocks and walking in sand. Also, you never know when extreme weather may pop up: this isn't just Colorado, it's red rock country and flash floods or heavy snowfall can happen at almost any time. You want to be prepared with good equipment and the right kind of equipment: compass, topo maps, first aid kit, extra clothing, and plenty of water (and food), but no firearms.
When hiking here, stay on hard surfaces so that you don't disturb the cryptobiotic soil crust. It's best to walk single file in the middle of the trail, even when it's raining or just muddy. If you decide to leave the trail, stay on hard gravel or expanses of rock or in the middle of sandy washes so that you don't disturb the fragile vegetation. This is "Pack it in, Pack it out" country: leave no trace. There's all kinds of wildlife out here, including desert bighorn sheep, but don't approach them and don't feed them: leave them wild. The same goes for cultural artifacts, fossils and other natural objects: observe them, enjoy them, leave them untouched. Mountain bikes, off-road vehicles and pets are not allowed on the trails listed below.
Short Hiking Trails
Window Rock: .25 miles long, about 15 minutes (each way).
This is a level loop trail through a juniper and pinon landscape to an overlook with great views of most of the major rock formations in Monument and Wedding Canyons, including Independence Monument.
Canyon Rim: .5 miles long, about 30 minutes (each way).
This is a level trail along the cliff edge with outstanding views of Wedding Canyon.
Otto's Trail: .5 miles long, about 30 minutes (each way).
This is a gently sloping trail (I found it somewhat braided) that leads to a dramatic overlook with great views of many of the largest monoliths.
Coke Ovens: .5 miles long, about 30 minutes (each way).
This trail drops gradually to an overlook above the massive rounded formations named "The Coke Ovens."
Devils Kitchen: .75 miles long, about 30 minutes (each way).
This is a slow drop into the Devils Kitchen: a natural grotto surrounded by large upright boulders.
Serpents Trail: 1.75 miles long, about 90 minutes (each way).
This historic trail has more than 50 switchbacks (it's also known as "the The Crookedest Road in the World"). The trail is a steady climb from east to west. The trail follows a road built in the early 1900's that was actually part of the main road in the Monument until 1950.
Alcove Nature Trail: .5 miles long, about 90 minutes (each way).
This is a self-guiding nature trail on the Kayenta bench.
CCC Trail: .75 miles long, about 15 minutes (each way).
This short trail connects the Monument Canyon and Black Ridge Trails.
Old Gordon Trail: 4 miles long, about 2.5 hours (each way).
This is a mostly undeveloped trail that rises steadily along the path of a historic lumber and cattle-drive route. The park's geological story is exhibited almost in its entirety through the layers of rock naturally exhibited along the way.
Black Ridge: 5.5 miles long, about 3 hours (each way).
This is the highest trail in the park with great view west to the Utah canyonlands, east to Grand Valley and south to the San Juan Mountains. Crossing the McInnis National Conservation Area, this trail follows the up-and-down terrain of Black Ridge.
Monument Canyon: 6 miles long, about 3.5 hours (each way).
This is a steep, 600-foot descent into Monument Canyon from the plateau. Independence Monument, Kissing Couple, the Coke Ovens, and many other of the the park's major rock sculptures tower overhead along the way.
Ute Canyon: 7 miles long, about 4 hours (each way).
This is a rigorous descent from the plateau into narrow Ute Canyon along a maintained trail. Once down, the route follows the streambed past seasonal waterflows and small ponds bordered by willows and cottonwoods. You'll see a few arches along the way.
Liberty Cap: 7 miles long, about 4 hours (each way).
This trail winds across the gentle slopes of Monument Mesa through the pinon and juniper forest and sagebrush flats for 5.5 miles to the Liberty Cap rock sculpture. While the trail is ideal for horseback riding, the last 1.5 miles drops steeply into Grand Valley.
No Thoroughfare Canyon: 8.5 miles, about 8 hours (each way).
On a maintained trail, this is a steep drop from the plateau into No Thoroughfare Canyon. Once down, the route is essentially undeveloped through the bottom of the remote canyon with walls rising more than 400 feet above.
Colorado National Monument is open 24 hours a day, every day of the year. The Saddlehorn Visitor Center has much shorter hours but is only closed for Christmas Day. The Visitor Center is open from 8 am to 6 pm from Memorial Day to the end of September. From October 1 through November 30 and from March 1 to Memorial Day, the visitor center is open from 9 am to 5 pm daily. Between December 1 and February 28 the visitor center is open from 9 am to 4 pm daily except for Christmas Day.
Colorado National Monument
National Park Service