Sumter National Forest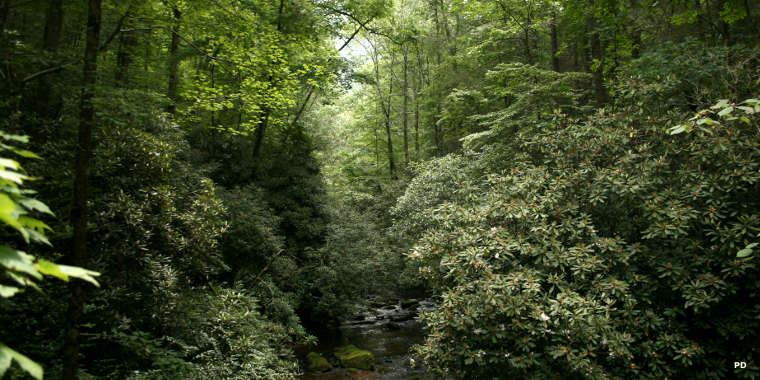 Headwaters of the Chattooga River East Fork in Sumter National Forest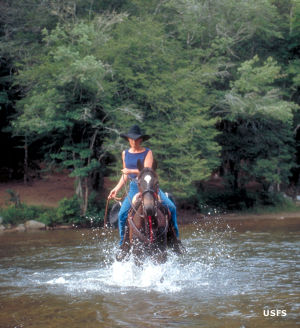 Sumter National Forest is a 370,442-acre non-contiguous property in the western half of South Carolina. The forest has been combined administratively with Francis Marion National Forest but is overseen via three separate ranger districts: Andrew Pickens Ranger District in the west, Enoree Ranger District in central South Carolina and Long Cane Ranger District in southwestern South Carolina.
The forest was created by an Executive Order given by President Franklin Delano Roosevelt. Incorporated into the forest at that time was acreage that had originally been farmland but the soil had become depleted and was severely eroded or the property had recently been clear cut and had become a fire hazard. Today's lush green forest is virtually all second-growth, a result of conservation and rehabilitation efforts begun in the 1930's.
The Enoree Ranger District is located northwest of Columbia in the Piedmont region: thick forest in the foothills of the Appalachians. The Ranger District office is in Whitmire. The Indian Creek Wildlife Habitat Restoration Initiative has garnered the Enoree Ranger District national recognition for their outstanding work in natural resource management.
The Long Cane Ranger District is southwest of Columbia against the Georgia border. The Ranger District office is in Edgefield. Long Cane Ranger District is home to the Forks Area Trail system, a nationally-known mountain biking trail network.
The Andrew Pickens Ranger District is in the western corner of the stae, against the borders of North Carolina and Georgia. The Ranger District office is near Mountain Rest. Andrews Pickens is home to the Chattooga Wild & Scenic River and the Ellicott Rock Wilderness.
Recreational gold panning is allowed on the Andrew Pickens and Long Cane Ranger Districts provided one applies for and receives a (free) letter of authorization first: apparently there are areas in each district where valid mining claims still exist. Accompanying your letter of authorization will be a list of restrictions (including restricted equipment: sluice boxes and suction dredges are not allowed) and a map detailing any areas that are closed to collecting or panning.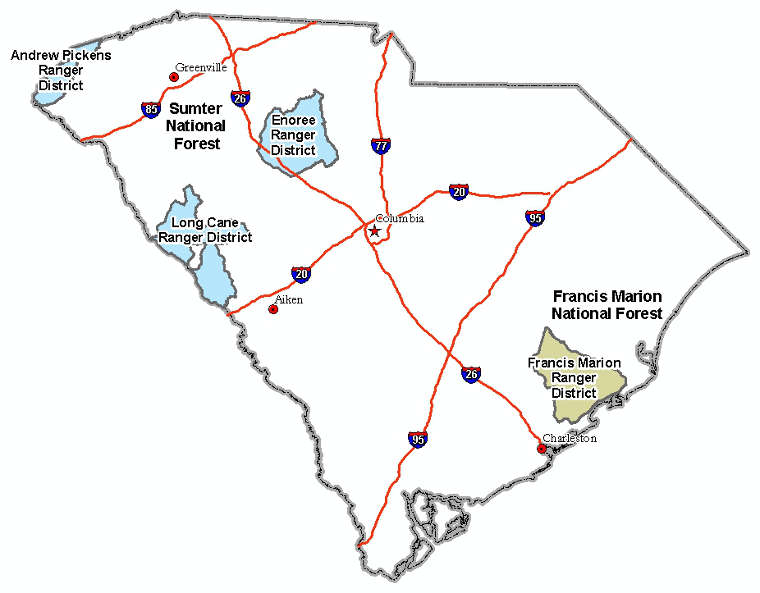 Locations of the National Forests in South Carolina
Sumter National Forest
US Forest Service

Upper photo is in the public domain
Upper left photo and map are courtesy of the US Forest Service