Chattooga Wild and Scenic River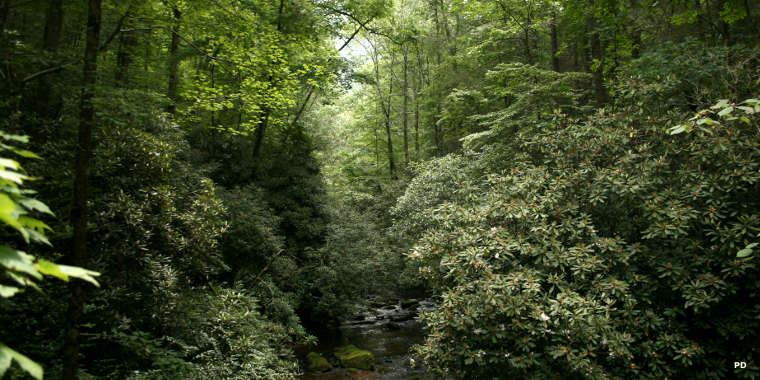 On the East Fork of the Chattooga Wild and Scenic River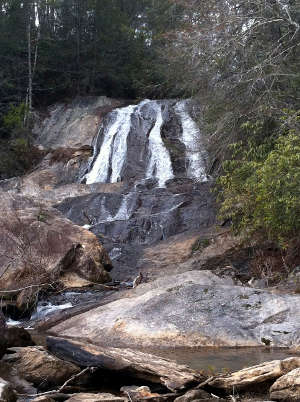 Dicks Creek Falls
The 58-mile long Chattooga Wild & Scenic River crosses three states and offers what is often considered to be the finest and most consistent whitewater rafting experience in the Southeastern States. The river bisects Ellicott Rock Wilderness and straddles the boundaries of Nantahala, Sumter and Chattahochee National Forests in North Carolina, South Carolina and Georgia, respectively. The Chattooga River is one of the few remaining free-flowing streams in the Southeast.
The Chattooga River setting is very primitive as the river flows through dense forests between undeveloped shorelines. Some 41.6 miles is designated wild, another 2.5 miles scenic and 14.6 miles as recreational. Between its farthest headwaters in the Appalachian Mountains of North Carolina and its end at Lake Tugaloo the river drops almost 1/2 mile in elevation, offering outstanding scenery, thundering waterfalls, cliff-enclosed deepwater pools and twisting rock-choked channels. Man-made facilities are minimal, consisting mainly of hiking trails. The landscape within one-quarter mile of either side of the river is a designated machine-less area with no motorized vehicles allowed.
If anyone remembers the movie Deliverance, many of the river scenes were filmed along the Chattooga.
Bull Sluice Rapids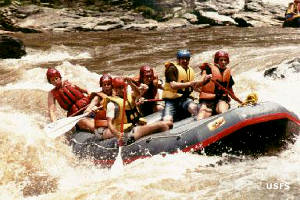 Rafting on the Chattooga
Chattooga Wild and Scenic River
Andrew Pickens Ranger District - Sumter National Forest
112 Andrew Pickens Circle

,

Mountain Rest

,

SC

29664
864-638-9568
Dick Creek Falls photo courtesy of Wikipedia userid Jsfouche,
CCA-by-SA 3.0 License
Rafters on the Chattooga photo is courtesy of the USFS, other photos are in the public domain