Lake Mead National Recreation Area
Lake Mead National Recreation area is comprised of two reservoirs (Lake Mead and Lake Mohave) and 1,495,666 acres of land and water in Utah, Arizona and Nevada. The water surface of the national recreation area usually covers about 186,000 acres but that varies over the years with water flows from far upstream. About 20,000 acres of Lake Mead National Recreation Area are managed as part of Grand Canyon-Parashant National Monument.
The location of this huge property is along the Colorado River at the junction of three major desert ecosystems: the Mohave, the Sonoran and the Great Basin. That makes for a large variety of plants and animals living in this seemingly barren countryside.
Lake Mead was created as a result of the construction of Hoover Dam, Lake Mohave as a result of the construction of Davis Dam. Together, these two dams have tamed hundreds of miles of the Colorado River and provided water, recreation and electricity to millions of people in the southwestern United States.
The Alan Bible Visitor Center is closed for renovations (2010) and the park is now operating out of a temporary visitor center in Boulder City. The visitor center is open seven days a week from 8 am to 4:30 pm.
National Wilderness Areas at Lake Mead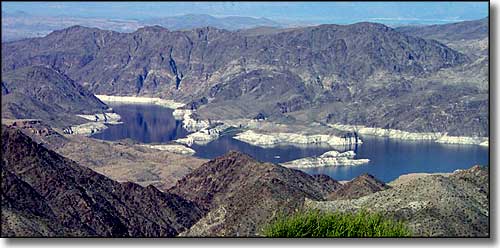 View at the Lake Mead View Overlook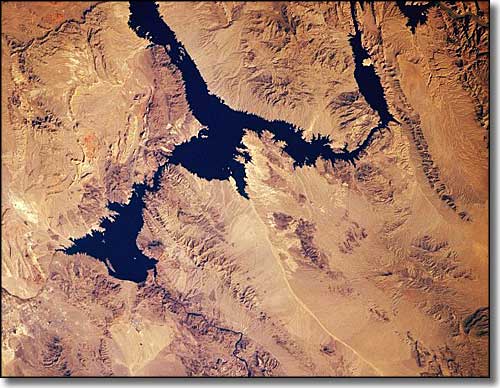 Lake Mead from space

Lake Mead in the Boulder Basin area
Lake Mead National Recreation Area
National Park Service
601 Nevada Way

,

Boulder City

,

NV

89005

Visitor Center:
702-293-8990
Most photos are courtesy of the National Park Service
Satellite photo courtesy of NASA