Grand Canyon-Parashant National Monument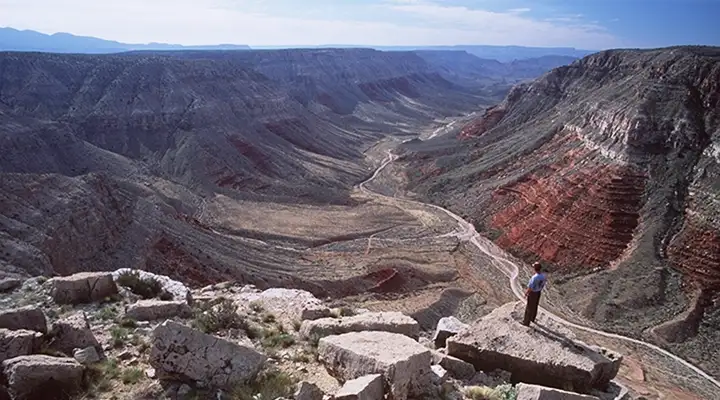 Main Street Valley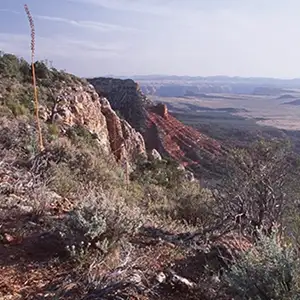 Grand Canyon-Parashant National Monument: 1,050,963 acres of rugged and remote countryside. Forget the cell phone, forget the Subaru, forget the 2WD city car with no clearance... forget stores, motels, restaurants... Think huge, wide open, starkly beautiful other-worldly countryside. Think extra food, extra water, extra gear, extra heavy duty 4WD, extra full-size spare tires, extra days added to your vacation.
There are no services of any sort within Grand Canyon-Parashant National Monument. There are also no fees anywhere. There's an extreme shortage of services in the one million acres of countryside surrounding the monument. There is no paved access to or within Grand Canyon-Parashant. Supposedly, 2WD vehicles with good clearance can get around on the graded roads in dry weather but the official recommendation is for well-equipped 4WD, high clearance, extra spare tires. From my own experience, I'd go with the official recommendation: I was out there in the rain.
This is an area where three physiographic provinces overlap: Great Basin, Colorado Plateau and Mohave Desert. Elevations range from about 2,000 feet to about 8,000 feet. Vegetation varies from Joshua tree and creosote bush to sagebrush and pinion-juniper woodlands to aspen, Gambel oak and Ponderosa pine. There is no water on most of the property but where there is stream flow, you'll find lush, string-of-pearls riparian areas filled with birds and other wildlife. Among the wildlife are desert bighorn sheep, wild turkey, mule deer, desert tortoise, Gila monster, coyote, chukwalla and four (well-represented) species of rattlesnake.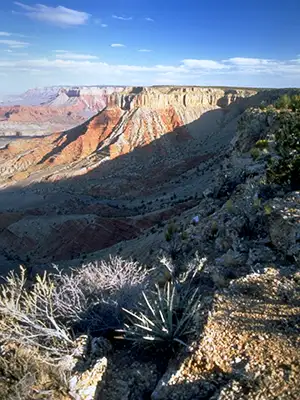 The Grand Wash Cliffs
Primitive camping (the only kind of camping available on the property) is allowed everywhere except within 1/4 mile of any water source. Stay limit: 14 days in any one spot. And it's preferred that you use previously used sites if you're camping anywhere along the main roads. The BLM does offer a primitive campground at Nixon Springs on the south side of Mount Trumbull Wilderness. The only toilets are the ones you dig yourself: dig them well and bury them well.
For hikers: there are only three "semi-maintained" trails in the entire national monument. One is at Mount Dellenbaugh, another at Mount Trumbull and the third on the bench between the upper and lower Grand Wash Cliffs. Every other hike you take may require serious route-finding skills and bushwhacking through dense vegetation and/or across rugged terrain. Be careful when climbing up: make sure you can also climb back down. Never assume that you can continue on past the next hill...
Exposed on the property are relatively undeformed Paleozoic and Mesozoic sedimentary rock layers. Fossils are abundant everywhere, especially fossils of invertebrates like brachiopods and bryozoans. More recently, ancient Native Americans left rock art images and the remains of villages, watchtowers, farms, trails, camps, quarries, rock shelters and burial sites.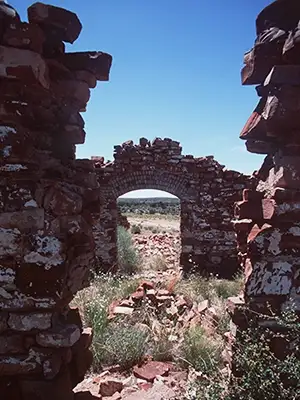 There are four wilderness areas on the property: Paiute, Mount Logan, Mount Trumbull and Grand Wash Cliffs. And there was a time when folks tried to homestead this countryside: you'll find broken down homesteads, cabins, barns, chimneys, water tanks, sawmills, corrals and even a schoolhouse in the ghost town of Mount Trumbull (founded in 1917, finally abandoned in 1984, peak population: 250 in the 1930's).
To get there: the primary entry route is via River Road south out of St. George to the Arizona-Utah border, then follow BLM Road 1069 (Quail Hill Road) to several access points. There are other routes coming in from the west and east but nothing to the south: the south is blocked by Lake Mead, the Colorado River and the Grand Canyon. Whatever you do, it's a really good idea to find and purchase a BLM Arizona Strip road map: it'll have most of the info you'll need to have a more enjoyable visit to this spectacular chunk of countryside.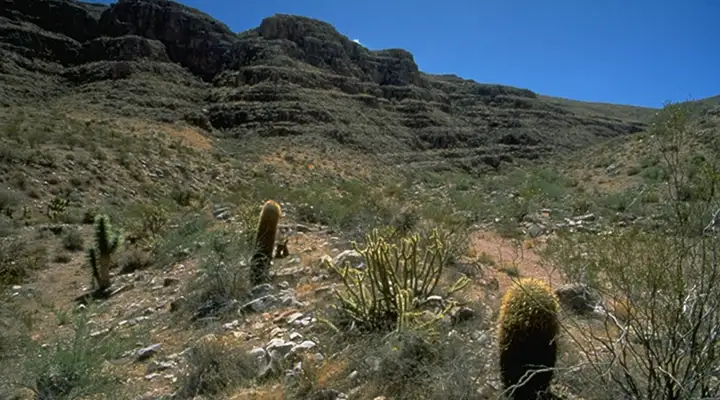 Volcanic depositions atop ancient sandstones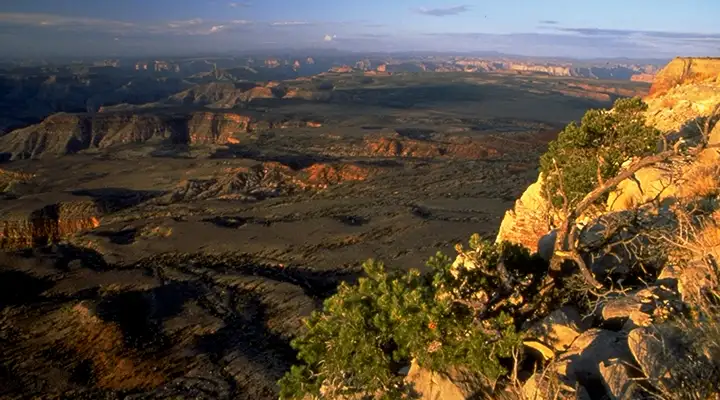 Shivwits Plateau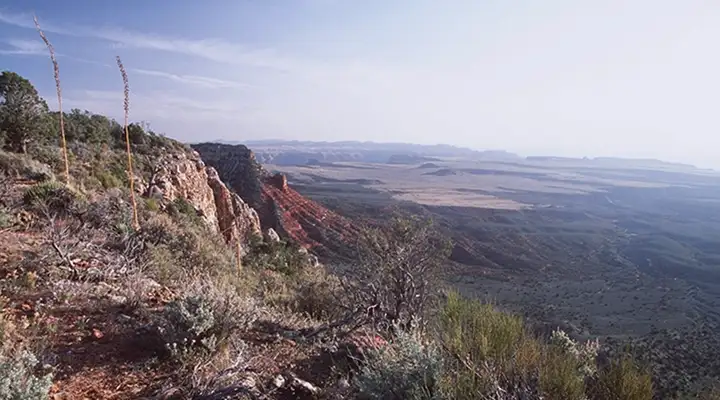 On the Uinkaret Plateau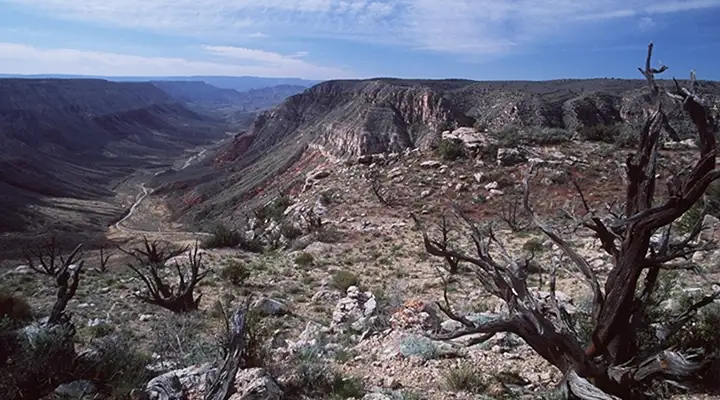 Typical view in the Main Street Valley area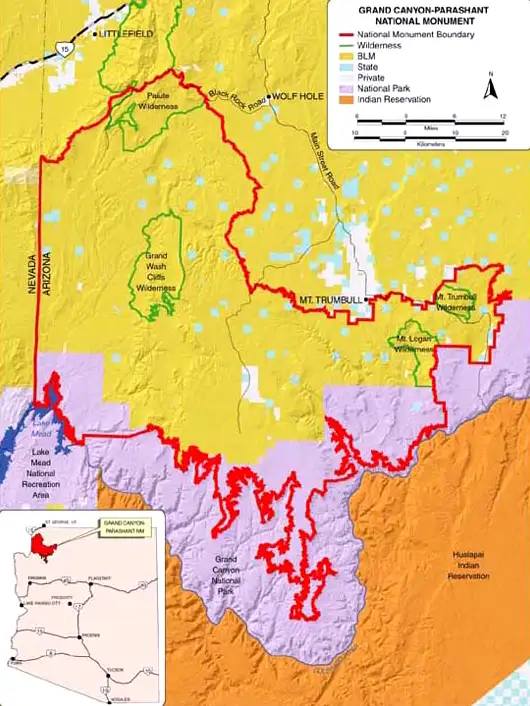 Grand Canyon-Parashant National Monument
Bureau of Land Management

- St. George Field Office
345 East Riverside Drive

,

St. George

,

Utah

84790
435-688-3200

Photos and map courtesy of the Bureau of Land Management