Salmon River Scenic Byway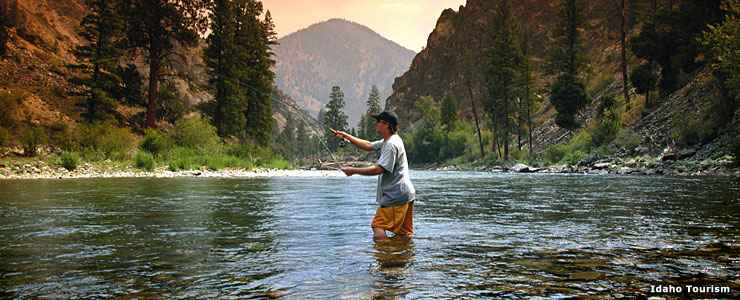 Fishing the Salmon River along the Salmon River Scenic Byway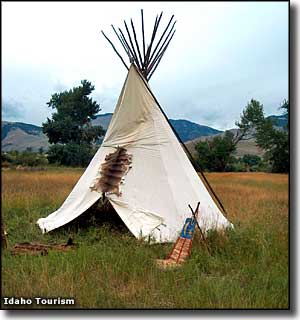 The Salmon River Scenic Byway is a 162-mile drive across some of Idaho's fantastic back country: the Salmon-Challis National Forest through the Salmon River Valley. The north end of the route is at the summit of Lost Trail Pass (6,995') in the Bitterroot Mountains. The southern end of the route is at Stanley, at the foot of the Sawtooth Mountains. In between is countryside that looks much the same as it did when Lewis & Clark first stepped foot on the Idaho side of Lost Trail Pass (the Pass got its name because their guide had lost his way).
Now Lewis & Clark were really lost: they thought they could descend to the Salmon River and easily float down to the Columbia River and the Pacific Ocean from there. They spent a couple weeks trying but finally climbed back up and over the pass to go further north in Montana before trying to cross Idaho again. Today, that black ribbon of asphalt makes finding your way much easier, and the route that asphalt takes around what is now the Frank Church-River of No Return Wilderness is much easier to travel.
The route follows US Highway 93 between Lost Trail Pass and Challis. At the south end of Challis, the Salmon River Scenic Byway turns right and runs over Idaho Highway 75 to Stanley. US Highway 93 from Challis south is the route of the Peaks to Craters Scenic Byway. In Salmon, Idaho Highway 28 cuts off to the southeast and runs through the valley of the Lemhi River as the Sacajawea Historic Byway. In Stanley, the Salmon River Scenic Byway ends at the same intersection where the Ponderosa Pine Scenic Byway begins its journey to the west and the Sawtooth Scenic Byway begins its journey to the south.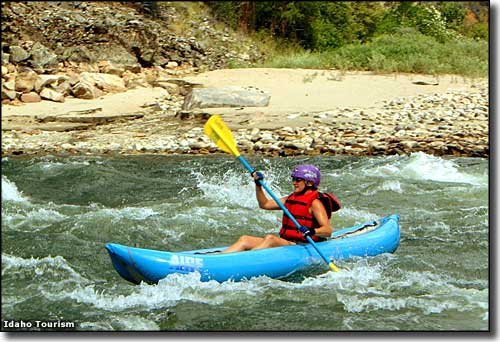 Kayaking the Salmon River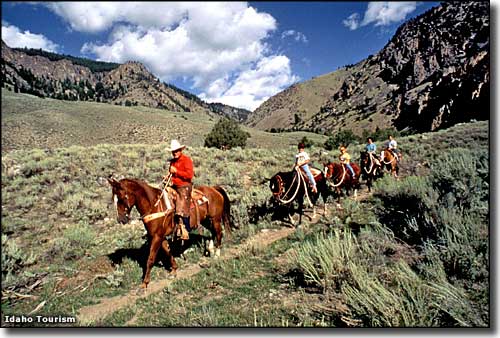 Horseback riding in the Salmon-Challis National Forest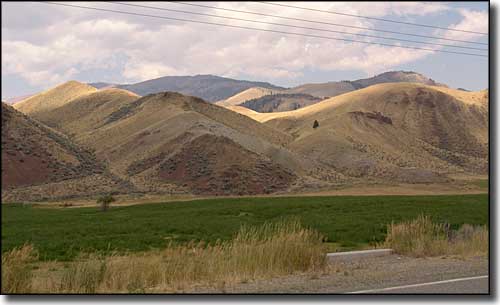 Agricultural fields north of Challis
Bottom photo courtesy of J. Crane, Byways.org
Other photos courtesy of the Idaho Department of Tourism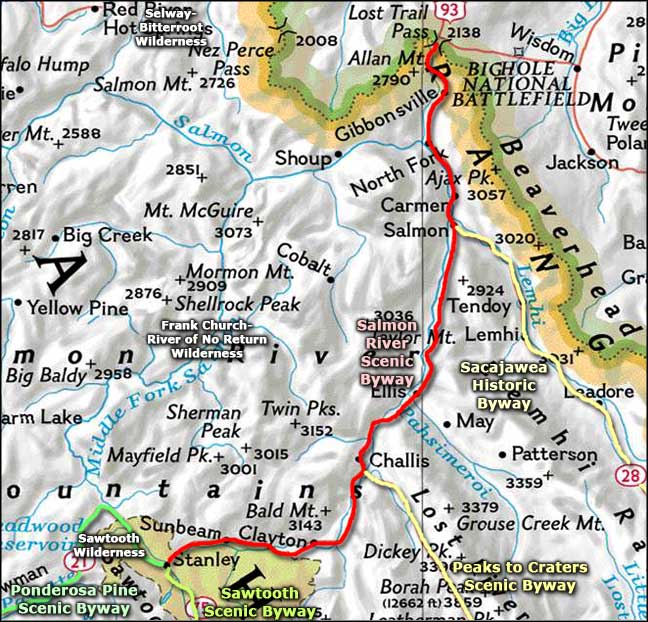 Salmon River Scenic Byway area map
Related Pages
Area map courtesy of National Geographic Topo!