Bruneau-Jarbidge Rivers Wilderness

The view from the Bruneau Canyon Overlook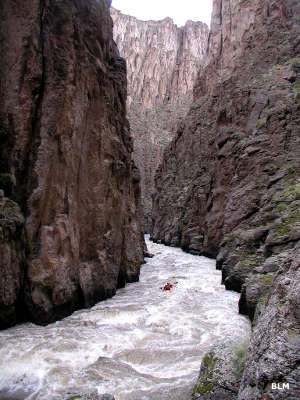 Kayaking Sheep Creek
The Bruneau-Jarbidge Rivers Wilderness is comprised of about 89,996 acres of deep canyons and geological wonderland along the drainages of the Jarbidge and Bruneau River systems. Along with the West Fork of the Bruneau and Sheep Creek, the rivers designated Wild and Scenic in the wilderness area total some 94 miles.
The Jarbidge merges with the West Fork of the Bruneau River and the 50-mile long Bruneau River begins there. Just below that confluence is the Indian Hot Springs site, still in use by many of the folks who raft the rivers in the area.
The Bruneau-Jarbidge Rivers Wilderness is composed mostly of deep canyons cut into the basalt and rhyolite materials of the plateau by the erosive force of the rivers. There are redband trout in the water with a few beaver and river otter living along the surface and bighorn sheep and a bobcat or two inhabiting the walls of the canyons. Other than that, it's a pretty barren area. Above the canyons is a sagebrush steppe that supports a large population of mle deer and pronghorn antelope, along with the mountain lions and bobcats necessary to keep that population in check.
Most canyon slopes are covered with bunchgrasses and big sagebrush species. The canyon bottoms contain dense rushes, sedges, grasses, poison ivy and stands of Western juniper.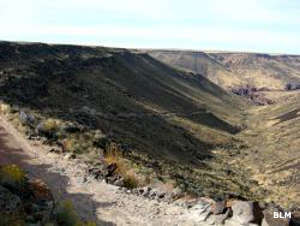 Near Indian Hot Springs
In most places, the wilderness boundary is marked by the canyon rim but in some areas, it extends into the surrounding plateau country. There is a small road that bisects the wilderness area into two units. It crosses the canyon just north of the Bruneau-Jarbidge confluence at Indian Hot Springs. Indian Hot Springs is the take-out point for folks rafting the Jarbidge River, and the put-in point for folks embarking on the Bruneau River. Accessing that road requires 4WD with high clearance... the last couple miles are extremely rugged. Once you get there, though, there is a good campsite and the fishing is supposed to be good, too. The hot springs is located on the west bank of the river, upstream of the bridge (which is unsafe for vehicles but usable on foot). The water coming out of the ground tends to be around 160°F but also tends to cool off and be tolerable at the river's edge.
In some areas you'll find unexcavated prehistoric cultural resources (foundations, rock art panels, etc.) The canyons vary from 200 to 1,200 feet deep and there are multiple vertical walls and thousands of rock spires.
The Bruneau-Jarbidge Rivers Wilderness is within the Owyhee Desert and Canyonlands, part of the Basin and Range physiographic province in southwestern Idaho. The Owyhee Canyonlands offer the largest concentration of sheer-walled rhyolite/basalt canyons in the western United States. The Canyonlands are also the last area of hold-out for redband trout, the Owyhee River forget-me-not and numerous other species of special concern.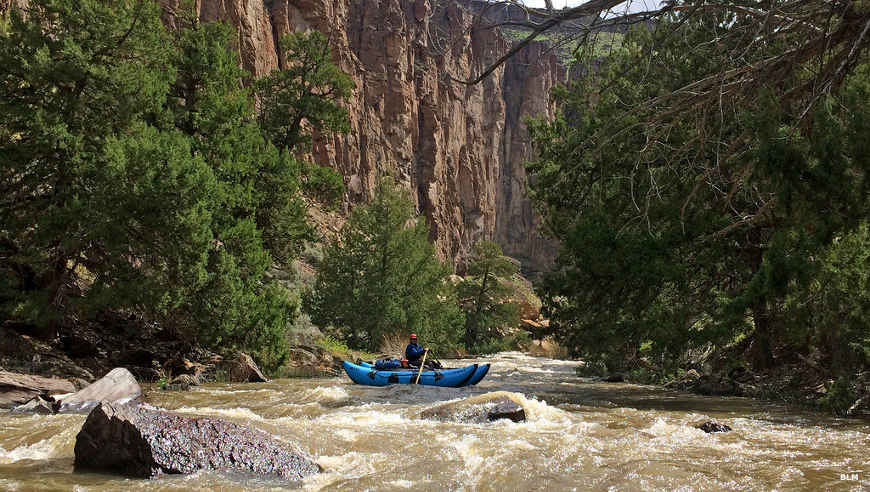 Floating the Jarbidge River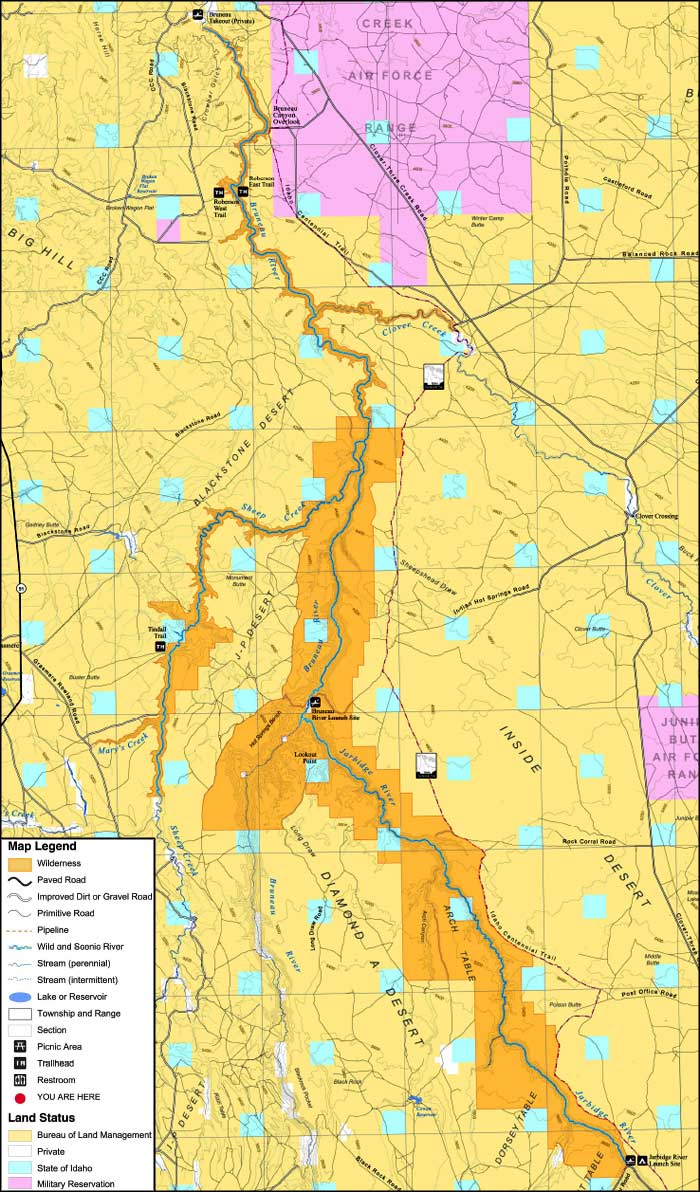 Bruneau-Jarbidge Rivers Wilderness
Bureau of Land Management

- Jarbidge Field Office
Photos and big map courtesy of the Bureau of Land Management