Uncompahgre National Forest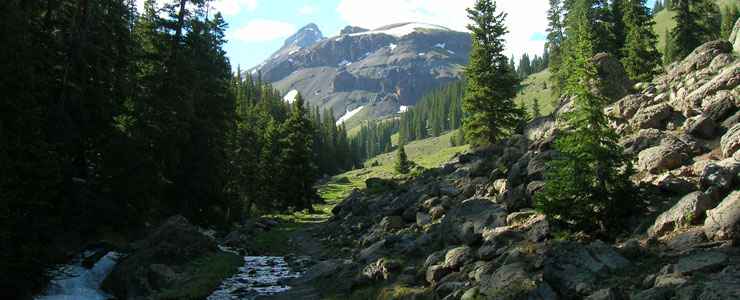 Matterhorn Peak in Uncompahgre Wilderness
Uncompahgre National Forest includes most of the Uncompahgre Plateau, a major part of the San Juan Mountains and three Wilderness Areas. The Uncompahgre Plateau rises to 10,000 feet and all that rainwater and snowmelt draining down has cut gorges and canyons along the sides of the plateau. Two of these drainages are managed as Wilderness, with no mechanized use: they are the Roubideau and Tabeguache drainages. Escalante Canyon and Dominguez Canyon are also popular areas located on BLM land on the east side of the Uncompahgre Plateau. The Unaweep/Tabeguache Scenic Byway follows the Dolores River Canyon on the west side of the Uncompahgre Plateau. The byway follows Colorado State Highways 141 & 145 from Whitewater to Placerville.
The San Juan Mountain Range in Uncompahgre National Forest has 4 peaks over 14,000 feet and another 100 peaks over 13,000 feet in elevation and includes the Uncompahgre (formerly Big Blue), Mount Sneffels, and part of the Lizard Head Wilderness Areas. These areas offer wonderful places for back country enthusiasts to get away and enjoy a wilderness adventure. Lizard Head Wilderness offers a prime hiking experience while the Mount Sneffels area is for those who like their countryside extremely rugged. Elk graze the Wilson Meadows and pikas and marmots live in the slide rock areas. Above timberline excellent hiking can be found on the Matterhorn Trail in the southern Uncompahgre Wilderness. For additional information on Wilderness trails contact the Montrose (for all three areas) or Norwood (for Mount Sneffels and Lizard Head Wilderness Areas) Forest Service offices.
Ouray, known as the Switzerland of America, offers access to many 4-wheel drive opportunities on primitive mining roads in the area. The 4.2 mile Bear Creek National Recreation Trail traverses along steep narrow rocky ledges above the San Juan Skyway south of Ouray. Amphitheater Campground is one mile south of Ouray but well up the hill. Telluride Ski Resort offers world-class skiing during the winter months. The San Juan Skyway, Colorado's first designated scenic byway, winds for 232 miles through the Uncompahgre and San Juan National Forests offering views of spectacular rugged and primitive country as well as Anasazi and other historical sites. The entire loop takes you through Ouray, Silverton, Durango, Cortez and Telluride. An interpretive site and accessible toilets are available on Highway 145 at the top of Lizard Head Pass.
The Owl Creek Pass Road is another scenic loop from Montrose on Highway 50 east to the Cimarron Road to Silver Jack Reservoir, over Owl Creek Pass and then west to Ridgeway The drive offers spectacular views of Courthouse Mountain and Chimney Rock. This area gives access to trailheads into the northern Uncompahgre Wilderness and areas for dispersed camping. Most of the drive is on gravel road.
Forest Service maps and information are available from the Forest Service offices. Maps, books and postcards are sold by the Western Colorado Interpretive Association at the Montrose and Delta Forest Service offices, as well as at the Telluride Visitor Center.
Volunteer Forest Service guides are leading tours from the Telluride Visitor Center during the summer and fall. Call 970-728-3041 for information and reservations.
Ridgeway State Park and Reservoir offers fishing, boating, and camping. Contact the Park at 28555 Highway 550, Ridgeway, CO 81432, 970-626-5822.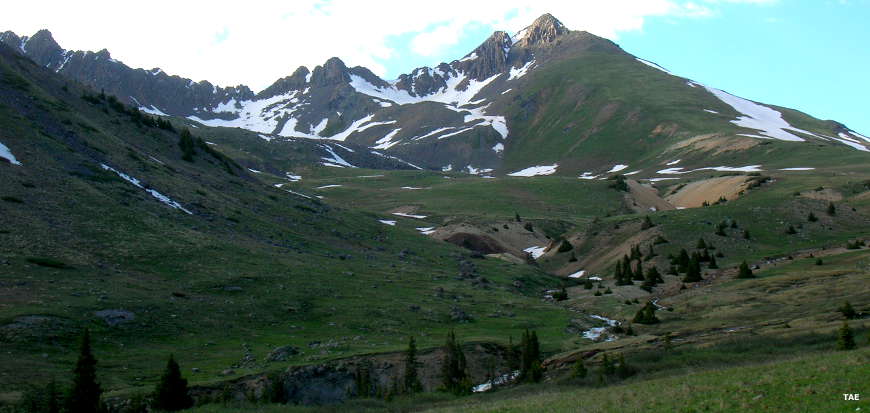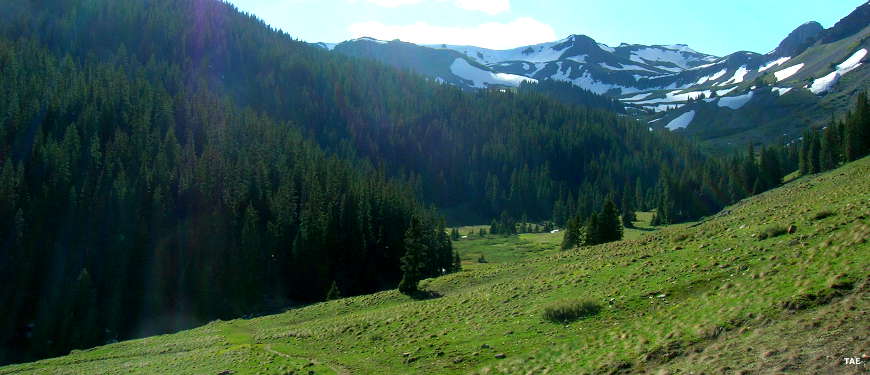 Uncompahgre National Forest
US Forest Service
Campgrounds
Campground Name
Unit Length
# of Sites
Elevation
TELLURIDE AREA - seven day stay limit
Matterhorn 1 *
Yes
35' - 45'
28
8
9,500'
Sunshine 1
Yes
30' - 35'
18
None
9,500'
Woods Lake 1
No
28' - 45'
***48
None
9,400'
OURAY AREA
Amphitheater 2 *
Yes
20' - 34'
35
2
8,400'
SILVER JACK / CIMARRON AREA
Silver Jack 2
Yes
30' - 53'
60
4
8,900'
Silver Jack Group Site 2
Yes
30' - 53'
1
None
8,900'
Beaver Lake 2
No
20' - 25'
11
None
8,800'
UNCOMPAHGRE PLATEAU AREA
Columbine 2
No
32'
6
None
9,000'
Iron Springs 2
No
32'
7
None
9,500'
All campgrounds are first-come, first-served unless denoted with an *.
*Reservations are recommended at this campground and can be made by calling toll free 877-444-6777 TDD 877-833-6777 Reservation must be made more than 4 days in advance.
** Handicap Accessible means the campsite, water approaches and restrooms are accessible.
*** Woods Lake Campground includes 5 sites for camping with horses.
Fee charged is for each camp unit. A camp unit is defined as a tent, truck camper, RV or auto used for sleeping purposes.
1Information regarding these campgrounds may be obtained from the Norwood Ranger District at PO Box 388, 1150 Forest, Norwood, CO 81423, 970-327-4261
2Information regarding these campgrounds may be obtained from the Ouray Ranger District at 2505 S. Townsend, Montrose, CO 81401, 970-240-5300