Arapaho-Roosevelt National Forest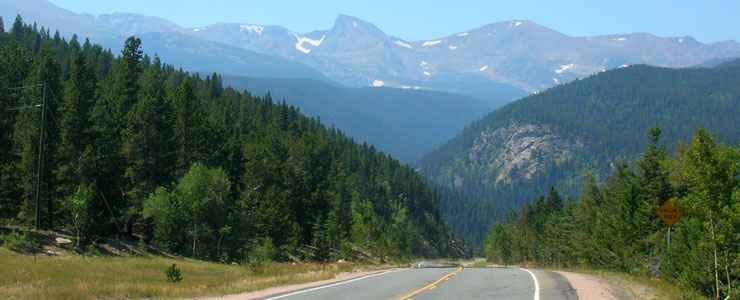 Indian Peaks Wilderness from the Peak to Peak Scenic Byway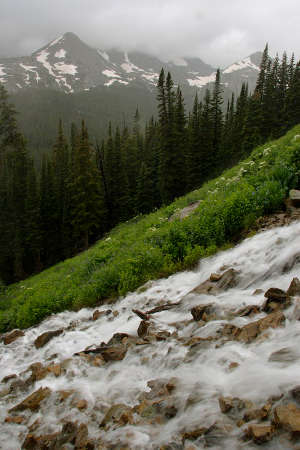 The Arapaho-Roosevelt National Forest is located in north central Colorado. The forest encompasses 1.3 million acres and extends north to the Wyoming border, south of Interstate 70 to Mount Evans and west across the Continental Divide to the Williams Fork area.
The forest is headquartered in Fort Collins with district offices in Boulder, Fort Collins, Idaho Springs, and Granby. This national forest sees millions of visitors each year and is among the most popular national forests in America.
Theodore Roosevelt established the Arapaho National Forest on July 1, 1908. He named it after the Native American tribe that used to occupy the region for summer hunting.
The Roosevelt National Forest, originally part of the Medicine Bow Forest Reserve, was first named the Colorado National Forest in 1910. In 1932, President Herbert Hoover renamed the forest to honor President Theodore Roosevelt.
Historical events
1906 - The Colorado Division of Medicine Bow was established, with the supervisor based in Fort Collins
1927 - The road to Mount Evans, near Idaho Springs, completed
1937 - Berthoud Pass and Loveland Ski Areas opened
1940 - Winter Park Ski Area opened
1962 - Eldora Mountain Ski Area opened
1978 - Arapaho National Recreation Area designated
2000 - Bobcat Fire, largest fire on the Arapaho-Roosevelt National Forest
2001 - Roosevelt Hot Shots start on the Arapaho-Roosevelt National Forest as part of the National Fire Plan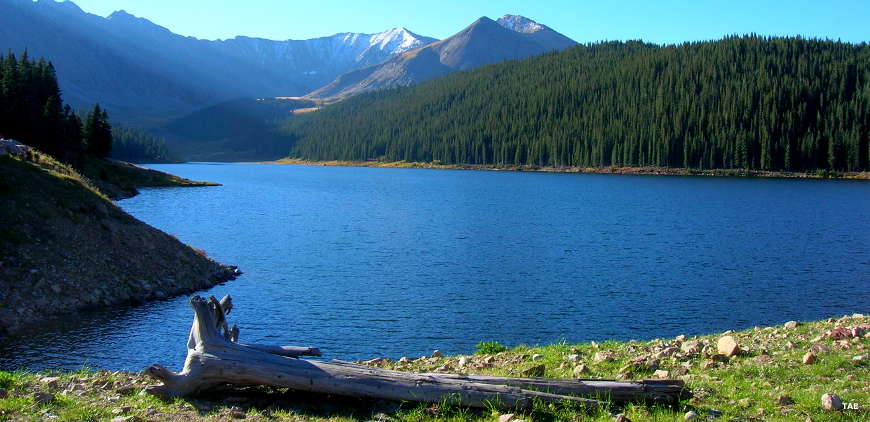 The Tenmile Range
Large photos courtesy of TheArmchairExplorer,
CCA-by-SA 4.0 License
Upper left photo courtesy of Phil Armitage
Campgrounds on Arapaho-Roosevelt National Forest
Campground and Day Use fees on Arapaho-Roosevelt National Forest and Pawnee National Grassland went up about 10% in January 2017.
Boulder Ranger District
| Campground | Elevation | # Sites | Max Size | Reservations | Open | Notes |
| --- | --- | --- | --- | --- | --- | --- |
| Camp Dick | 8,650' | 41 | 55' | Yes | open | adjacent to Middle St. Vrain Creek |
| Kelly Dahl | 8,600' | 46 | 40' | Yes | open | includes playground |
| Meeker Park | 8,600' | 29 | 25' | No | 6/1 | No picnic tables, no drinking water |
| Olive Ridge | 8,350' | 56 | 30' | Yes | open | includes playground |
| Pawnee | 10,400' | 55 | 45' | Yes | 6/21 | Located within Brainard Lake Recreation Area, campers must also pay day-use fee |
| Peaceful Valley | 8,500' | 17 | 55' | Yes | open | adjacent to Middle St. Vrain Creek |
| Rainbow Lakes | 10,000' | 16 | 20' | No | 6/1 | No trash service, no drinking water provided |
Canyon Lakes Ranger District
Campground
Elevation
# Sites
Max Size
Reservations
Open
Notes
Ansel Watrous
5,800'
19
30'
Yes
open
Aspen Glen
8,660'
9
30'
No
open
Bellaire
8,600'
26
60'
No
open
Big Bend
7,700'
6
20'
No
open
Big South
8,440'
4
25'
No
open
Browns Park
8,400'
28
30'
No
6/1
Chambers Lake
9,200'
52
30'
Yes
6/15
Dowdy Lake
8,100'
62
40'
Yes
open
Dutch George Flats
6,500'
20
33'
No
open
Grandview
10,220'
9
No
6/15
Jack's Gulch
8,100'
70
50'
No
open
Equestrian sites available
Jack's Gulch Group
8,100'
Group
open
Flats
6,600'
29
40'
No
open
Long Draw
10,030'
25
30'
No
6/15
Mountain Park
6,500'
55
50'
Yes
open
Mountain Park Group
6,500'
Group
Yes
open
Narrows
6,400'
15
30'
Yes
open
North Fork Poudre
9,200'
9
30'
No
6/1
Sleeping Elephant
7,800'
15
20'
No
open
Stove Prairie
6,000'
9
30'
Yes
open
Tom Bennett
9,000'
12
20'
No
open
Tunnel
8,600'
49
40'
No
open
West Lake
8,200'
35
50'
Yes
open
Oversized site available
Clear Creek Ranger District
| Campground | Elevation | # Sites | Max Size | Reservations | Open | Notes |
| --- | --- | --- | --- | --- | --- | --- |
| Clear Lake | 10,000' | 8 | 15' | No | 6/15 | |
| Cold Springs | 9,200' | 38 | 50' | Yes | open | |
| Columbine | 9,200' | 47 | 20' | Yes | open | |
| Echo Lake | 10,600' | 18 | 20' | Yes | 6/15 | |
| Guanella Pass | 10,900' | 18 | 35' | Yes | 6/15 | |
| Mizpah | 9,200' | 10 | 20' | No | 6/1 | |
| Pickle Gulch | 9,100' | Group | | Yes | open | Reservations only |
| West Chicago Creek | 9,600' | 16 | 30' | Yes | open | |
Sulphur Ranger District
Campground
Elevation
# Sites
Max Size
Reservations
Open
Notes
Arapaho Bay
8,320'
84
35'
Yes
open
#sites 1-7 open, NO facilities. ANRA fee only
Byers Creek
9,360'
6
32'
No
6/1


Cutthroat Bay Group
8,400'
Group


Yes
6/1


Denver Creek
8,800'
22
25'
No
6/1


Green Ridge
8,360'
77
35'
Yes
6/1


Horseshoe
8,540'
7
23'
No
**
Idlewild
9,000'
24
32'
No
6/15


Robbers Roost
9,826'
11
45'
No
6/15


Sawmill Gulch
8,780'
6
32'
No
6/10


South Fork
8,940'
21
23'
No
**
St. Louis Creek
8,900'
16
32'
No
6/10


Stillwater
8,300'
129
45'
Yes
open
#sites 1-11 open, NO facilities, ANRA fee only
Sugarloaf
8,970'
11
23'
No
**
Sunset Point
8,300'
25
35'
No
6/1
Willow Creek
8,130'
34
25'
No
6/1
Willow Creek Group
8,130'
Group


Yes