Lassen Volcanic National Park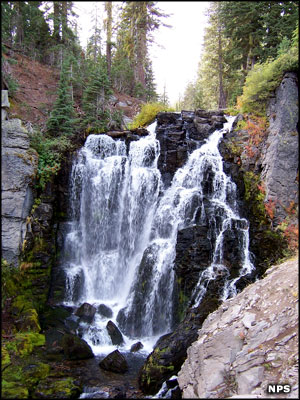 Lassen Volcanic National Park is located in a relatively remote area of northern California. There are five entrances to the park but most don't open until late in the season because of snow accumulation: more snow in the winter means a later opening date in the summer. The primary entry road is California State Road 89 and it traverses the park north/south, passing around the eastern side of Lassen Peak itself. The other three entrances are further to the east and access the park via dirt and partially paved roads.
The park sits at the juncture of three geophysical regions: the south end of the Cascade Mountains, the north end of the Sierra Nevada Mountains and the western edge of the Great Basin.
Lassen Volcanic National Park generally receives more than thirty feet of snow every winter. Snow season often begins in October and can persist into June and July. That has an impact on the roads and on the 150 miles of trails available in the park. Some trails don't open until mid-June, some might not open at all. The trail to the summit of Lassen Peak is only expected to be open for a few weekends in 2013 as work on the "Reach the Peak" project continues (they are rebuilding the trail).
The primary reason for the establishment of Lassen Volcanic National Park is the presence of the volcanoes... virtually every rock on the property is of volcanic origin. Eruptions began in the Lassen Volcanic Center about 825,000 years ago and the most recent eruption was only about 100 years ago. The greater Lassen area has been volcanically active for about three million years. There are four types of volcanoes in the world and all four are represented on the park: shield, composite, cinder cone and plug dome. Also on the park are numerous boiling springs, steam vents and bubbling mudpots.
A series of earthquakes shook the area on May 24, 2013 but they were centered around Lake Almanour, about 40 miles southeast of Lassen. While earthquakes sometimes signal coming eruptions, in this case no volcanic activity is expected. However, earthquakes sometimes cause changes in hydrothermal systems and that could affect some of the sites at the park.
History and Culture
Because of the weather, snow conditions, high elevation and deer populations that migrated with the seasons, the Lassen Peak area has never been conducive to long-term settlement. Native American groups like the Atsugewi, Yahi, Yana and Maidu would visit in the summer for hunting/gathering purposes but would be well downhill for the winter. And rather than being potters, they were basketmakers so their old campsites are littered with knives, stone points and metal tools rather than potshards. The last of the Yahi died in 1916 but descendants of the other tribes still live in the area and sometimes provide cultural demonstrations for park visitors.
Jedediah Smith passed close to Lassen Peak in 1828 on his epic journey to the coast of California but real exploration of the area didn't begin until around 1840. Travelers who'd crossed the Oregon Trail began to slowly move into the area in the early 1840's and two early pioneers in the area (William Nobles and Peter Lassen, for whom the volcano and park are named) seem to have made at least a couple traverses of the trails. Both men stayed with the main route of the California Trail out of Idaho and into Nevada to the Black Rock Desert area, then struck off to the northwest in search of a shortcut to northern California, southern Oregon. Nobles was first in establishing a trail but a year later, Lassen discovered a slightly different, significantly easier route and after that, most folks who passed this way used Lassen's trail. Lassen guided many settlers into the area and tried to establish a city but certain elements were lacking: there was no mining, ranching didn't work well with the weather, timber was hard to remove due to the relative isolation... then the federal government moved in and stopped any heavy logging.
The late 1800's saw pioneers moving in and setting up guest/dude ranches around the hot springs in the area, particularly in the area now known as "Drakesbad." The Drakesbad Guest Ranch is still open to the public but reservations are highly recommended.
Visitor Info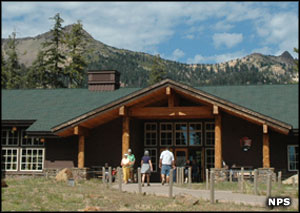 The Kohm Yah-mah-nee Visitor Center is located near the southwest entrance to the park on SR 89. From April 1 to October 31, the visitor center is open daily from 9 am to 5 pm. From November 1 to March 31, the visitor center is open from 9 am to 5 pm daily except closed Tuesday and Wednesday and on Thanksgiving Day and Christmas Day. Depending on snowfall and road conditions, it may be closed more in the winter. The visitor center offers an amphitheater, auditorium, exhibits, cafe and gift shop, educational bookstore, dining area and summer patio.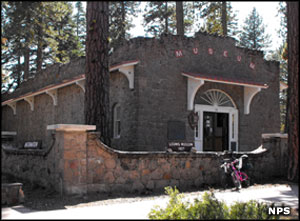 The Loomis Museum is located at the northwest entrance to the park (on SR 89). The museum offers an educational bookstore, an auditorium and exhibits. Among the exhibits are photos that BF Loomis took during his documentation of Lassen Peak's most recent eruption cycle (in 1915). Also on display are the various pieces of equipment with which Loomis worked and a selection of traditional Atsugewi basketry. The museum is open from Memorial Day Weekend to Halloween, 9 am to 5 pm.
Entry fees: $10 per passenger vehicle; $5 per individual entry whether on foot, bicycle, motorcycle or horseback; $25 for the Lassen Volcanic National Park/Whiskeytown National Recreation Area annual pass (covers everyone in the vehicle with the passholder at time of entry). The park also honors all the various National Park/Interagency passes.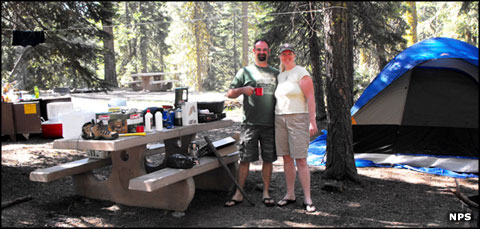 There are eight campgrounds at Lassen Volcanic National Park, four available first-come, first-served only. All group sites and stock corrals require reservations. Each campsite has a fire ring equipped with grill, picnic table and metal bear box for food storage. There is a dump station near Manzanita Lake Campground but no hookups anywhere in the park.
Campground
Dates
Status
Elev.
No. Sites
Fee
Features
Notes
Butte Lake
Early June-late Oct
Open
6100'
101
$16 / $10*
A, F, V, W, B, RV, R
Rough gravel road, No water after 9/17
Crags
Mid-June-late Sept
Open
5700'
45
$12 / $10*
V, W, RV, N
Open for overflow dry camping Memorial Day weekend
Juniper Lake
Late June-mid Oct
Open
6800'
18
$10
V, B, N
Rough gravel road; trailers not advised
Manzanita Lake
Late May-snow closure
Open
5900'
179
$18 / $10*
A, F, V, W, B, RV, S/L/S, DS, R
Pull-through RV sites available; No water after 10/15; DS available 5/24-10/15
Summit Lake North
Late June-mid Sept
Open
6700'
46
$18
A, F, W, B, RV, R
 
Summit Lake South
Late June-Late Oct
Open
6700'
48
$16 / $10*
V, W, B, RV, R
No water after 9/17
Southwest Walk-in **
All year
Open
6700'
20
$14/$10*
F, V, W, N
Restrooms and water available at the visitor center 24 hours a day in winter
Warner Valley
Mid June-Late Oct
Open
5600'
18
$14 / $10*
V, W, RV, N
Rough gravel road; trailers not advised; No water after 9/17
Group Campsites
Butte Lake
Early June-mid Sept
Open
6100'
6
$50
V, W, B, RV, RR
Six groups sites are in B loop
Lost Creek
Mid June-late Sept
Open
5900'
8
$50
V, W, RV, RR
 
Manzanita Lake
5/24 - 6/27 and 9/2 - 10/14
Open
5900'
5
$50
F, V, W, B, RV, S/L/S, DS, RR
No water after 10/15
Juniper Lake
Late June-mid Sept
Open
6800'
2
$30
V, B, RR
 
Stock Corrals
Butte Lake
Early June-mid Sept
Open
6100'
1
$35
RV, B, V, RR
 
Juniper Lake
Late June-mid Sept
Open
6792'
1
$28
B, V, RR
No potable water
Summit Lake
Late June-mid Sept
Open
6995'
1
$35
RV, B, V, RR
 
*Reduced fee when potable water is unavailable
* All sites are provided with a picnic table, fire ring, and bear proof storage locker.
** Southwest Walk-in Campground special winter regulations - When snow covers the campground, fires and fire pans are not permitted. Self-contained barbecues are allowed in the paved parking area. Please dispose ashes properly.
| | | | | |
| --- | --- | --- | --- | --- |
| F | Flush toilets |   | S/L/S | Pay showers/laundry services nearby |
| V | Vault toilets |   | DS | Dump station |
| RV | RV sites available |   | A | Accessible sites available |
| R | Partly reservable |   | B | Boat launch |
| RR | Reservations required |   | N | No Reservations |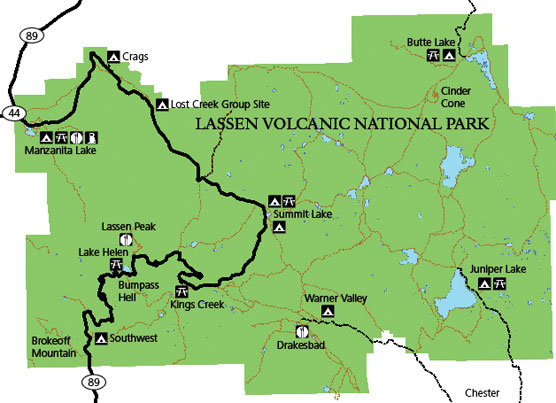 Campgrounds at Lassen Volcanic National Park
Lassen Volcanic National Park
Camper photo courtesy of Greg Brahms, NPS
Other photos and maps courtesy of the National Park Service