Caribou Wilderness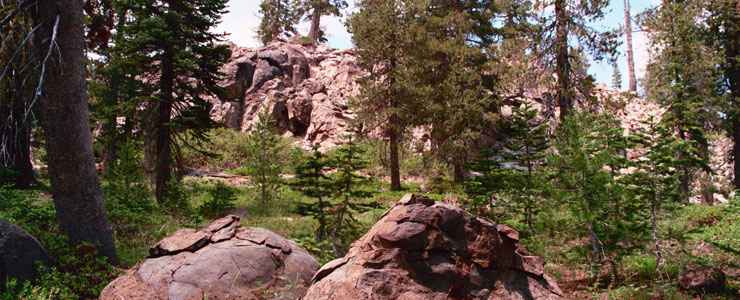 A rock wall in Caribou Wilderness
Caribou Wilderness is a 20,546-acre property located on Lassen National Forest immediately east of Lassen Volcanic National Park. This is a gentle, rolling, forested plateau filled with reminders of volcanic and glacial activities over the millenia. Located on the eastern slopes of ancient Mount Tehama, the wilderness is surrounded by the volcanic peaks of Mount Harkness, Red Cinder Cone, Ash Butte, Prospect Peak, Bogard Buttes and Swain Mountain. Caribou Wilderness was originally protected as the Caribou Primitive Area in 1932 and was elevated to full wilderness status with the passage of the Wilderness Act in 1964.
Elevations range from about 6,400 feet to 8,374 feet at the summit of Red Cinder Cone. The tree cover is mostly lodgepole pine intermixed with white and red fir, Jeffrey pine, western white pine and mountain hemlock. About 75% of Caribou Wilderness is covered with trees and lakes, the rest being mostly composed of barren rock in the form of talus slopes, cliff faces and cinder cones.
The Susan River is sourced in Caribou Wilderness, its headwaters percolating up through the porous volcanic aquifer to become a major source of water on the east slopes of the California Cascades. Glacial activities during the last Ice Age left numerous small and large depressions in the area, many of which are now crystalline lakes, the larger of them deep enough to support populations of brook and rainbow trout.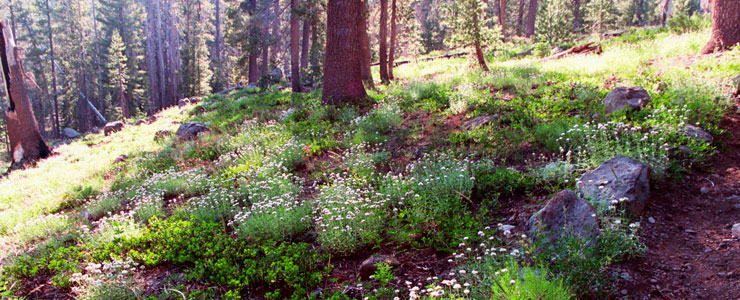 Typical summer scene on Caribou Wilderness
Most human traffic in Caribou Wilderness comes in the June 15 through October 15 season. Some winters bring less snow and allow for earlier opening of roads and trails in the area. However, local climate conditions often make for cold rains in spring and fall and some folks have had problems with hypothermia at those times.
In addition to several trails that enter the wilderness area from Lassen Volcanic National Park, there are three primary trailheads leading into Caribou Wilderness: Silver Lake on the east (probably the most popular entry point), Cone Lake in the north and Hay Meadows in the south. Once inside the wilderness area, there are multiple trails through the easy (but rough and broken) countryside leading to various of the lakes and cinder cones. Cross country travel can be challenging due to many large fallen trees, thick underbrush in some areas and open wet meadows in the more shallow depressions of the land. No wilderness permits are required but you may want a California campfire permit if you're staying overnight.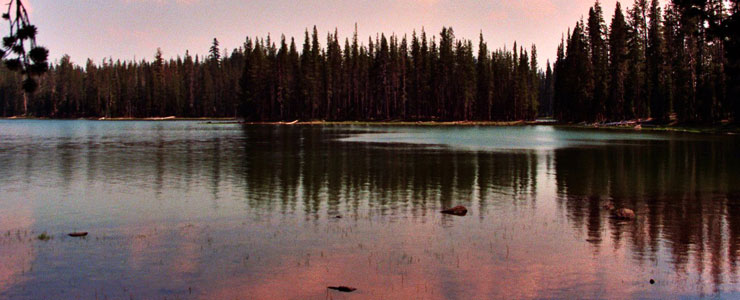 Long Lake on Caribou Wilderness