Escudilla Wilderness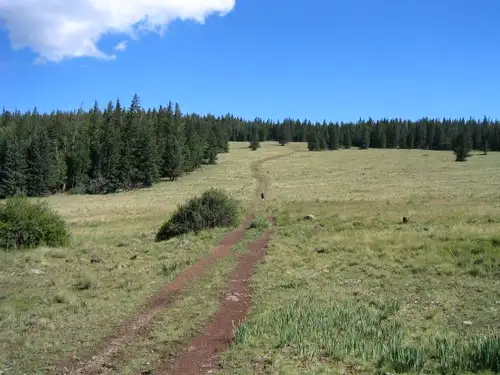 Along the Escudilla National Trail in Escudilla Wilderness
Escudilla Wilderness is a 5,200-acre property centered around Arizona's third-highest peak: Escudilla Mountain (10,912'). A large part of the wilderness was burned back in 1951 and the former thick growth of pine, fir and spruce was replaced with stands of aspen, large open grassy meadows and scattered stands of Ponderosa pine, Douglas fir and various spruces.
It was Escudilla Mountain that inspired Aldo Leopold to write some of his most famous comments regarding wilderness and its impact on the human spirit. The last known grizzly bear in Arizona was killed on the slopes of Escudilla Mountain.
Today, hikers on either of the two primary trails are liable to come across elk, mule deer, black bear, coyote, wild turkey and various other smaller mammals. Folks have been known to climb the mountain in winter and ski back down. The Forest Service would rather folks ascended the mountain using the Escudilla National Recreation Trail as the Government Trail ascends the northern slopes of Profanity Ridge and the hillside has been heavily impacted by years of foot traffic.
At the top of Escudilla Mountain is the highest fire lookout tower in Arizona, and it's still in use. When hiking around Escudilla Wilderness you'll want to bring plenty of your own water: there isn't any available here.
Update: Escudilla Wilderness was severely affected by the Wallow Fire of May and June 2011. Most of the wilderness burned and the fire tower is now fenced off from the public as it was severely damaged and pieces of it fall off now and then. The forest area is also full of hazards like falling trees, flash flooding possibilities, mudslides and burned out stump holes. While the area is open to the public, hikers need to be extremely aware of their surroundings: look up, look down, look all around before stopping or moving.
USGS Maps: Nutrioso, Escudilla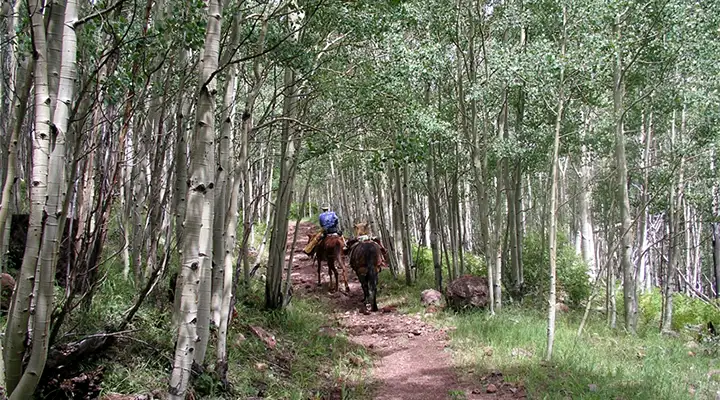 Aspens line the Escudilla National Recreation Trail
Trails on Escudilla Wilderness
Government Trail #119
This 2.9 mile long trail is rated as strenuous, and consequently, traffic on it is light. Most usage is from May to October.
The Government Trail ascends the western slopes of Escudilla Mountain. The steep, talus covered switchbacks once were used by Forest Service personnel to reach the fire lookout tower on the summit but today, this historic trail is no longer maintained. The trail does offer excellent views of Arizona's second highest peak: Mt. Baldy. These days, the powers-that-be recommend that folks use the Escudilla National Recreation Trail to climb the mountain.
On Profanity Ridge, the Government Trail and Escudilla National Recreation Trail merge for the last mile to the top.
Elevation: 9,200' to 10,877'
Access: 6 miles north of Alpine turn east onto Forest Road 56. Go 1.6 miles to a road going left that is closed by a Wildlife Area sign. Park and follow the closed road 1.9 miles to where the Government Trail branches off and heads directly up the mountain.
Escudilla National Recreation Trail #308
This trail is rated as moderate and is about 3 miles long, each way. Usage is moderate to heavy with lots of hikers in the summertime and cross-country skiers in the winter.
Escudilla Mountain is the third highest mountain in Arizona. This trail that leads to the top is more of a stroll than a climb, with picturesque surroundings and magnificent scenery. The trail begins in an area that was burned in a huge wildfire back in 1951. You'll find old Douglas fir stumps overshadowed by a thick growth of aspens. The area is such a great example of natural reclamation that it has been designated a Research Natural Area.
Many folks climbing the mountain prefer to use the Government Trail but it is steeper and leads across more delicate (read: more easily damaged) terrain. And should you overly enjoy the crossing of Bead Springs Meadow, as beautiful as it is don't even think of camping there.
Elevation: 9,560' to 10,877'
Access: Turn on Forest Road 56, 5.5 miles north of Alpine on US 191. Go 3.6 miles to Terry Flat. Take the left fork and go past Tool Box Draw 0.5 miles to the trail head.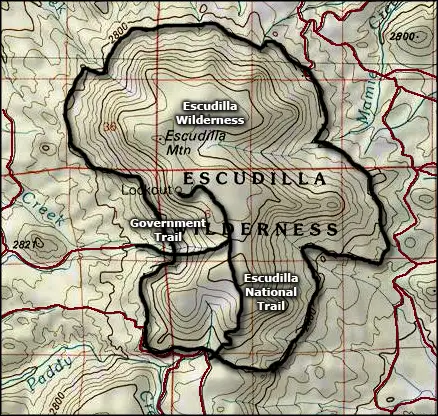 Escudilla Wilderness
Apache-Sitgreaves National Forest -

US Forest Service
PO Box 640

,

Springerville

,

AZ

85938
928-333-4301
- TTY: 928-333-6292

Photos courtesy of the US Forest Service
Map courtesy of National Geographic Topo!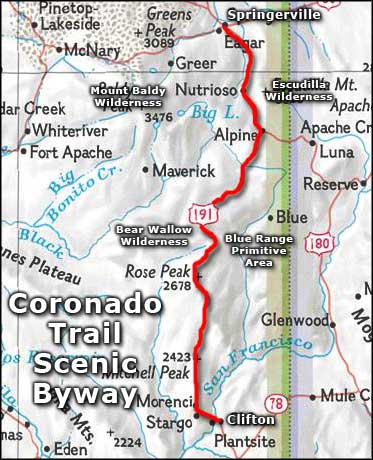 Related Pages
Map courtesy of National Geographic Topo!