Mount Nebo Wilderness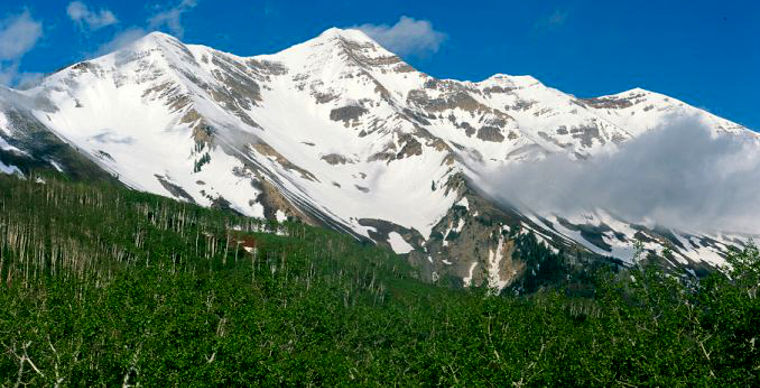 Mount Nebo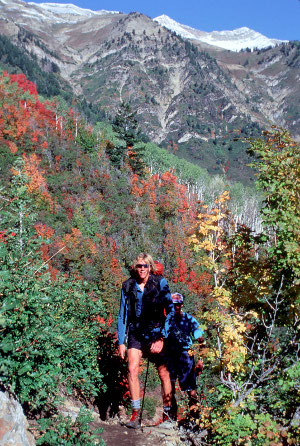 The centerpiece of the Mount Nebo Wilderness is Mount Nebo, the highest point in the Wasatch Range at 11,928'. The 28,022 acres of Mount Nebo Wilderness rise from about 5,400' through a series of meadows and mountain valleys separated by moderate to steep rock ridges.
You'll find mule deer, elk, mountain lion, bobcat and black bear in these woods, with rainbow trout in the streams. The lower elevations are covered with sagebrush that gives way to mountain brush (mountain mahogany and scrub oak) to aspen and white fir, then spruce and alpine fir that rise to timberline where the tundra takes over.
Adjacent to the eastern boundary of Mount Nebo Wilderness is the Devil's Kitchen Geologic Site: a smaller and less grand version of Bryce Canyon. There are 4 maintained trails running about 21 miles in the Mount Nebo Wilderness. There are several trails in the forest around Mount Nebo that give access to the wilderness, too.
Most folks access the area via the Nebo Loop Scenic Byway, a National Scenic Byway. It's near the midpoint of the Nebo Loop that you'll find the trail head for the Mount Nebo Trail. The most easily followed trails lead to the two southern summits, but it's the north summit that is actually the highest (by almost 50 feet).
I drove into the southern end of the Nebo Loop in late May 2017. Photos from that drive are here: Nebo Loop Scenic Byway. Mount Nebo itself was lost in the clouds almost the entire day and beyond the Mount Nebo Overlook, the road was closed: it hadn't been snowplowed yet. At that point I turned around and headed back down, stopping at a couple places I had passed on the way up. The only folks I saw on the road were pulling trailers loaded with snowmobiles, an indication of what was going on in the woods that day.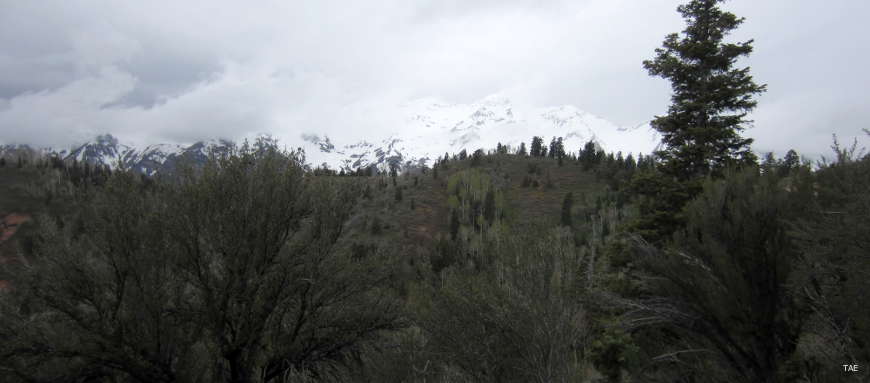 From the Mount Nebo Overlook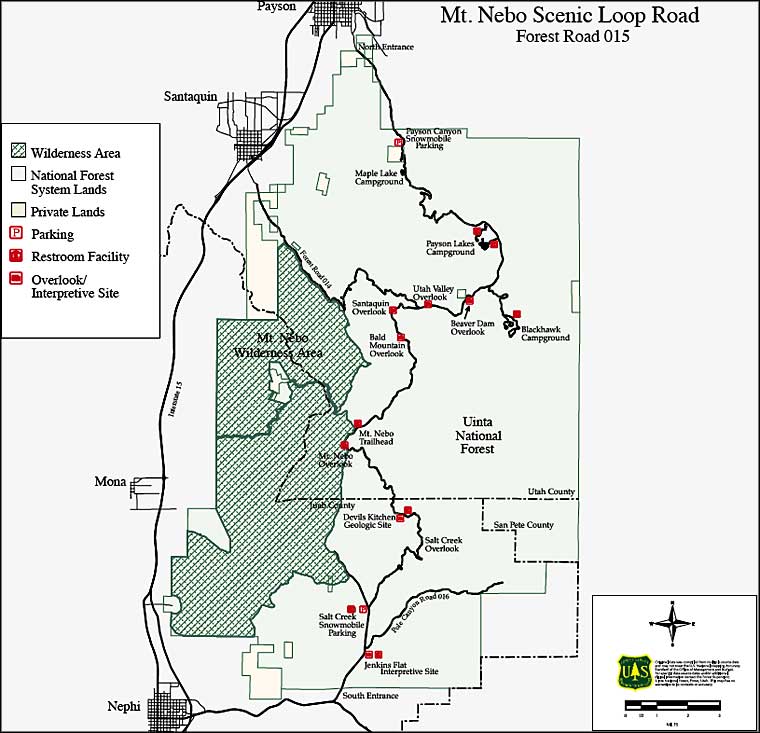 Mount Nebo Scenic Road map
Mount Nebo Wilderness
US Forest Service

- Uinta-Wasatch-Cache National Forest
Upper photos courtesy of Willie Holdman via Byways.org
Lower photo courtesy of TheArmchairExplorer,
CCA-by-SA 4.0 License
Map courtesy of the US Forest Service