Fishlake National Forest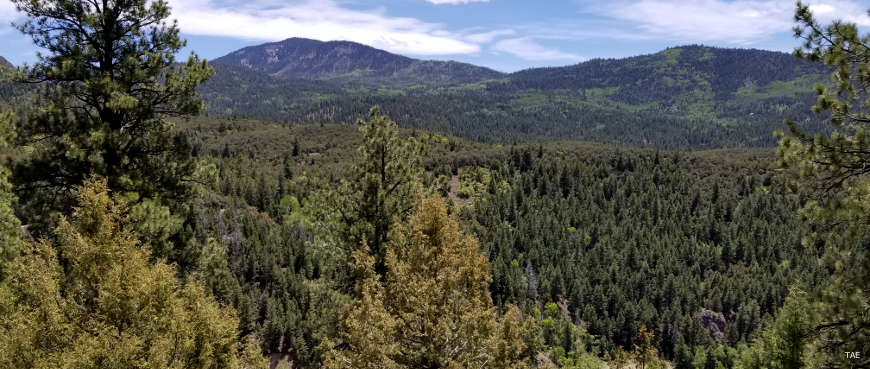 Fishlake National Forest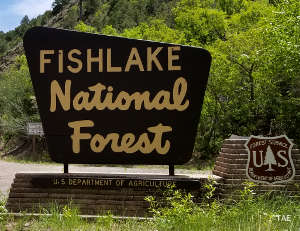 Fish Lake is the largest natural body of fresh mountain water in Utah. Fishlake National Forest surrounds Fish Lake and extends through the nearby mountain ranges to encompass some 1,500,000 acres in central Utah. To a lot of people, Fishlake National Forest is the real gem of the US Forest Service properties.
Fishlake National Forest straddles the line between two geologic regions: the Colorado Plateau and the Basin & Range Province. Large portions of the forest area are also volcanic in origin. This makes for a significant variety of landscapes on the forest.
Most folks who visit Fishlake National Forest head straight for Fish Lake Basin to enjoy a spot in one of the six developed campgrounds around the lake. There's also the opportunity to rent one of the cabins available at any of the three private resorts around the lake. One of the biggest draws to Fish Lake itself is the size of the Mackinaws (lake trout): some reach more than 50 pounds. Fish Lake also offers tiger muskie, rainbow trout, yellow perch and splake for us mortals...
Another sight/site folks seem to like is 75-foot high Bullion Waterfalls (pictured at left). The waterfalls are fed year-round by snowmelt from high in the upper reaches of Bullion Canyon. Access to the falls is by foot or horseback only: it's about one mile in from Pine Creek Bridge.
Bullion Canyon got its name from the flecks of found gold that turned into a torrent of gold seekers beginning in 1865. They found some veins of gold in the canyon walls and the gold rush was on. Some entrepreneurs built a toll road into the canyon in 1869, figuring they could get rich by charging miners for use of the road. The miners retaliated by building another road, easier to navigate than the first and free for all. Today, there's a "Canyon of Gold Driving Tour" that closely follows the route of that second road for about 2.5 miles. The route is rough but passable for most 2WD vehicles and it visits or gives easy access to many historic sites in one of the premier gold-mining districts in the American West. Be careful, though, some of the mining claims are still active and still being worked.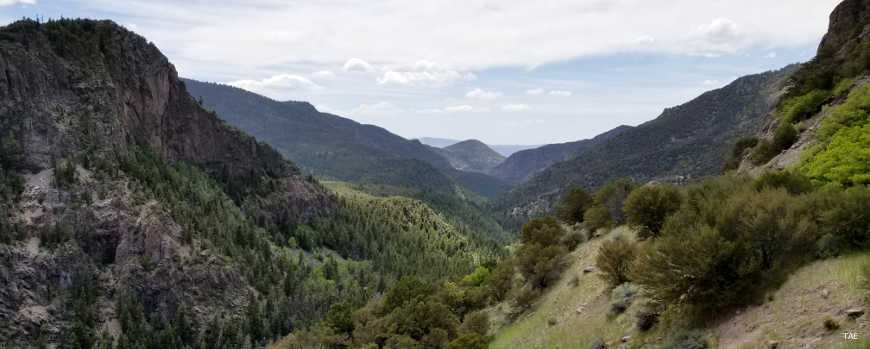 Beaver Canyon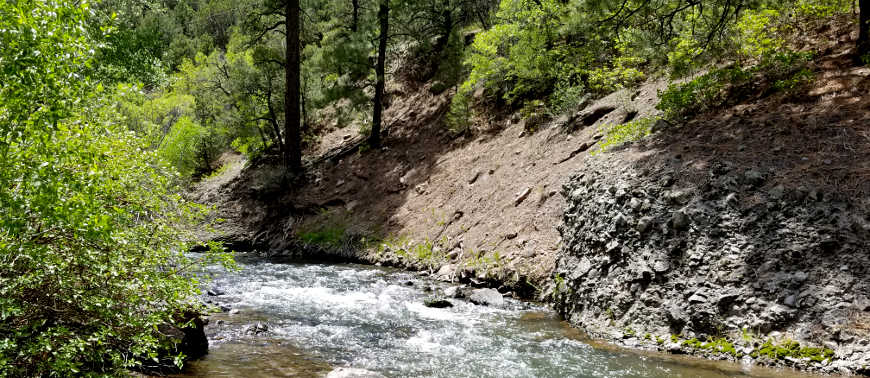 A typical stream in the Forest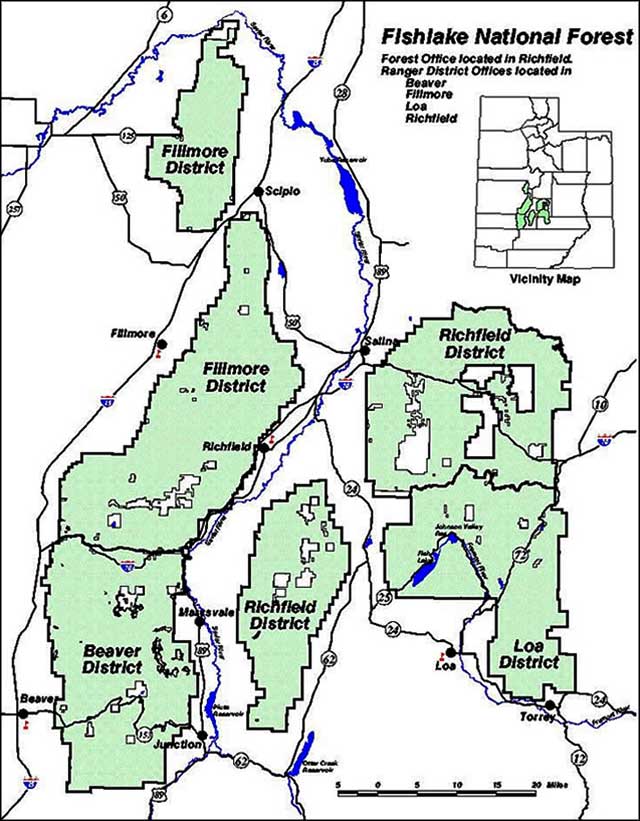 Fishlake National Forest
US Forest Service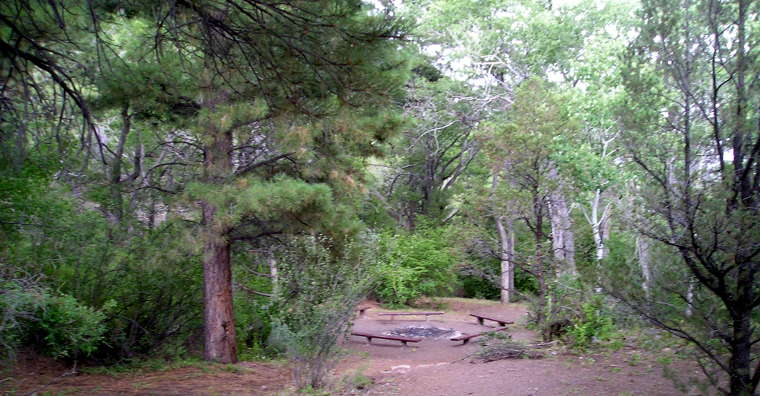 A group site at City Creek Campground
Campgrounds and Picnic Areas
City Creek and Castle Rock are the only campgrounds that allow ATV use within the Campground. The Paiute ATV Trail can be accessed from both City Creek and Castle Rock campgrounds. No other campgrounds on the district allow ATV use: ATV's must be hauled to nearby trailheads. State of Utah laws and rules for Off-Highway Vehicle are enforced by official law enforcement.
Fires may be built without a permit in places where fire rings and fire grates are established. Cutting of standing timber, shrubs and other vegetation is prohibited. Firewood is provided in some locations, deadfall should be utilized for fires. Surface water may be contaminated and should always be properly treated before consumption. Pets are welcome and should be kept on a leash. A nominal fee is charged at most campgrounds. Within the picnic areas, you will find tables, benches, water, fire grates, parking and restrooms.
Opening and closing dates are dependent on weather. All federal recreation pass programs are honored.
Beaver Ranger District
| Campground | Elevation | Opens | Closes | # of Units | Group sites |
| --- | --- | --- | --- | --- | --- |
| Anderson Meadow | 9,500' | June | September | 10 | - |
| Castle Rock | 6,200' | March | November | 28 | 3 |
| City Creek | 7,600' | May | November | 4 | 3 |
| Kent's Lake | 8,800' | June | September | 32 | - |
| LaBaron Lake | 10,000' | June | October | 12 | - |
| Little Cottonwood | 6,500' | May | September | 14 | - |
| Little Reservoir | 7,000' | June | October | 8 | 2 |
| Mahogany Cove | 7,500' | May | October | 7 | Reservable |
| Tushar Lakeside | 8,700' | June | September | - | - |
Picnic Areas in the Beaver Ranger District
| Picnic Areas | Elevation | Open | Closed | Units | Group |
| --- | --- | --- | --- | --- | --- |
| Birch Creek East | 7,800' | May | October | - | - |
| Ponderosa | 7,000' | May | October | 3 | 2 |
Other Recreation Areas
Beaver District: Dispersed Camping Areas
Big John's Flat
Big Flat
Beaver River
Indian Creek
Lousy Jim
Merchant Valley
North Creek
Timid Springs
Three Creek Reservoir
 
Richfield Ranger District: Campgrounds
Gooseberry
Goosberry Administrative Site Cabins
Monrovian Picnic Area
Fillmore Ranger District: Campgrounds
Maple Grove Campground
Adelaide Campground
Chalk Creek Canyon Picnic Sites
Maple Hollow Campground
Oak Creek Campground
 
Fremont River Ranger District: Campgrounds
Aquarius Ranger Station Cabin
Lower Bowns Dispersed Camping Area
Oak Creek Campground
Pleasant Creek Campground
Single Tree Campground