Villanueva State Park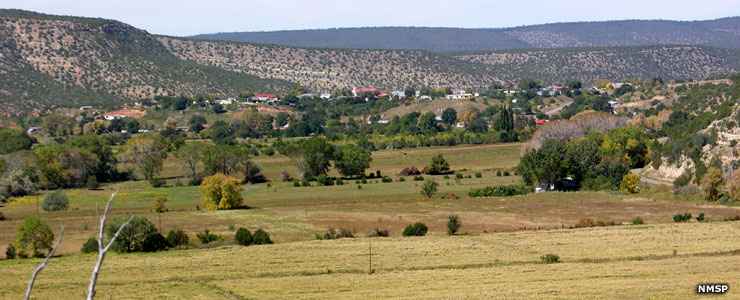 The valley where Villanueva State Park is located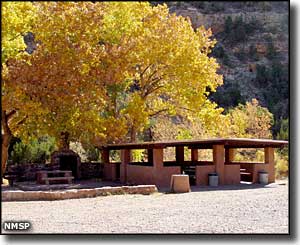 Villanueva State Park is located on the banks of the Pecos River about 38 miles southwest of Las Vegas, just east of the edge of Glorieta Mesa. This is a riparian zone in a canyon built of red and yellow sandstone cliffs. That means big cottonwoods and willows surrounded by the semi-arid desert/grassland of northern New Mexico. Nearby is the village of Villanueva, a classic Spanish-colonial settlement. The buildings on the park itself were laid out and built in the same Spanish colonial style. There's a footbridge that gives access to trails along the river leading to a prehistoric Indian ruin, a historic Spanish settlement and to vantage points above the river.
Villanueva State Park offers a visitor center with at least one group picnic shelter and 33 developed campsites, 12 of which offer electric hookups. The camping area also has restrooms, showers and a playground with an RV dump station nearby. For activities there are picnicking, fishing, hiking, wildlife watching, and canoeing and rafting in the spring when the river is running high.
In summer, the gates are open from 7 am to 9 pm daily; in winter from 7 am to 7 pm daily. To get there: exit Interstate 25 at exit 323 and go south for about 15 miles on New Mexico Highway 3.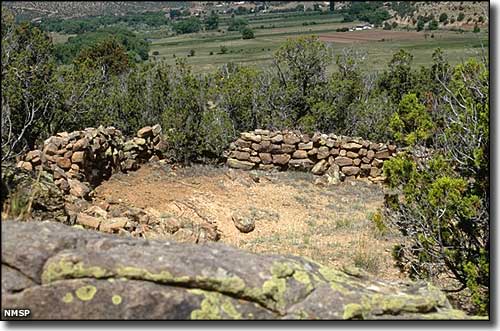 Ruins of an early Spanish settlement
Upper left photo courtesy of New Mexico State Parks
Other photos courtesy of Janice Krish, New Mexico State Parks