Rio Mora National Wildlife Refuge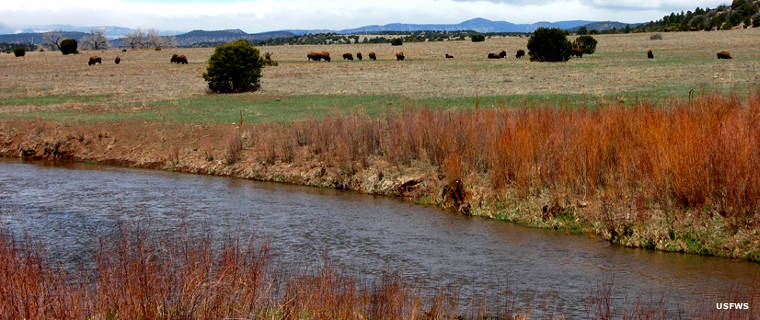 Rio Mora National Wildlife Refuge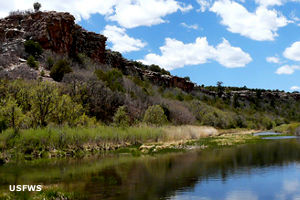 Along the Rio Mora
The 4,600-acre Rio Mora National Wildlife Refuge was established in 2012. The centerpiece of the refuge is the former Wind River Ranch, located in the area where the Great Plains makes the transition to the southern Rocky Mountains. The Ranch was purchased by philanthropist Eugene Thaw and his wife Clare in 1980 and they worked the land toward their vision of a representative piece of southwestern ecological heritage. The Thaw Charitable Trust donated the land to the US Fish & Wildlife Service, along with up to $1.7 million to support on-going and already successful research, environmental education and habitat management. Today, the property is another excellent piece in the patchwork of conservation areas, National Forests and National Wildlife Refuges in northeastern New Mexico designed to protect and preserve multiple watersheds in the area and to reestablish the prairie grasslands that supported a multitude of wildlife and vegetation before the farmers and ranchers arrived 200 years ago.
This is in the area of the Central Flyway and thousands of birds (especially Canada geese) use the property for wintering purposes. Most of the property is a mix of shortgrass prairie, stands of Ponderosa pine and piñon-juniper woodland. The Rio Mora canyon is up to 300 feet deep in the refuge with numerous side canyons leading to springs and seeps scattered across the property. In the depths of the canyons are dense willow thickets and stands of tall cottonwoods.
Not open to the public as of 2018, the Rio Mora National Wildlife Refuge is an integral piece of the 952,000-acre Rio Mora National Conservation Area. The Conservation Area is a district within which the US Fish & Wildlife Service partners with local land owners and works with them to implement conservation and preservation practices. The refuge is administered by staff at the Las Vegas National Wildlife Refuge.
Rio Mora National Wildlife Refuge
US Fish & Wildlife Service
NM Highway 161, Mile Marker 16

,

Watrous

,

NM

87753
505-425-3581
Upper left photo courtesy of Jenny and Oliver Davis, USFWS
Other photos courtesy of the US Fish & Wildlife Service