Appalachian National Scenic Trail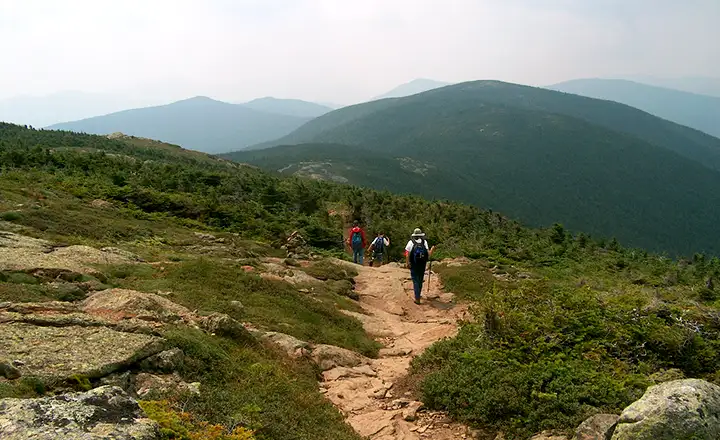 On the Appalachian National Scenic Trail in the Presidential Range of New Hampshire
Officially, the main trunk route of the Appalachian National Scenic Trail is 2,178 miles long. The main part of the route extends along the backbone of the Appalachian Mountains between Springer Mountain in Georgia and Mount Katahdin in Maine. There are thousands of miles of spur trails and extensions, including an international version that continues north from Mount Katahdin through New Brunswick to Gaspe Peninsula in Quebec where it jumps to Port Aux Basques, Newfoundland and runs up the west coast to Belle Isle, the actual northern terminus of the Appalachian Ridge. Then there's the Pinhoti National Recreation Trail that connects to the Benton MacKaye Trail and leads southwest from Springer Mountain for 240 miles, ending in south-central Alabama. There is also a longer overlay known as the Eastern Continental Trail that starts at the southern terminus of the Florida Trail in Key West and travels north to Springer Mountain, and also ends at Belle Isle, Newfoundland.
For the main trunk of the Appalachian Trail, maintenance is done through multiple agency partnerships and with the help of about thirty trail clubs. Portions of the route pass by towns, over roads and across rivers on existing bridges but most of the trail is high in the mountains, essentially in wilderness. From Georgia, the Trail passes through sections of North Carolina, Tennessee, Virginia, West Virginia, Maryland, Pennsylvania, New Jersey, New York, Connecticut, Massachusetts, Vermont, New Hampshire and Maine.
Together with the Pacific Crest National Scenic Trail and the Continental Divide National Scenic Trail, the Appalachian Trail is part of the Triple Crown of long distance hiking in North America.
The idea of the Appalachian Trail was first dreamed by Benton MacKaye, a Massachusetts forester, who wrote down his dream in 1921. The first documented through-hike of the Trail happened in 1948 but it took the National Trails System Act of 1968 to lend a sense of permanency to the project. That Act also opened the way for a whole series of National Scenic Trails within the National Parks and National Forest systems all across America. As of 2000, the National Park Service was in control of all but a few miles of the Trail.
Along the Trail, there are more than 250 camp sites and shelters available for hikers. Shelters are usually about a day's hike apart and are sometimes manned by volunteers. In some areas of the Trail (where it crosses National Parks in particular), there are inns established that offer hikers full accommodations.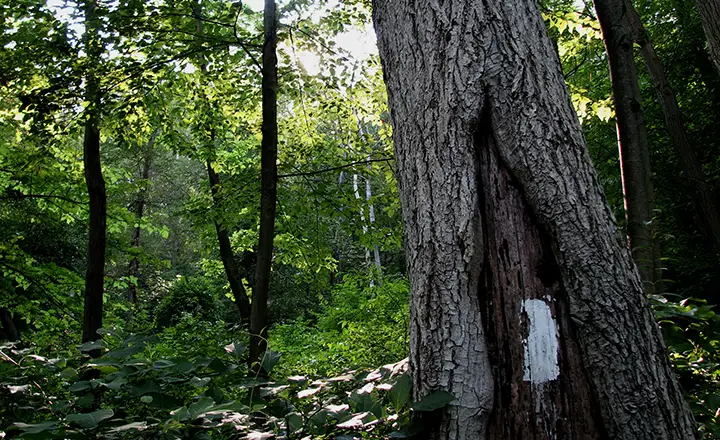 Typical white blaze Trail marker
Appalachian National Scenic Trail
National Park Service
PO Box 50

,

Harpers Ferry

,

WV

25425
Fax:

304-535-6270
Photo of the Appalachian Trail in the White Mountains of New Hampshire courtesy of Ken Gallager
Photo of white blaze trail marker courtesy of
Colin Gregory Palmer
,
CCA-by-SA 3.0 License
Trail map courtesy of the National Park Service