Kings Hill Scenic Byway
Near the southern end of the byway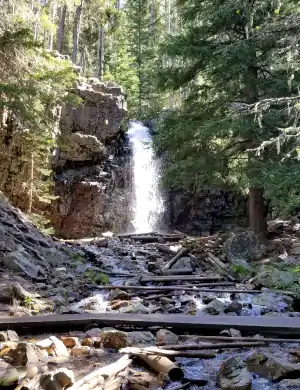 In the forest south of Niehart
The Kings Hill Scenic Byway runs along US Highway 89 for 71 miles between Belt and White Sulphur Springs. This is that stretch of road that crosses over the Little Belt Mountains from north-to-south (or vice versa) through Lewis & Clark National Forest. The road parallels Belt Creek north of Kings Hill Pass. These are beautiful forested mountains with several National Forest Campgrounds along the way.
The area of the Little Belt Mountains was flooded with silver miners in the early days of Montana settlement, but the silver rush didn't last long after the federal government decided to abandon the silver standard and go with the gold standard instead. What that really means is that this area of Montana is still reasonably pristine.
The Kings Hill Scenic Byway offers access to hundreds of miles of old mining and logging trails/roads in the mountains and forest, one of them being the Pioneer Heritage Trail. In winter you'll find some 200 miles of marked snowmobile trails in these woods. There's also the Silvercrest Cross-Country Ski Trail System with 17 miles of groomed cross-country ski trails, just north of Kings Hill Pass. And then just south of the summit of Kings Hill Pass (7,393'), there's the Showdown Montana downhill ski area.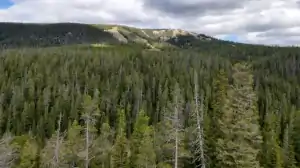 The ski slopes of Showdown Montana
Near the northern end of the Scenic Byway, near Riceville, is Sluice Boxes State Park. This is in the Belt Creek Canyon, an area that saw lots of miners in the old days. The property was acquired by Montana Fish, Wildlife & Parks in 1974 and has remained in a "primitive" state ever since. You'll find the remains of several mines, historic cabins and parts of the Montana Central Railroad here. If you want to camp, you'll need a backcountry campsite permit from the state and the nearest office is in Great Falls.
Unless you get hooked up into something along the way, figure on taking 2 hours to make this drive (one way).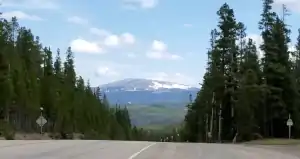 Baldy Peak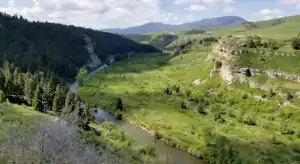 Belt Creek Canyon
Related Pages
Map courtesy of National Geographic Topo!