Crab Orchard National Wildlife Refuge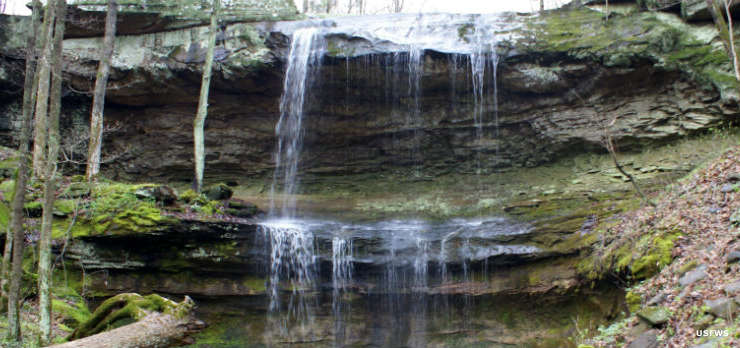 A waterfall on Crab Orchard National Wildlife Refuge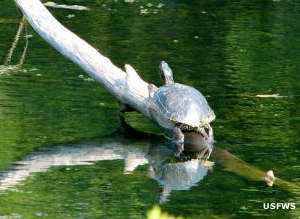 Crab Orchard National Wildlife Refuge is a 43,890-acre property in southern Illinois with Crab Orchard Lake on the north and Shawnee National Forest on the south. Crab Orchard NWR is in the heart of the Mississippi Flyway and sees more than 245 species of birds in the course of a year. There are also 33 species of mammals, 44 species of amphibians and reptiles, 63 species of fish and about 700 species of plants on the property.
Crab Orchard National Wildlife Refuge operates with four major principles in mind: Wildlife conservation, agriculture, industry and recreation. Once upon a time the property was used as a munitions manufacturing and storage facility by the US Army and while most of that activity has been long shifted to other facilities out west, the manufacturing facilities are still operational and the storage bunkers are now mostly leased to private industry. Crab Orchard Lake itself was created in the 1930's on land that had been condemned (a form of agricultural readjustment and relief) by the Federal government during the Great Depression.
Almost 60% of the refuge property is cloaked in oak-hickory forest, about 20% is open water (mostly man-made reservoirs), about 10% is cropland farmed by local farmers under agreements with US Fish & Wildlife and the rest is miscellaneous wetlands, swamps, sloughs and bogs. The landscape is a rolling terrain, for the most part just south of the line reached by the massive glaciers of the Laurentide ice sheets between 352,000 and 112,000 years ago. The deep valleys and cuts in the land were gouged by waterflows coming off those glaciers as they melted back to the north.
The eastern 21,000 acres of Crab Orchard National Wildlife Refuge are operated as a wildlife sanctuary and public access is limited. The western half of the property offers much in the way of amenities for humans but also contains the 4,050-acre Crab Orchard Wilderness on the southern shore of Devil's Kitchen Lake. Adjacent to the wilderness area on the south is Panther Den Wilderness, a unit of Shawnee National Forest.
The primary visitor center for Crab Orchard National Wildlife Refuge is located on Route 148 and is open daily from 8 am to 4:30 pm. Unusual among National wildlife Refuges, Crab Orchard charges a use fee: $2 per day, $15 for the year (July 1 through June 30). There are several established hiking trails on the property and campgrounds at Devil's Kitchen Lake, Little Grassy Lake, Crab Orchard Lake and the Blue Heron area.
Crab Orchard National Wildlife Refuge
US Fish & Wildlife Service

Photos courtesy of the US Fish & Wildlife Service