Bald Knob Wilderness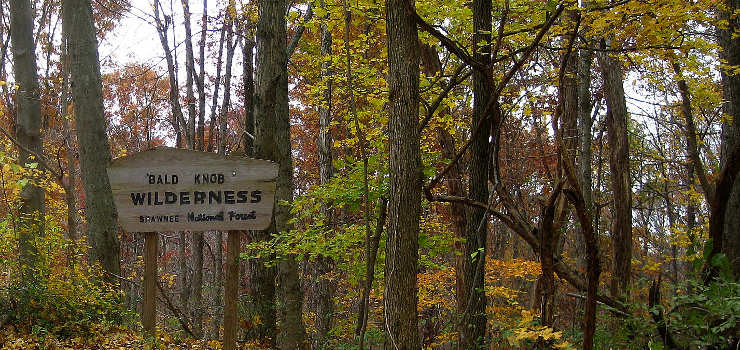 Bald Knob Wilderness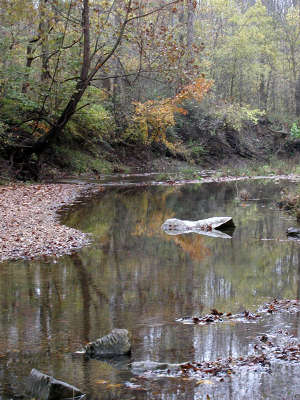 Hutchins Creek
Bald Knob Wilderness is a 5,802-acre property mostly on the western slopes of Bald Knob, a high point in Shawnee National Forest. At the summit of Bald Knob is the locally famous "Bald Knob Cross of Peace," a 111-foot tall cross erected in 1963 and refurbished in 2012. As visitors to the cross drive up the mountain to get there, they skirt the eastern edge of Bald Knob Wilderness.
Like all wilderness areas in Illinois, the forest of Bald Knob Wilderness is all second growth. There was a time when the area was clear-cut and settlers attempted to farm but the land didn't work well for that. Bald Knob itself was particular unfitted for farming and in the 1930's, the Federal government condemned all the marginal farmland in the area and eventually created Shawnee National Forest.
Today, the Bald Knob Wilderness is thickly treed although hikers will find evidence of old roads to hike on past decayed structures, small cemeteries and smaller orchards (some of the farmers attempted to grow fruit in the area in the early 1900's). This is the far north end of the Ozark Uplift. Bald Knob is separated from Clear Springs Wilderness on the north and west by an abandoned dirt road along Hutchins Creek. Spring-fed Hutchins Creek is rated as one of the highest quality water flows in Illinois. Away from the creek is typical high relief rocky bluffs: slopes in the area tend to be steep, some exceeding 70°. Hiking in the valleys is relatively easy but the sharp, V-shaped creek drainages can be hard to cross.
The River to River Trail crosses Bald Knob Wilderness. Immediately to the south and west is the Camp Hutchins Proposed Wilderness Area (2,967 acres). A danger in the area is the high number of user-created trails: as this is typical Ozark countryside, it's really easy for unprepared folks to get lost in these woods.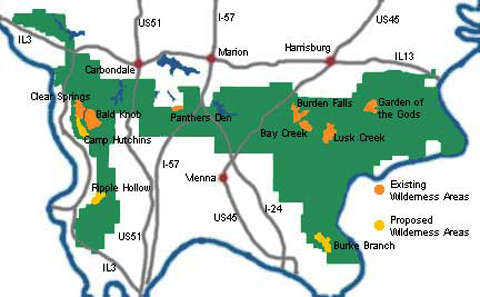 Wilderness Areas on Shawnee National Forest