Grand Mesa National Forest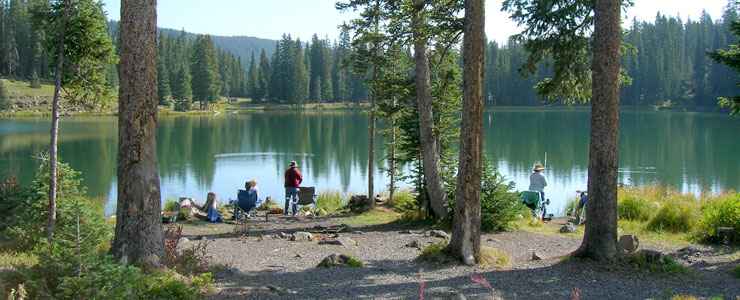 Grand Mesa National Forest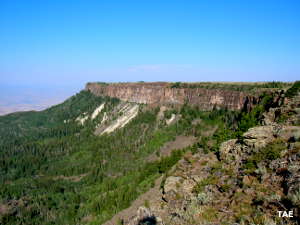 Lands End
One of the world's largest flat-top mountains, Grand Mesa has an average elevation of 10,000 feet. It's dotted with more than 300 alpine lakes and reservoirs. Most forest campgrounds are open from early July to the middle of September. Nine of these campgrounds have water and trash pick-up. Cobbett Campground is the only campground on the reservation system. There are five day-use areas: Ward Way, Glacier Springs, Valley View, Mesa Lakes and Wild Rose. Camping is permitted outside of designated campgrounds. There are about 700 miles of designated hiking, all-terrain vehicle and horse trails within the Forest providing a variety of travel opportunities for all Forest users.
One of the Grand Mesa's hidden treasures is the Crag Crest Trail, just off the Grand Mesa Scenic Byway. The Crag Crest National Recreation Trail is a 10.3-mile circular trail consisting of a crest portion and a loop portion. At 11,187 feet, you are at the virtual high point of the Grand Mesa and have a 360-degree panoramic view that spans from the San Juan Mountain range in the south to the Bookcliffs and Roan Cliffs to the northwest. Only hikers are allowed on the crest portion between the east trailhead and Cottonwood Lakes Trail junction.
There are also many cross-country skiing and snowmobiling opportunities on Grand Mesa. These include three groomed cross-country ski areas and the Sunlight to Powderhorn snowmobile trail. The Grand Mesa contains over 100 miles of marked snowmobile trails with routine grooming occurring on the majority of those miles. All trail systems are accessed from the Colorado Highway 65 corridor. Powderhorn Resort, located on the north slopes of the Grand Mesa just 35 miles east of Grand Junction, provides an alpine skiing experience. The base elevation is 8,200' with a vertical drop of 1,650'. There are runs for all levels of skiing and snowboarding, from groomed gentle slopes to challenging glades and moguls.
The nationally designated Grand Mesa Scenic and Historic Byway crosses the Grand Mesa on a 55-mile trip ranging from the orchards of the valley floor to alpine meadows and lakes nestled in a spruce and fir forest. You can begin your trip in Cedaredge or in Plateau Canyon where Highway 65 joins I-70, about 20 miles east of Grand Junction.
The Grand Mesa Scenic and Historic Byway Association operates the Cedaredge Welcome Center at Pioneer Town. At this welcome center you can view several interpretive exhibits, pick up brochures, and purchase gifts to take home as a remembrance of your visit.
The Grand Mesa Visitor Center at Cobbett Lake is open from 9:00 am to 5:00 pm during the summer months, Memorial Day through mid-September. The Western Colorado Interpretive Association sells maps, books and interpretive materials in the Visitor Center.
Interpretive walks and/or talks are given every weekend on the Grand Mesa starting in the middle of June and ending on Labor Day weekend. The walks, talks and presentations are held at different locations on the Grand Mesa. For more information call the Grand Mesa Visitor Center at 970-856-4153.
Forest Service Road #100, Land's End Road, is a 12-mile spur of the Grand Mesa Scenic Byway. Step back into the past when you stop at the recently restored Raber Cow Camp Cabins. The Land's End Observatory sits on the rim of the Grand Mesa. The Observatory, built by the Civilian Conservation Corps (CCC) and the Western Power Association (WPA) in the 1930s, offers views as far as the eye can see, extending to the La Sal Mountains in Utah as well as other southern ranges. The building is open daily from the first of July through Labor Day, from 9:30 am to 4:30 pm. During the month of September, it is only open on weekends. Information, maps and books are also available during business hours.
There are several short nature trails on the Grand Mesa that offer good family hikes and interpretive opportunities. The Land O'Lakes overlook includes a half mile paved footpath and offers breathtaking views of many lakes and reservoirs atop the Grand Mesa, including the Granby reservoirs and the Mesa's largest body of water, Island Lake, against a backdrop of the West Elk Mountains, the San Juans, and the Uncompahgre Plateau. Other interpretive trails include the Discovery Trail, a half-mile loop that leaves from the Grand Mesa Visitor Center, Raber Cow Camp Trail, Mesa Lakes Shore Line Trail, and the Views Trail at the Land's End Observatory.
Forest Road #121, Trickle Park Road south of Collbran, accesses many outback-fishing holes on the Grand Mesa. Vega State Park north of the Grand Mesa also offers fishing and camping.

Grand Mesa National Forest
US Forest Service
Grand Valley Ranger District Campgrounds
| Campground Name | | Unit Length | # of Sites | | Elevation |
| --- | --- | --- | --- | --- | --- |
| Big Creek | No | 30' - 33' | 26 | No | 10,000' |
| Cobbett Lake | | 30' - 42' | 20 | No | 10,300' |
| Cottonwood Lake | | 30' - 42' | 36 | No | 10,000' |
| Crag Crest | No | 27' | 11 | No | 10,100' |
| Island Lake | | 30' - 45' | 41 | No | 10,300' |
| Jumbo * | | 45' - 55' | 26 | | 9,800' |
| Kiser Creek | No | 16' - 26' | 12 | No | 10,100' |
| Little Bear | | 22' - 49' | 36 | | 10,200' |
| Spruce Grove | | 22' - 48' | 16 | No | 9,900' |
| Ward Lake | | 20' - 45' | 40 | No | 10,200' |
| Weir Johnson | No | 22' - 33' | 12 | No | 10,500' |
All campgrounds are first-come, first-serve unless denoted with an *. All campgrounds have 2 - 3 toilets. Little Bear and Island Lake Campgrounds have flush toilets. Fee charged is for each camp unit. A camp unit is defined as a tent, truck camper, RV or auto used to sleep in, etc.
*Reservations are recommended at this campground and can be made by calling toll free 877-444-6777, TDD 877-833-6777 or at the ReserveUSA.com website. Reservations must be made more than 4 days in advance.
** Handicapped Accessible means the campsite, water approaches and restrooms are accessible.
For further information and/or maps, please contact the Grand Valley Ranger District at 2777 Crossroads Boulevard, Suite A, Grand Junction, CO 81506, 970-242-8211.
Small icons are courtesy of the US Forest Service