Mount Tipton Wilderness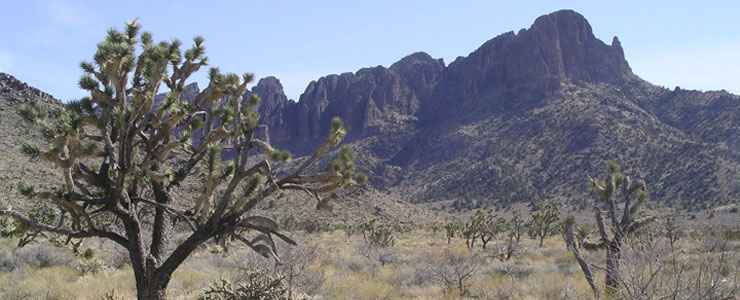 Mount Tipton Wilderness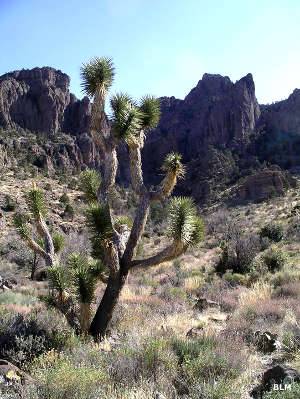 Mount Tipton Wilderness is a 30,760-acre property in the Cerbat Mountains of northwestern Arizona. The area is visually dominated by Mount Tipton (7,148') but the real visual stunner is the view down from Mount Tipton on the Pinnacles, rows of maroon-colored spires extending out to the north and towering above the surrounding open desert. The climb is challenging but the view is worth it.
The upper parts of the Cerbat Mountains have a lot of vegetation on them. In the higher elevations, the northern slopes offer a few remnant stands of Ponderosa pine. On southern slopes and below the Ponderosas you'll find pinon pine, juniper, scrub oak, manzanita, bear grass and ceanothus.
For wildlife there's mule deer, bobcat, mountain lion, desert bighorn sheep, kit fox, jackrabbit, coyote and the usual assortment of reptiles, insects and arachnids the Arizona desert is famous for.
The topography of Mount Tipton Wilderness is extremely rugged. The area is cliffy with large granite outcroppings on the ridge lines. The only trails you'll find on the property are leftover jeep and burro trails from the early and mid-1900's. Most folks do their hiking in the sandy washes that dissect the area. Water is scarce but the few springs that are marked on USGS maps are reasonably reliable. The best time to visit: October through April, although the winter months can be quite cold with occasional snow on the upper mountain elevations.
To get there: there are several access roads to Mount Tipton Wilderness, most of them originating somewhere along US Highway 93 north of Kingman. Milepost 0 on the road is at the Nevada-Arizona State line. At milepost 42 go east on Pierce Ferry Road through Dolan Springs to 19th Street. Turn right on 19th and go 0.6 miles. Turn right on Ocotillo Drive, go 1 mile to 17th Street. At 17th Street go left for 0.2 miles, then turn right on Orchid Street and go 1/2 mile. 16th Street is unsigned but you turn left there anyway and go one block to Palm Street. Turn right and go 1/2 mile to the wilderness boundary. A jeep trail continues south along the fence from there to a parking area after another 1.5 miles.
Another access to the property starts at Pierce Ferry Road, too. Go 1.5 miles from US 93 to 5th Street and turn right. Go 4.5 miles until you reach the fence. Turn left and follow the fence for 0.1 mile, then turn right and pass through the gate. Go another 0.8 miles to reach the parking area.
Then again, at milepost 51 on US 93 you'll find the Big Wash Road. Turn east on that and go about 4.5 miles. Mount Tipton Wilderness will be on the left.
7.5-Minute Topo Maps: Mount Tipton, Chloride, Grasshopper Junction, Dolan Springs
Rock formation in Mount Tipton Wilderness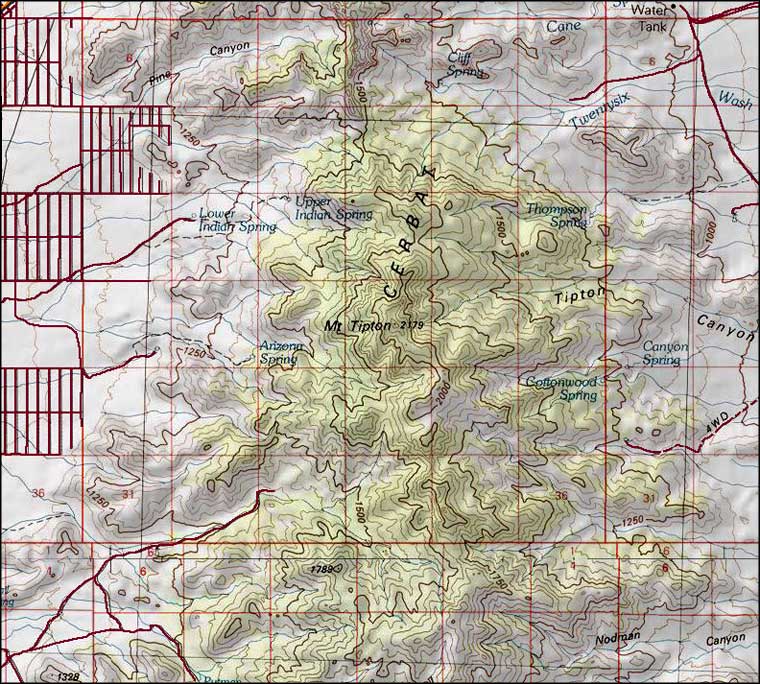 Mount Tipton Wilderness
Mount Tipton Wilderness
Bureau of Land Management

- Kingman Field Office
Latitude:

35.538611°N

Longitude:

114.191111°W
Photos courtesy of Chris Barns, via Wilderness.net
Map courtesy of National Geographic Topo!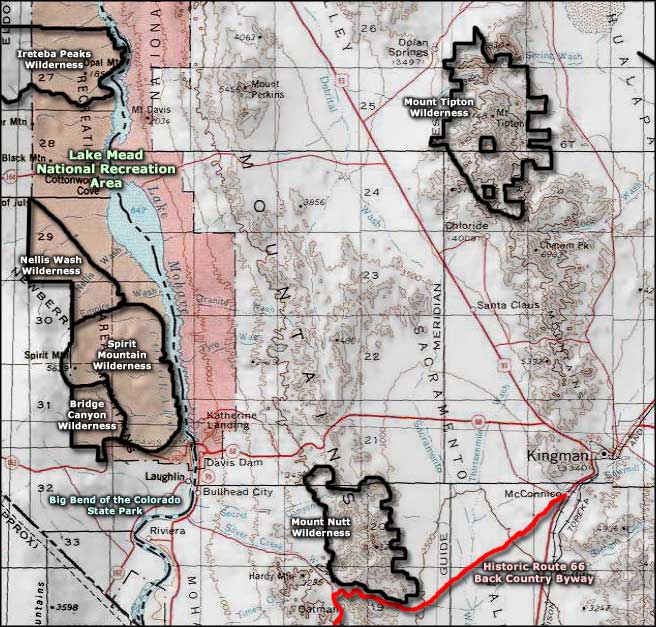 Related Pages
Map courtesy of National Geographic Topo!