Badlands National Park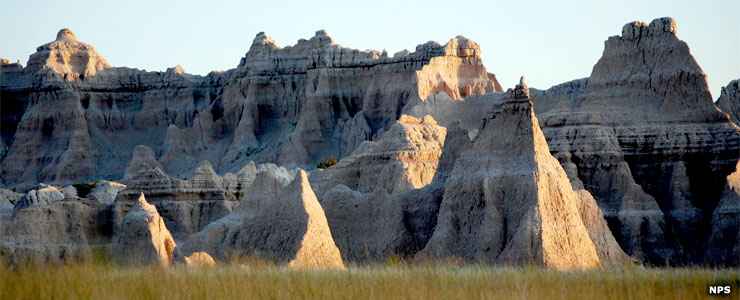 Badlands National Park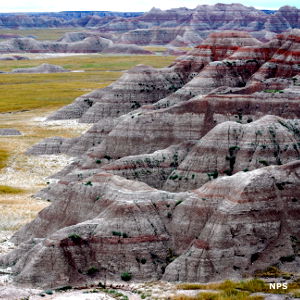 Badlands National Monument was first designated in 1939. It became Badlands National Park in 1978. This 244,000-acre property is located in southwestern South Dakota, east of the Black Hills. A lot of the fantastic eroded formations that make up Badlands (and give it the name) are materials deposited over millions of years as sand, silt and mud by the water runoff from the Black Hills. The multi-colored layers of sand and mud are separated by layers of gray and white volcanic ash. Among the mud and sand deposits, archaeologists have found one of the largest and most complete collections of ancient North American mammalian history, complete with fossilized skeletons of saber-toothed tigers, rhinos, horses, camels and other now extinct creatures. Before the days of the volcanic ashfall, the area was a marshy jungle overflowing with wildlife in the aftermath of the dinosaur extinction. Today, the area comprises what is probably the largest remaining open mixed-grass prairie region in North America. The modern wildlife collection on display here includes bison, pronghorn, prairie dogs, mule deer, white-tailed deer, bobcat, mountain lion, bighorn sheep, fox and black-footed ferrets.
The black-footed ferret is on the endangered species list and was recently introduced to Badlands National Park to see if it could survive in this protected atmosphere. The ferrets have done really well. Only a few years ago they were thought to be extinct, then a tiny population of them was discovered in Montana and they are slowly being brought back from the edge of extinction.
For visitors, Badlands National Park offers hiking, camping, horseback riding, photography and sightseeing. Biking is allowed only on paved and designated roads but many of the roads are narrow and twisted: be on the lookout for large RVs with extended mirrors... Back country use is wide open but open campfires are prohibited everywhere on the property. There are two designated campgrounds but primitive camping in the back country is allowed, too. The Cedar Pass Campground (near the Ben Reifel Visitor Center) offers 96 designated campsites with cold running water, flush toilets, picnic tables and trash containers. There are no showers and no hookups but there is an RV dump station. Camping fee is $14 per site per night with a stay limit of fourteen days. The Sage Creek Campground is located on Sage Creek Rim Road near the Badlands Wilderness Area. The road is rough and not recommended for large RVs. The camping is free and the sites offer pit toilets and picnic tables. Sage Creek Campground also offers some facilities for equestrian users as most horseback riders come to explore the wilderness area. If you're bringing a horse, though, make sure you also bring certified weed-free pellets for horse feed.
Hikers in the Badlands back country need to be aware that there is very little water out there. And what water you might find is most likely loaded with high levels of dissolved sediments (all that volcanic ash). It's not drinkable and it's really not filterable. There are only a few established trails and most of them originate near the Ben Reifel Visitor Center.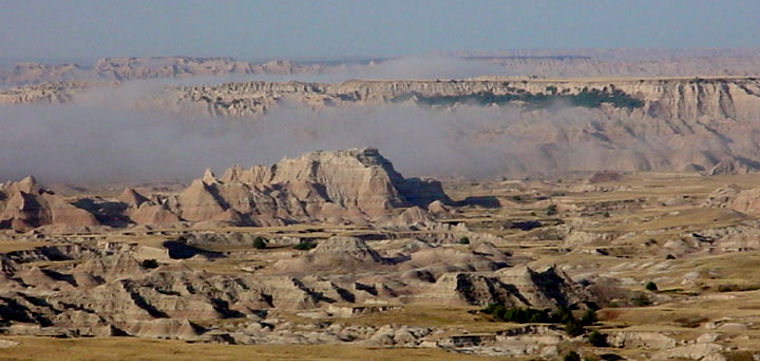 Badlands Wilderness on a cool morning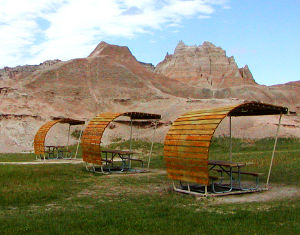 Cedar Pass Picnic Area
Badlands Wilderness is a 64,144-acre piece of Badlands National Park. Erosion of the area averages one inch per year so everything changes with the weather over a couple years. That's why there's no established trails in the wilderness. But the hiking isn't bad in this large open mixed-grass prairie. While you are looking at the incredible formations and the deer, coyotes and bighorn sheep, watch out for the rattlesnakes and the large herd of buffalo that roam free in the area.
About 1/4 of Badlands National Park is designated wilderness and the most spectacular part of that is within the Sage Creek Unit in the northern section of the park. The surface materials are mostly a mix of gray and white ash separating ancient layers of sand and mud deposited at different times over the last 38 million years. During those times between great volcanic activities when the mud and sand were on the surface, this area was a marshy jungle filled with turtles the size of Volkswagens, large saber-toothed tigers and a species of North American camel that was about the size of an average modern dog. Fossils left from these creatures (and many others) can be seen sticking out of the mud layers everywhere. Early pioneers traveling through the area often loaded their wagons with fossils before continuing on west.
Over time the climate changed and the surface turned to grassland while the mammals using it evolved into the more modern prairie versions. But the last 500,000 years have seen erosion carve this area into a landscape of gorges, mesas, cliffs, knife-edged ridges, pinnacles, spires, buttes and canyons resembling the surface of the Moon. At the present rate of erosion, scientists estimate the remaining formations will have been eroded into flatness within another 500,000 years.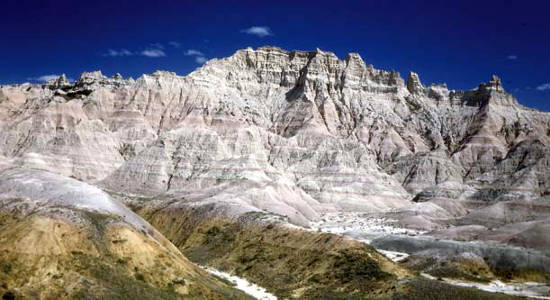 Badlands Wilderness
Badlands National Park is open 24 hours a day, seven days a week, every day of the year. The hours at the two visitor centers change with the seasons. The Ben Reifel Visitor Center (at the park headquarters) is open from Memorial Day Weekend to the weekend after Labor Day from 7 am to 7 pm. From mid-April to the end of May and from mid-September to Halloween the visitor center is open from 8 am to 5 pm. The rest of the year, the hours are 8 am to 4 pm daily, except the place is closed for Thanksgiving Day, Christmas Day and New Year's Day. Park Headquarters is located on Highway 240 - the Badlands Loop Road. The White River Visitor Center is located on the Pine Ridge Reservation and is operated by the Oglala Sioux Parks and Recreation Authority. The visitor center is only open from June 1 to mid-September, 10 am to 4 pm daily. The White River Visitor Center is located on South Dakota Highway 27 about twenty miles south of Scenic.
Entry Fees: $15 per private vehicle, valid for seven days from date of purchase. Pedestrians & bicycles: $7, valid for seven days. Motorcycles: $10, valid for seven days. Annual Pass: $30, valid for one year from month of purchase.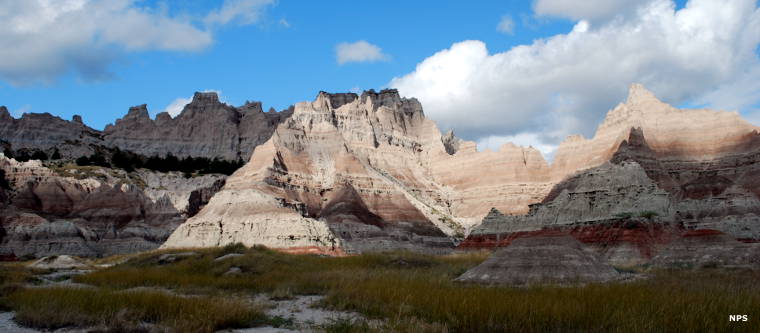 A typical view in Badlands National Park
Badlands National Park
25216 Ben Reifel Road

, PO Box 6,

Interior

,

SD

57750
605-433-5361
Photos of Badlands National Park courtesy of Shaina Niehans, National Park Service
Upper photo of Badlands Wilderness courtesy of Loyd Griswald, via Wilderness.net
Maps courtesy of the National Park Service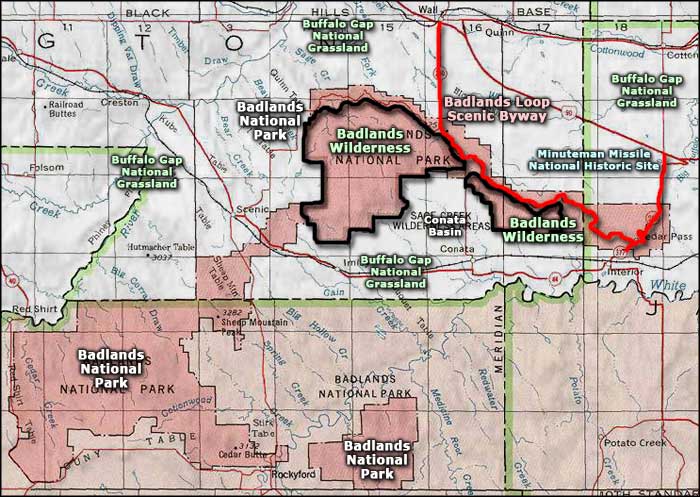 Related Pages
Area map courtesy of National Geographic Topo!