Gullah Geechee Cultural Heritage Corridor
The Gullah Geechee Cultural Heritage Corridor stretches across the coastal areas of South Carolina, North Carolina, Georgia and northeast Florida, the areas where the African Gullah Geechee people settled and still live. The Secretary of the Interior was authorized to provide technical and financial assistance to National and Cultural Heritage Areas and Corridors to develop and implement their various management plans. From that perspective, the Corridor envelopes many historic and cultural sites that haven't yet been cataloged and formally registered with any governmental entity. What is preserved in the Gullah Geechee Cultural Heritage Corridor is the folklore, arts, crafts and music of a people uprooted from their ancestral lands in Africa and brought to America to be slaves.
The Gullah Geechee Cultural Heritage Corridor runs from the northern edge of Pender County in North Carolina to the southern edge of St. Johns County in Florida. The Corridor also begins where the waves end and extends 30 miles to the west. Included in the corridor are many sea and barrier islands. What has most shaped the culture in the area was the importation of African slaves from the rice-growing regions of West and Central Africa. They were especially suited for the area's economy at the time and were forced to work in the many rice plantations that lined the Atlantic Coast in those days. But because of their relative isolation, they were able to retain more of their African cultural heritage and slowly developed a creole language all their own. However, where they lived few outsiders dared to venture. After the Civil War the people were emancipated but many chose to stay and live as they always had, in small rural communities among the islands and along the coast. They continued their arts, crafts, language, folklore, religious beliefs, rituals and food preferences.
Today their culture is disappearing under the many pressures of development. This Cultural Heritage Corridor is an attempt to preserve some of the foundations and history of the Gullah and Geechee people, some of them now in the 8th and 9th generations since their ancestors were taken from Africa and brought here.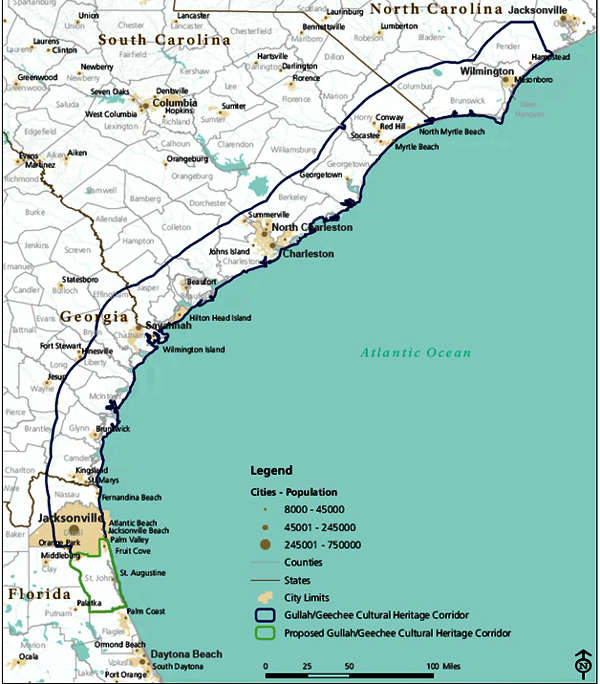 Gullah Geechee Cultural Heritage Corridor map
Map courtesy of the Gullah Geechee Cultural Heritage Corridor