Dayton Aviation Heritage National Historical Park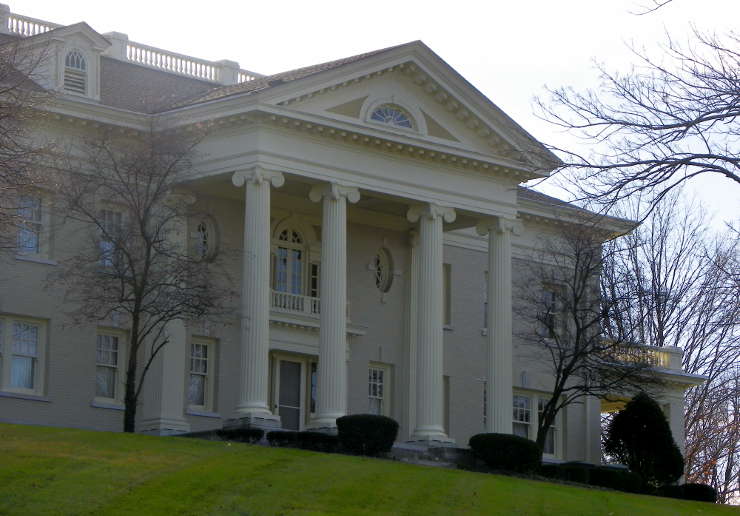 Dayton Aviation Heritage National Historical Park: Orville Wright's home at Hawthorn Hill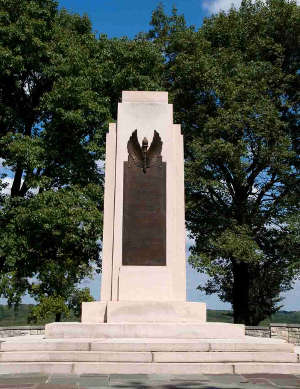 The Dayton Aviation Heritage National Historical Park is an 86-acre property spread across five separate units: the Wright Cycle Company Complex in Dayton, Huffman Prairie Flying Field on Wright-Patterson Air Force Base, Wright Brothers Aviation Center in Carillon Historical Park Dayton, the Paul Lawrence Dunbar State Memorial in Dayton, and Hawthorn Hill in Oakwood, Ohio. The park is only a small piece of the eight-county National Aviation Heritage Area.
The neighborhood where the Wright brothers lived and worked in Dayton had almost completely changed by the time the idea for this park was conceived. By the 1970's, the area had seen major riots, massive neglect, and then an Interstate highway was pushed through, leveling much of the neighborhood to make way for pavement. Henry Ford had even contributed to the decay by removing one of the Wright Brothers earlier bicycle shops to Greenfield Village in Michigan. Then a local person, Jerry Sharkey, bought the remaining Wright Brother Bicycle Shop for $10,000 and saved it from demolition. Sharkey founded the Aviation Trail Inc. as a vehicle to carry forward his dream of a National Park or historic district encompassing the Wright brothers buildings. He enlisted local politicians and media figures to help make that dream come true and at first, they lobbied for a simple historic trail connecting the various sites around Dayton. It took 20 years but President George W. Bush signed a bill in 1992 which created the Dayton Aviation Heritage National Historical Park. The National Aviation Heritage Area was authorized by Congress in 2004.
The Wright Cycle Company Complex is where Orville and Wilbur built their flying machines. The Complex contains the bicycle shop, the Wright-Dunbar interpretive Center and the Aviation Trail Visitor Center and Museum. After the successful flight testing at Kitty Hawk in North Carolina, they used the Huffman Prairie Flying Field in 1904-1905 to perfect their flying machine.
Carillon Historical Park is a project by Dayton History to preserve and interpret local historical sites. Carillon Historical Park also contains the Wright Brothers Aviation Center. Hawthorn Hill in Oakwood, Ohio (south of Dayton) is also owned and operated by Dayton History: for access contact Dayton History at 937-313-2010.
Dayton History also operates the Paul Lawrence Dunbar State Memorial on behalf of the Ohio Historical Society. The son of former slaves, Paul Lawrence Dunbar graduated from Central High School in 1890, the same class as Orville Wright (although Orville did not graduate) and he and the Wright brothers were lifelong friends. Dunbar contracted tuberculosis and died in 1906 at the age of 33. Dunbar's mother died in 1936 and the State of Ohio purchased the house, turning it into the first Ohio African-American State Memorial. Dunbar earned fame as a poet, writer and playwright who rose from elevator operator in the Callahan Building in Dayton to work as a research assistant at the Library of Congress in Washington DC after his literary talent was recognized. However, as his literary reputation grew, his health declined. Dunbar left a body of work that contained pieces written in conventional English and pieces written in the Negro dialect of his time. During his short life he got to know people like Frederick Douglass and William Dean Howells, both of whom promoted his work. Today, the Paul Lawrence Dunbar State Memorial includes a visitor center, the home and an old barn on the property. The Dunbar House is open for tours on Tuesdays and Saturdays by making reservations with Dayton History at 937-313-2010.
The Huffman Prairie Flying Field, Interpretive Center and the Wright Memorial are on Wright-Patterson Air Force Base, an active military installation. The area is generally open to the public daily from 8 am to 6 pm but it is recommended to call the Visitor Center first to check on possible base closures.
Access to Dayton History at Carillon Park is free for members, $8 per adult age 18-59, $7 per adult over 60, $5 per child age 3-17, under 3 get in free. Access to the Paul Lawrence Dunbar State Memorial is $6 per adult, $3 per child ages 5-18, under 5 get in free. Access to all the other sites is free.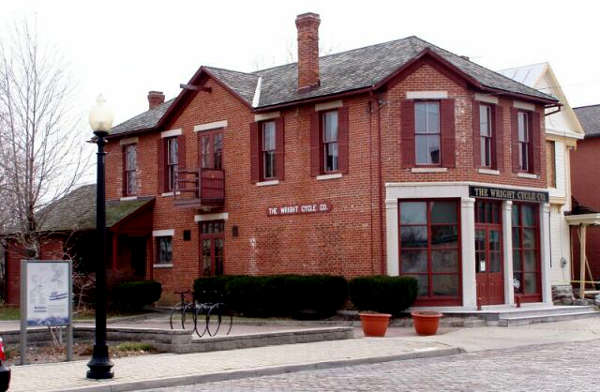 The Wright Cycle Shop in Dayton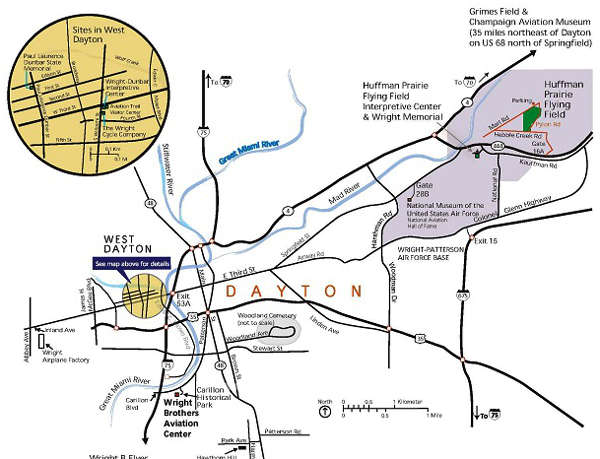 Dayton Aviation Heritage National Historical Park map
Dayton Aviation Heritage National Historical Park
Upper photo is in the public domain
Other photos courtesy of Wikipedia userid Rogerd,
CCA-by-SA 3.0 License
Map courtesy of the National Park Service