Pyramid Lake Scenic Byway
Fishermen doing their thing along the Pyramid Lake Scenic Byway
State Route 445 is almost a loop around Pyramid Lake, completely within the Pyramid Lake Indian Reservation. In addition to the views, Pyramid Lake is also well known for the quality of its fishery. One of the largest desert lakes in the world, Pyramid Lake is landlocked on the barren desert floor. Migrating birds (and humans) find this a great resting place.
The Truckee River leaves Lake Tahoe and flows northeastward to the southern end of Pyramid Lake. There is no outlet so the lake's water level is maintained solely through evaporation and sub-surface seepage. This means that over time, the salinity will increase but for now, it's only about 1/6th as salty as sea water. This is the largest remnant of ancient Lake Lahontan, an ice age lake that covered a large part of Nevada.
Pyramid Lake was first mapped by John C. Fremont in 1844 as he traveled the West with Kit Carson and John Walker (for whom Walker Lake is named). Among the big draws to Pyramid Lake are the spectacular tufa formations (calcium carbonate deposits that precipitated out of the water over areas of hot springs). Another attraction is Anaho Island, a National Wildlife Refuge that is closed to the public for ecological reasons. On Anaho is a large breeding colony of American White Pelicans, one of the only pelican nesting sites in North America. You'll want to bring your binoculars for this.
The Pyramid Lake Scenic Byway travels along the southern end of the lake. You'll pass a couple of small towns, several fish hatcheries run by the Paiutes who live here, then pass Anaho Island and the Pyramid. If you're driving to the Black Rock Desert area from Reno, you'll go right through here.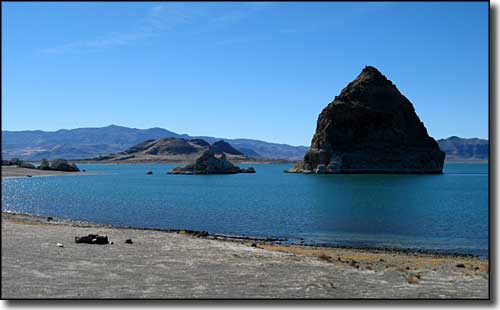 The Pyramid at Pyramid Lake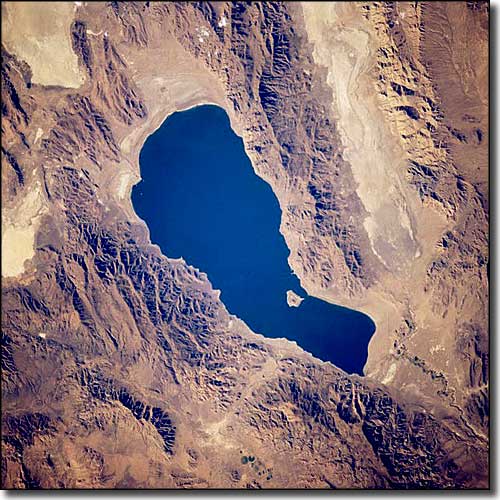 Pyramid Lake from space
, the island is
Anaho Island National Wildlife Refuge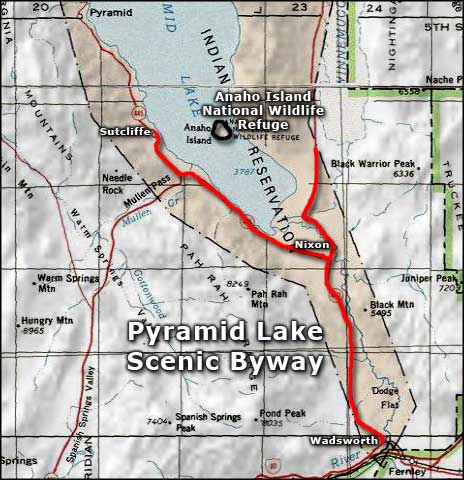 Pyramid Lake Scenic Byway area map
Photo of Pyramid Lake courtesy of the USDA NRCS
Satellite photo of Pyramid Lake courtesy of NASA. Photo of the Pyramid courtesy of R Halden