Natchez Trace Parkway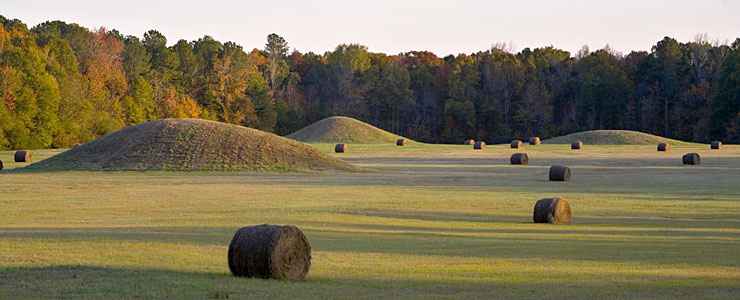 The Pharr Mounds along the Natchez Trace in Mississippi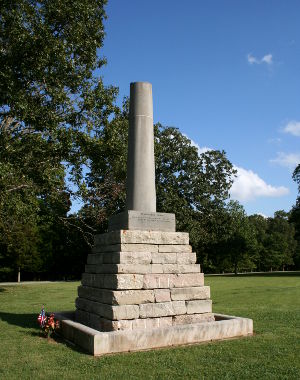 Meriwether Lewis Monument
Grinder's Stand, Tennessee
The Natchez Trace Parkway extends for 444 miles across Mississippi, Alabama and Tennessee. The Parkway parallels the original Native American trail (Natchez Trace) for most of the way. In the old days, the route was used for hunting, raiding and trading by the Choctaw, Chickasaw and Natchez Indians. Then came French and Spanish explorers, then the frontiersmen and farmers who settled the land and turned it into what we see now. In 1815, Andrew Jackson marched his troops home over the Natchez Trace after winning the Battle of New Orleans (it was in Alabama where he hired George Colbert to ferry the men across the Tennessee River and Colbert delivered Jackson a bill for $75,000 for services rendered). In 1838, the US Government marched some 16,000 Cherokees from their homelands in the Appalachians over the Natchez Trace on their way to new homes in what is now Oklahoma. The Choctaw and Chickasaw had already been "deported" and the Natchez tribe was fast approaching extinction.
During the Civil War, many major engagements were fought along the route of the Natchez Trace, including Shiloh, Stones River, Tupelo, Brice's Cross Roads and Vicksburg.
Today, the Natchez Trace is a Trail, Parkway and Scenic Byway with special sections for hiking, biking, camping and horseback riding. There are six sites along the Parkway where you'll still find burial mounds that were built between 1,200 and 2,000 years ago by the Mississippian culture. In the heart of Mississippi is the Ross Barnett Reservoir with water activities, scenic overlooks and multiple archaeological sites to explore. Also near Tupelo are the Tupelo and Brices Cross Roads National Battlefields. Alabama also offers several prehistoric mound sites and other historical points of interest. Once in Tennessee, you'll be in the mountains with forest and several waterfalls along the way. It was in Grinder's Stand, Tennessee that Meriwether Lewis died of gunshot wounds as he was traveling the Trace in October 1806. The State of Tennessee erected a memorial for him at the site in 1848.
The Natchez Trace Parkway Visitor Center is located in Tupelo. The Visitor Center is open every day except Christmas from 8 am to 5 pm.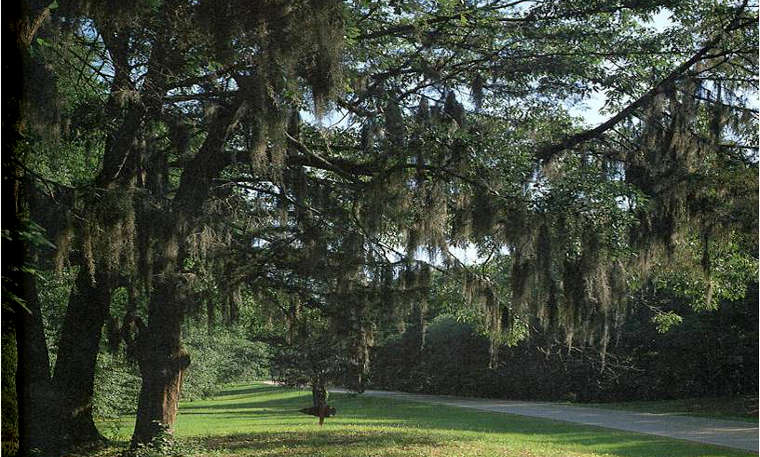 Trees filled with Spanish Moss along the route in Mississippi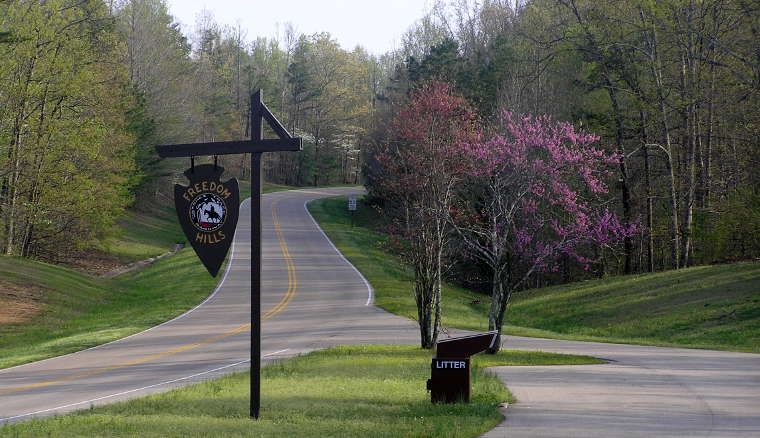 Spring buds near the Freedom Hills Overlook, Tennessee
Photos and maps are courtesy of the National Park Service