National Bison Range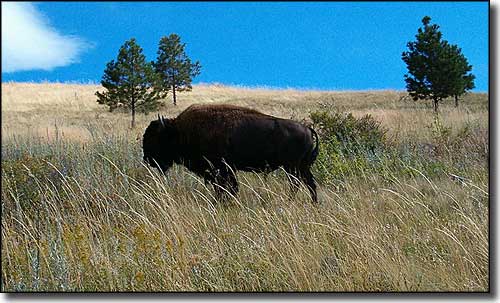 A bison roaming free at the National Bison Range
The National Bison Range is an 18,500-acre National Wildlife Refuge located in Lake and Sanders Counties, Montana. It is part of the National Bison Range Complex, a group of U.S. Fish & Wildlife Service properties that includes the Pablo and Ninepipe National Wildlife Refuges plus several Waterfowl Production Areas and numerous conservation easements.
The National Bison Range was established in 1908 to preserve and protect the last few remaining bison after a decades-long governmental policy of eradication in order to remove vital food supplies from the Plains Indians' diet, and render the Native Americans more amenable to confinement on limited reservations. In those days, beef cattle were considered to be more desirable as a food source even though beef has a significantly higher fat content per pound and a lower protein content.
The National Bison Range is located in an area of narrow canyons and steep hills at the southern end of the Flathead Valley, between the Salish Mountains and the Mission Mountains. There is a nicely equipped Visitor Center on the property and there are 2 scenic drives that begin and end there. The shorter is the Buffalo Prairie Drive while the longer, the Red Sleep Mountain Drive, is a 2-hour self-guided tour with interpretive signage that travels through the further reaches of the National Bison Range.
From mid-May to late October, the National Bison Range charges a per-vehicle entry fee of $5. An annual pass to the National Bison Range runs $15 while an annual Federal Pass good at all National Wildlife Refuges will cost you $80, unless you're a bona fide senior citizen (age 62 and up) which means you can get an annual pass for $10. When entering the property, be sure to check the hours: the National Bison Range is closed to all human activities at night and that deadline changes with the seasons.
To get there: the Refuge entrance is at Moiese on County Road 212, about 45 minutes north of Missoula and 45 minutes south of Polson (off US Highway 93 from both directions).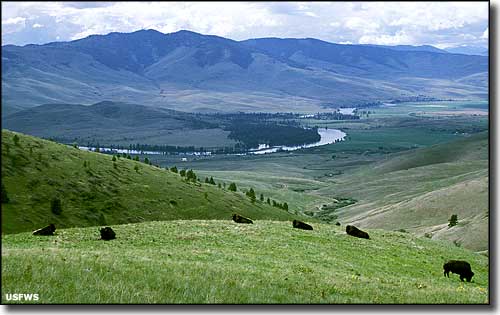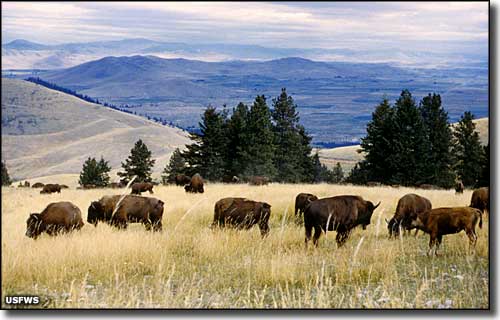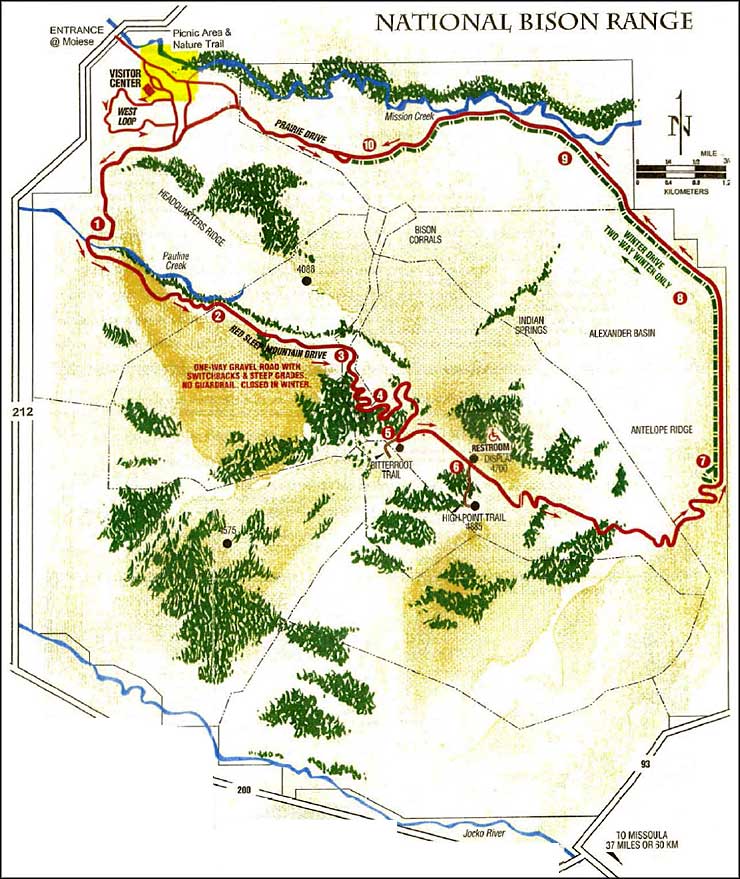 National Bison Range map
National Bison Range
US Fish & Wildlife Service
Upper photo of the bison on the National Bison Range courtesy of Paul Frederickson,
CCA 3.0 License
Photo of bison calf courtesy of Steve Hillebrand, US Fish & Wildlife Service
Other photos courtesy of the US Fish and Wildlife Service
Map courtesy of the US Fish & Wildlife Service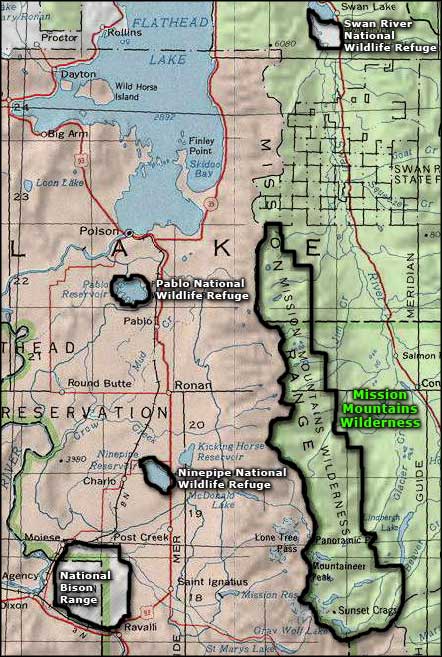 Related Pages
Map courtesy of National Geographic Topo!