Kootenai National Forest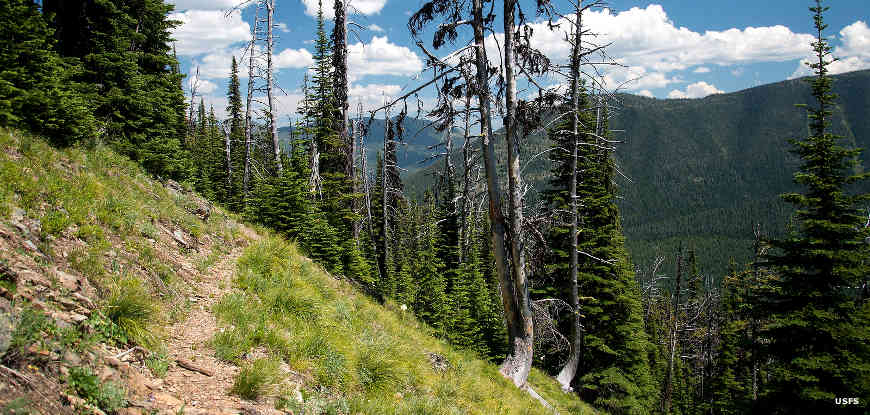 On the Pacific Northwest Trail in the Ten Lakes Scenic Area of Kootenai National Forest
Lake Koocanusa
Of the 2.2 million acres included in the Kootenai National Forest, more than 97% of the land is located in northwestern Montana, with the other less-than-three-per-cent located in northeastern Idaho. All of the Cabinet Mountains Wilderness (93,000 acres) is located on the Kootenai, and Snowshoe Peak in the Cabinets is the highest point on the Kootenai (8,738'). Other mountain ranges on the forest include the Bitterroot, Salish, Purcell and Whitefish.
Kootenai National Forest headquarters is in Libby with local ranger district offices in Fortine, Eureka, Libby, Troy and Trout Creek. The climate in this area is described as a "modified Pacific coast," meaning it's usually a bit cooler here than along the coast of Washington state. However, intrusions of colder Arctic air can often "modify" the winter temperatures down to -30°F (like the rest of Montana) and can bring very heavy snowfall in the area mountains.
The Pacific Northwest National Scenic Trail crosses Kootenai National Forest east/west, connecting the Idaho Panhandle National Forests with Flathead National Forest and Glacier National Park.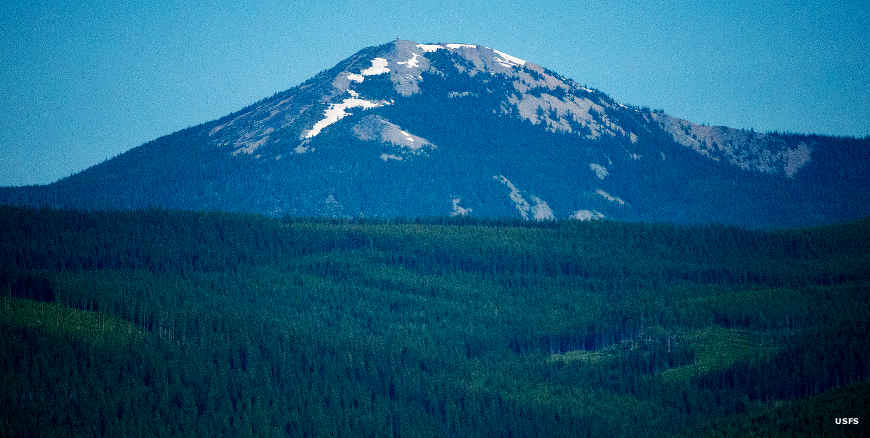 Mt. Henry
Kootenai National Forest
US Forest Service
Photos courtesy of the US Forest Service
 
Campgrounds
When staying in the campgrounds of Kootenai National Forest, camp only in the designated campsites. No off-road parking or driving is allowed. Quiet hours run from 10:00 PM to 6:00 AM. Fires are sometimes limited, sometimes prohibited, obey any restrictions posted at the campsites. Within designated recreation sites, fires (when permitted) are permitted only in the provided stoves, grills, fire rings or fireplaces. The stay limit is 14 days and there is also a limit of 10 persons per camp site (except for particular group sites). Pets are allowed but keep them leashed, under control and out of any swimming areas or sanitary facilities.
| Site Name | Amenities |
| --- | --- |
| Bad Medicine | |
| Barron Creek Boating Site | |
| Big Eddy | |
| Big Therriault Lake | |
| Bull River | |
| Camp 32 | |
| Caribou | |
| Dorr Skeels | |
| Gateway Boat Camp | |
| Grave Creek | |
| Howard Lake | |
| Kilbrennan Lake | |
| Lake Creek | |
| Little Therriault Lake | |
| Loon Lake | |
| Marten Creek | |
| McGillivray | |
| McGregor Lake | |
| North Dickey Lake | |
| North Shore | |
| Peck Gulch | |
| Pete Creek | |
| Red Top | |
| Rexford Bench Complex | |
| Rock Lake | |
| Rocky Gorge | |
| Ross Creek Picnic | |
| South Dickey Lake | |
| Spar Lake | |
| Swisher Lake | |
| Sylvan Lake | |
| Timberlane | |
| Tobacco Plains | |
| Tobacco River | |
| Triangle Pond | |
| Whitetail | |
| Willow Creek | |
| Yaak Falls | |
| Yaak River | |