Beaverhead Rock State Park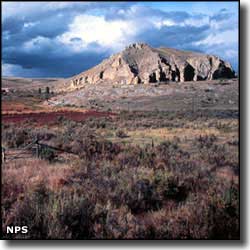 When the Lewis and Clark Expedition were crossing western Montana, Sacajawea spied a rock formation off to the north of their path and recognized it as a landmark from her youth. Her people (the Shoshoni of Idaho) spent their summers in the area. The sighting gave Lewis and Clark hope that they would soon meet Native Americans who might trade them horses for their trip westward across the mountains to the Pacific Ocean. It was Sacajawea's feeling that they would find her people either by following the river they were on (the Beaverhead) or along the river in the valley just to the west of their location.
Beaverhead Rock got its name from its resemblance to the head of a swimming beaver. As much as the state park draws its name from the rock, the rock is not directly accessible from the park, although it can be viewed and photographed in the distance.
There's also some confusion because about 25 miles to the southwest is a series of cliffs that more closely resemble the head of a swimming beaver. Those cliffs are also along the edge of the river...
The state park offers no amenities or services: it's a "Pack it in, Pack it out" area. The property is located about 14 miles south of Twin Bridges on State Highway 41.
Beaverhead Rock State Park
Upper left photo courtesy of Montana State Parks
 
Related Pages
Map courtesy of National Geographic Topo!