Great River National Wildlife Refuge

Winter at the floodplain forest at Great River National Wildlife Refuge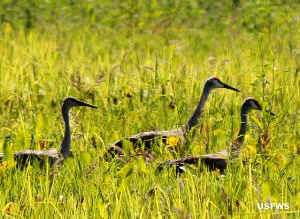 Sandhill cranes
Great River National Wildlife Refuge is an 11,600-acre property in three non-contiguous units spaced along 120 miles of the Mississippi River in both Missouri and Illinois. The Fox Island and Long Island Divisions are open to the public while the Delair Division is not. Depending on the season, Fox Island and Long Island may only be accessible by boat. No matter what the season, both divisions are foot or boat access only anyway. Many areas of both divisions are hard to access because of the lack of roads, the condition of those roads that do exist and the need for a boat in many places. Because of that relative remoteness, wildlife flourishes on the refuge.
Parts of the refuge exist due to agreements between US Fish & Wildlife and the Army Corps of Engineers. Other parts were purchased in fee simple with proceeds from the sale of duck stamps.
In 1998 Great River NWR became a designated Globally Important Bird Area because its value to migratory waterfowl, songbirds and shorebirds.
Great River National Wildlife Refuge is managed by staff at Clarence Cannon National Wildlife Refuge. Access to the public parts of Great River NWR is day-use only, from sunrise to sunset daily. Hunting and fishing are allowed in the public areas in accordance with local state rules and regulations.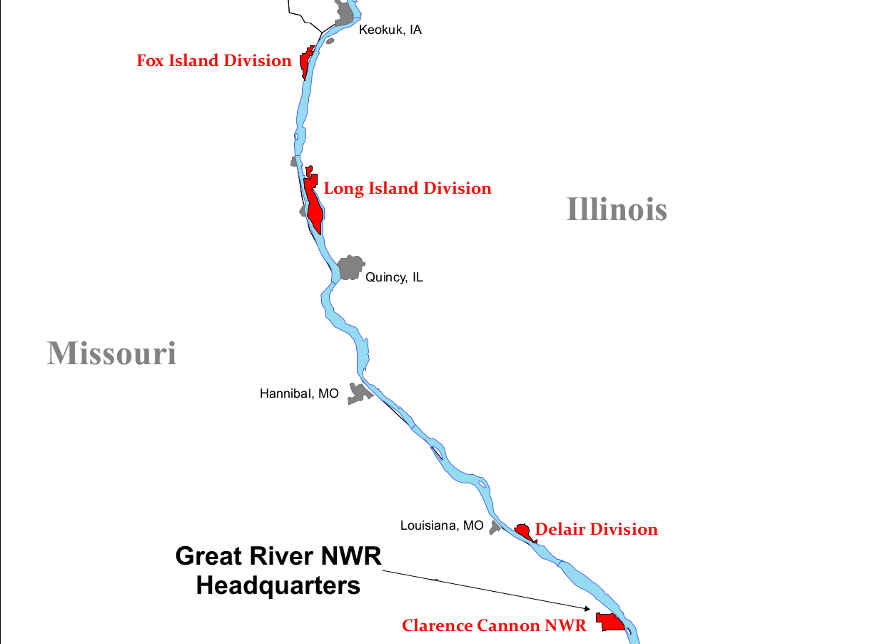 Photos and map courtesy of the US Fish & Wildlife Service