Cypress Creek National Wildlife Refuge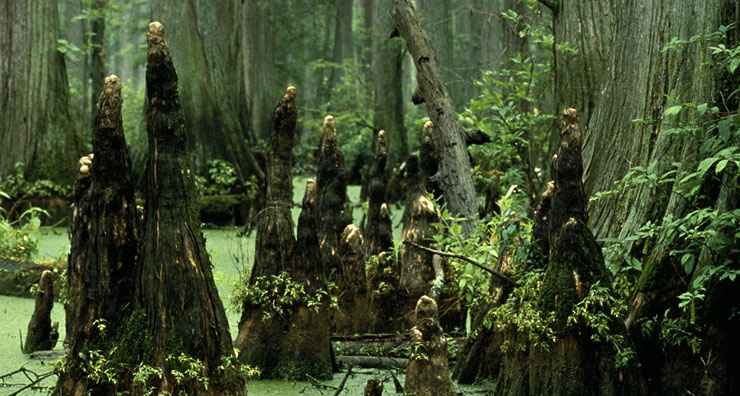 Cypress Creek National Wildlife Refuge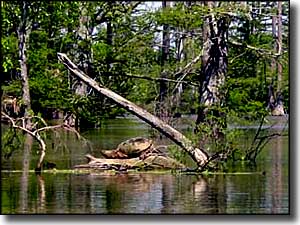 Cypress Creek National Wildlife Refuge presently contains some 15,000 acres of a planned 35,000-acre contiguous tract of land in the Cache River Watershed. Under the terms of the 1971 Ramsar Convention, this area was designated a "Wetland of International Importance" for its rich diversity of animal and plant communities in 1996. Some folks call this the "Illinois Bayou" because of the extensive swamp/wetlands complex here in southernmost Illinois. Containing 91% of the high-quality swamp habitat in the state and harboring some of the oldest trees east of the Mississippi River, Cypress Creek National Wildlife Refuge is a very unique property. To manage this unique property, the Cache River Wetlands Joint Venture is a unique partnership that includes groups like The Nature Conservancy, Ducks Unlimited, the USDA's Natural Resources Conservation Service, the Illinois Department of Natural Resources and the US Fish & Wildlife Service.
The Cache River Wetlands used to occupy about 300,000 acres in southern Illinois, however, more than 250,000 acres have been lost to land-clearing, drainage and dredging efforts. In 1912-1915, the Post Creek Cutoff was constructed: this was a diversion channel that connected the Upper Cache River with the Ohio River and diverted water flows in that direction. The Lower Cache River still drains to the original outlet on the Mississippi River, but with a much-decreased water flow. At times of high water, though, the flow of water in the Lower Cache River reverses and water flows east into the diversion channel and down to the Ohio River. As soon as the water level drops back below the level of the diversion channel, normal flow direction reasserts. However, in 2002 very high spring runoff caused a catastrophic failure of the levee dividing the Lower Cache from the Post Creek Cutoff and water levels in the Lower Cache River have been dropping ever since. The Army Corps of Engineers has proposed simply returning the levee to its former condition while the Illinois Department of Natural Resources would rather install a dam and weir to stop the water loss, stabilize the water levels and work to restore the Lower Cache Wetlands to their former glory.
The Cache River Wetlands Joint Venture hopes to be able to protect and restore 60,000 acres of the wetlands along a 50-mile stretch of the Cache River. More than 50 species of threatened and/or endangered plants and animals live on this property. After the cost involved, the biggest obstacle to the project is the natural tension that exists between government bureaucrats, well-financed outside interests and local landowners and sportsmen.
Well hidden in the woods of Cypress Creek National Wildlife Refuge are several of the ancient constructions left behind by a pre-Columbian civilization of mound builders.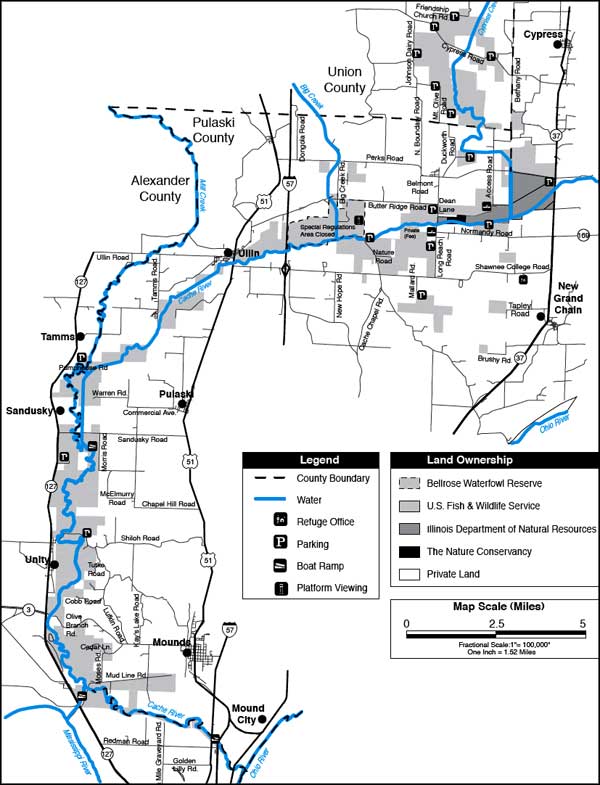 Cypress Creek National Wildlife Refuge map
Cypress Creek National Wildlife Refuge

Photo of bald cypress in the swamp courtesy of Ned Trovillion, US Fish & Wildlife Service
Map courtesy of the US Fish & Wildlife Service