Chautauqua National Wildlife Refuge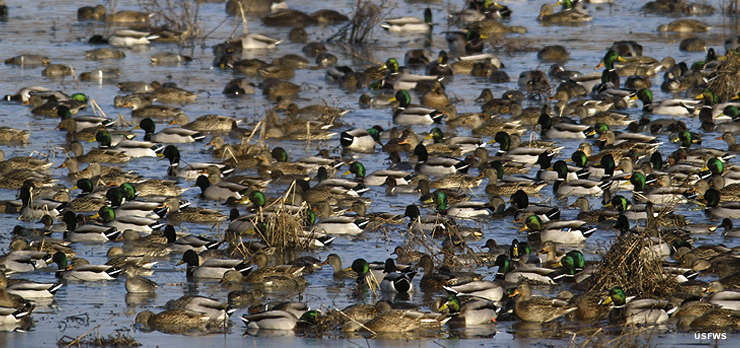 A few ducks on the water during migration season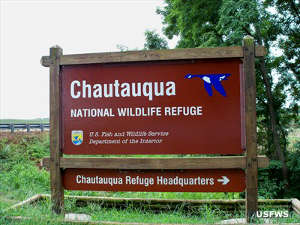 Chautauqua National Wildlife Refuge is a 4,338-acre property on the Illinois River in Illinois, one of the four refuges that compose the Illinois River National Wildlife Refuge Complex. Technically, most of the property is a "polder" (a piece of land below the water level of an adjoining body of water but separated by levees, dikes or dams - New Orleans is in a polder). In the 1920's workers using heavy equipment built a series of dikes around the property to try to create new farmland but the venture was not financially able to sustain the maintenance of those dikes. The Federal government bought the property in 1936 and began managing it as a wildlife refuge and flood-control project. In the years since siltation from the Illinois River has steadily filled Chautauqua Lake until now, an alluvial floodplain of sloughs and wet woodlands is coming into existence. The 2005 land inventory lists 3,200 acres as open pool, 800 acres as wet and timbered bottomland with the rest being upland forest. Historically, this mix of habitats has served as vital resting and nesting space for hundreds of thousands of migratory birds in their annual migrations. More than 150 species of songbirds fly through the area every year, in addition to almost 30 species of waterfowl. Peak seasons for waterfall: the month of November and late February, early March. Shorebird numbers peak in May and August.
A 1,805-acre non-contiguous unit (the Cameron Billsbach Division) of Chautauqua National Wildlife Refuge sits a bit further north in Marshall County. The Emiquon Project (and Emiquon National Wildlife Refuge), a 7,000-acre wetland restoration project of the Nature Conservancy, lies right across the river from the main section of Chautauqua NWR. Chautauqua NWR is a designated Ramsar Wetland of International Importance, a Globally Important Bird Area and is a member of the Western Hemisphere Shorebird Reserve Network.
For human visitors, there is a 1/2-mile accessible interpretive nature trail adjacent to the visitor center and three boardwalks overlooking the wetlands area. Boat ramps and a second hiking trail are located at the Eagle Bluff Access Area. From sunrise February 1 through sunset October 15, Chautauqua National Wildlife Refuge is a day-use only property, all areas open daily from sunrise to sunset. From sunrise October 16 through sunset January 31, only the established trails, boardwalks and roads are open to the public as most of the refuge is closed as a waterfowl sanctuary. Foot access is also allowed along the shoreline between the headquarters and the Eagle Bluff Access Area.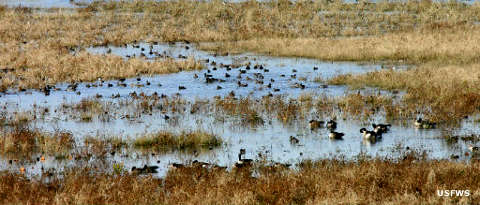 More waterfowl on the water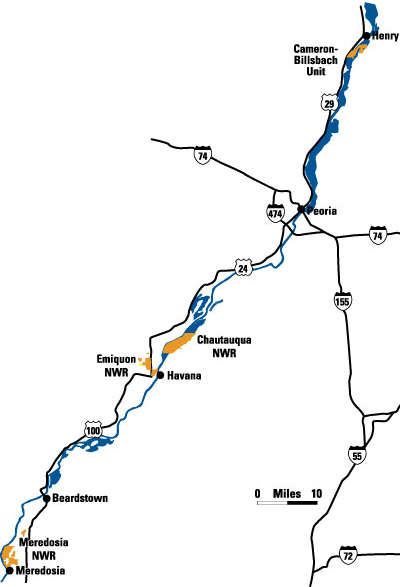 Illinois River National Wildlife Refuge Complex
Chautauqua National Wildlife Refuge

Upper photo courtesy of Chris Young, US Fish & Wildlife Service
Map and other photos courtesy of the US Fish & Wildlife Service