Wolf Island National Wildlife Refuge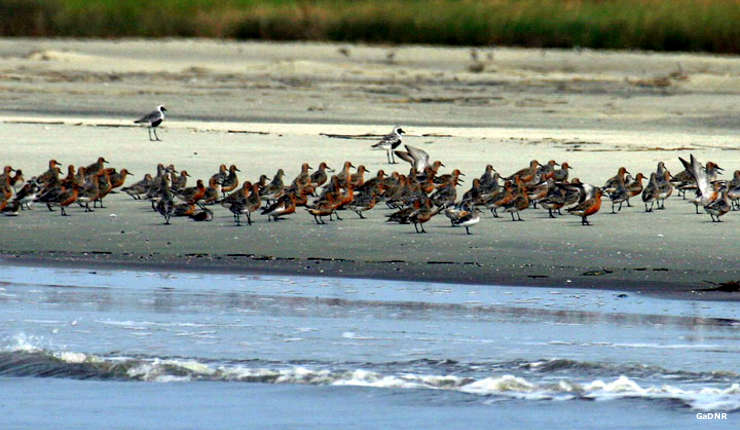 A typical scene at Wolf Island National Wildlife Refuge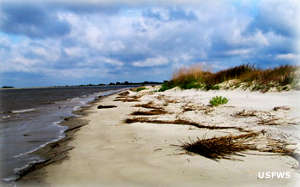 Wolf Island National Wildlife Refuge is a 5,126-acre island off the coast of Georgia. The entire refuge is a designated wilderness area with all beach, marsh and upland areas closed to the public. Fishing and crabbing are allowed in the saltwaters of the refuge. There are no plans to provide any public facilities on the island.
Wolf Island National Wildlife Refuge was established in 1930 on the 538 acres of land then in federal hands. 4,071 acres were added in 1972 after being purchased from The Nature Conservancy. The rest of the island (517 acres) was added two months later. Wolf Island is a designated Class I Air Quality Area, something I would think the thousands of migratory waterfowl, shorebirds, wading birds and neo-tropical songbirds who visit every year enjoy. Among the endangered species that use the property are the piping plover and the loggerhead sea turtle.
The habitat is primarily mud flats in an ever-changing marsh/dune ecosystem. The majority of the property is ten feet or less above sea level and is covered with a fragile carpet of early successional plants. Every time there is any kind of storm surge in the area, the whole island is liable to be submerged.
Wolf Island National Wildlife Refuge is administered as part of the Savannah Coastal Wildlife Refuges Complex.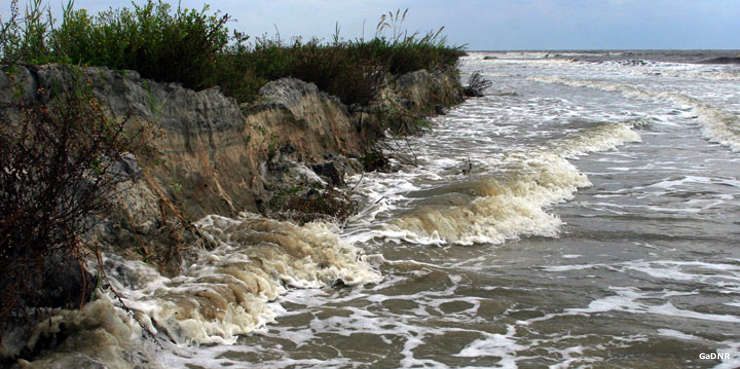 An example of beach erosion at Wolf Island National Wildlife Refuge
Wolf Island National Wildlife Refuge

Small photos courtesy of the US Fish & Wildlife Service
Large photos courtesy of Brad Winn, Georgia Department of Natural Resources